Anita Skeen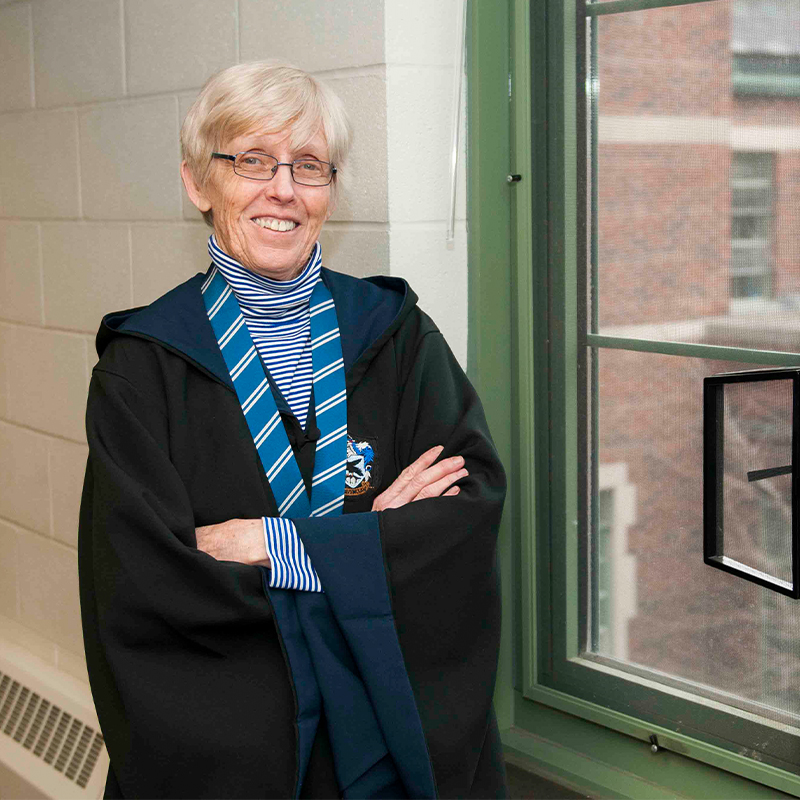 Anita Skeen is professor emerita in the Residential College in the Arts and Humanities (RCAH) at Michigan State University, where she is series editor for the Wheelbarrow Books Poetry Competition. Anita began her teaching career at Bowling Green State University, where she received an MA in English literature in 1970 and an MFA in creative writing in 1971. She later taught in the MFA program at Wichita State University, where she received the Kansas Regents Award for Excellence in Teaching. In 1987, as a member of the board of directors of the Kansas Humanities Council, she helped create "Talking about Literature in Kansas Libraries," a reading and discussion program that continues today.
She joined the Michigan State University Department of English in 1990. In 1997 she began serving as the director of the Residential Option in Arts and Letters Program (ROIAL), a living and learning program for selected freshmen and sophomores in the College of Arts and Letters. ROIAL increased her interest in and commitment to undergraduate education and to building links between ROIAL students and other units on campus as well as with the East Lansing community. Beginning in 2005, she taught the annual writing workshops in the month of September that accompanied the One Book, One Community yearly book selection until its conclusion in 2019. Anita has also taught in MSU Study Abroad programs in England and Ireland.
For a number of summers when she was in college and afterward, Anita served as a city recreation director for low-income housing projects in Charleston, West Virginia, and as a counselor at summer camps in Pennsylvania and New York. She has taught K-12 students while working with the Kansas Arts Commission's Artist in the Schools Program, in college classrooms across the country as a visiting writer and writer-in-residence, in senior citizens centers, and libraries. At Ghost Ranch in Abiquiu, New Mexico, Anita has been the coordinator of the Creative Arts Program at Ghost Ranch for 40 years and coordinator of the Fall Writing Festival for 23 years and continues to teach virtual writing courses during the COVID-19 pandemic. In October 2011 she was writer-in-residence at the Aurora Fall Writers Retreat in Aurora, West Virginia; in January 2012 she served as writer-in-residence at Converse College in Spartanburg, South Carolina.
Anita is the author of six volumes of poetry: Each Hand A Map (1986); Portraits (1990); Outside the Fold, Outside the Frame (1999); The Resurrection of the Animals (2002); Never the Whole Story (2011); When We Say Shelter (2007), with Oklahoma poet Jane Taylor; and The Unauthorized Audubon (2014), a collection of poems about imaginary birds accompanied by the linocuts of anthropologist/visual artist Laura B. DeLind. With Taylor, she co-edited the literary anthology Once Upon A Place: Writings from Ghost Ranch (2008). Her poetry, short fiction, and essays have appeared in numerous literary magazines and anthologies. While living in Kansas she contributed to the book review section of The Wichita Eagle Beacon, and from 2002 to 2004 she wrote a column that focused on writing and the life of the writing community in Michigan for Lansing's alternative newspaper, City Pulse. She contributed a book chapter entitled "Pomegranates, Hammocks, and Red Wheelbarrows: Just What Does Depend on Poetry?" to Creative Writing in the Community:  Take it Outside (2013), edited by Terry Thaxton, and a review essay of the work of five poets, "Oh the Places You'll Go," in the literary journal Poetry Salzburg (Vol. 24, Fall 2013). Most recently, she co-authored with RCAH graduate Kelsey Block a chapter, "The Part We Choose to Act On: Pedagogy, Possibility, and Play," for the forthcoming MLA book, Teaching Harry Potter. 
The MSU Museum exhibited the 22 prints and poems in The Unauthorized Audubon from September 8, 2012, through January 31, 2013, and in June 2014 The Unauthorized Audubon was exhibited at the Vale Craft Gallery in downtown Chicago. Anita collaborated with Guillermo Delgado on a call-and-response project of paintings (by Guillermo) and poems (by Anita) which can be viewed at www.livesofthings.wordpress.com, and with quilter Chris Worland on a project involving quilts and poetry. She is working once again with Laura DeLind on a project of 10-line poems and prints, Even the Least of These. She has been awarded a residency at the Virginia Center for the Creative Arts in the spring of 2022.