Welcome from Dean Dylan AT Miner
"All of us in RCAH are committed to understanding our shared responsibilities to create a more just and equitable world."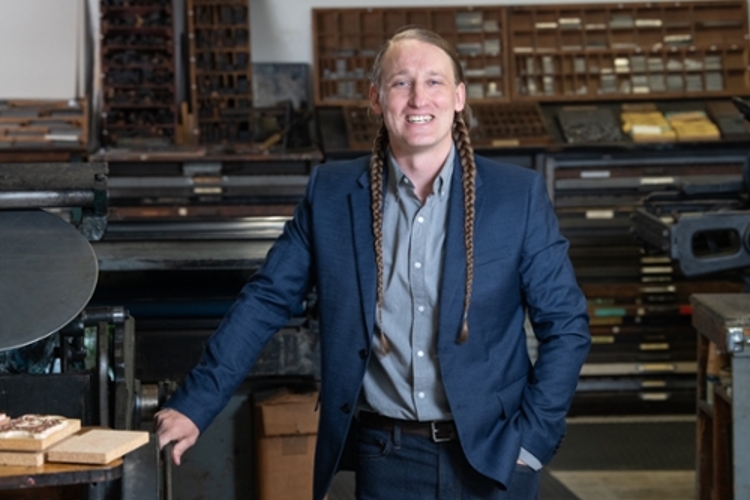 As a community, RCAH is home to artists, scholars, activists, cultural workers, and organizers. We are students, faculty, staff, and community partners. We see learning together as fundamental to what makes us humxn. We are individuals who hold strong commitments to justice, as well as those who are still finding their voice in a cacophonous world where confrontation often outweighs sustained dialogue. We come from a multiplicity of backgrounds and positions in the world, but all of us are committed to understanding our shared responsibilities to create a more just and equitable world.
As a residential college at a Big Ten university, we merge the benefits of a premier research university with personal relationships, small class sizes, and the seminar-style courses of a highly-selective liberal arts college. We are a vibrant community that offers "a small-college feel with Big Ten benefits."
An RCAH education provides the skills to simultaneously think critically and act creatively. It will prepare you for a changing world and, just as importantly, a future career. We are committed to educating Michigan State University students who will positively transform the world. At the same time, we prepare all RCAH students for a changing job market. According to an American Association of Colleges & Universities (AAC&U, 2021) report, "Employers believe the outcomes of a liberal education are important for success in the workforce; personal qualities and capacities matter, too." RCAH will prepare you intellectually, but also personally and professionally.
In fact, the RCAH curriculum offers depth and breadth of knowledges and skills which are also seen by employers as contributing "to long-term career success." And we have your long-term success in mind in everything we do. The prosperity of RCAH alumni is clear, as indicated by the 99 percent job or grad school placement rate of RCAH graduates since 2007. We care about you and, as they say, we got your back. So, while there are many individual and collective reasons for uncertainty as you transition into college, let me be clear that deciding to attend RCAH at MSU is not one of them. We are here for you now and will continue to be there for you in the future.
With the specter of the global pandemic still very real, we have clearly seen how this health crisis impacts each and every one of us. At the same time, we have learned that we are differently impacted in ways that emerge from our shared histories and the ways that "history" remains with us today. In the Residential College in the Arts and Humanities (RCAH), we call this "The Presence of the Past," which is also the title of course for all first-year RCAH students. In this course, we specifically engage with questions on how the past is not dead, but rather history—and its ongoing impact on each of us and our shared social structures—is very much alive.
As an artist and historian, I am personally committed to working in ways that illuminate the "presence of the past," as well as complicate how we understand the world in which we live. When you see me around Snyder-Phillips Hall, it is likely that I will be engaged in screenprinting a poster or using the Risograph to make limited edition artworks that address some of the most pressing topics of the day.
In fact, since its founding in 2007, the RCAH community has been intimately engaged in understanding how the interdisciplinary arts and humanities can be used to address real world social issues. In RCAH, "Live Your Learning" is not simply a platitude: We do live our learning, every day. We are known for our generosity and willingness to think (and act) beyond the limits of academic disciplines. We have been preparing students to live successful and fulfilling lives since RCAH's founding in 2007.
I hope you will join our vibrant and interconnected community that cares deeply about issues locally and globally.
Dylan AT Miner
Dean
Michigan State University occupies the ancestral, traditional, and contemporary Lands of the Anishinaabeg—Three Fires Confederacy of Ojibwe, Odawa, and Potawatomi peoples. The University resides on Land ceded in the 1819 Treaty of Saginaw.