Bill and Linda Trevarthen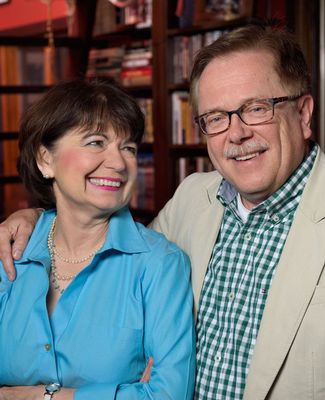 Bill and Linda Trevarthen were students at MSU's Justin Morrill College (MSU's first residential college, which, like RCAH, focused on the arts and humanities) from 1968 to 1973. They met in a JMC Shakespeare class taught by Dr. Donald Gochberg their freshman year, dated throughout their four years at the college, and were married in 1973 in a ceremony presided over by Dr. Fred Graham, a professor of religion and a member of Justin Morrill's core faculty. Although she was a Justin Morrill student, Linda's B.A. in teaching was actually granted by the College of Education in 1973. Linda worked for several years at the MSU Library before joining the staff of the MSU Testing Office as psychometrist and, eventually, manager. In 1994, she completed a master's degree in Literacy Development, again in the MSU College of Education, and continued as manager of Testing Services until her retirement in 2013.
Bill Trevarthen graduated from Justin Morrill College in 1972 with a field of concentration (major) in English Literature and Criticism. He did graduate work in the Department of Linguistics in 1973. For 25 years, Bill worked at Baker Publishing, a company which published trade journals for the construction, trucking, and farming industries. He left Baker in 1996 to assume the role of executive director of Michigan Government Television (MGTV), a cable-funded statewide network modeled on the national C-SPAN network. MGTV covered the proceedings of the Michigan House, Senate, Supreme Court, and Executive Branch. He retired from MGTV in 2010.
Bill and Linda have been active in many organizations in the area and at MSU, including the Opera Company of Mid-Michigan, the Kresge Art Museum, the MSU Museum, the College of Arts and Letters, and The Broad Art Museum at MSU. They were thrilled when MSU created the Residential College in the Arts and Humanities and have been active supporters since its launch. As a part of their estate planning, they have created the William Charles and Linda Stock Trevarthen Endowed Scholarship for RCAH students.