Chris Scales
Professor


Contact Info
Office: C320E Snyder Hall
Phone: 517-884-6000
Highlights
PhD, University of Illinois at Urbana-Champaign
MA, University of British Columbia
BA, University of Guelph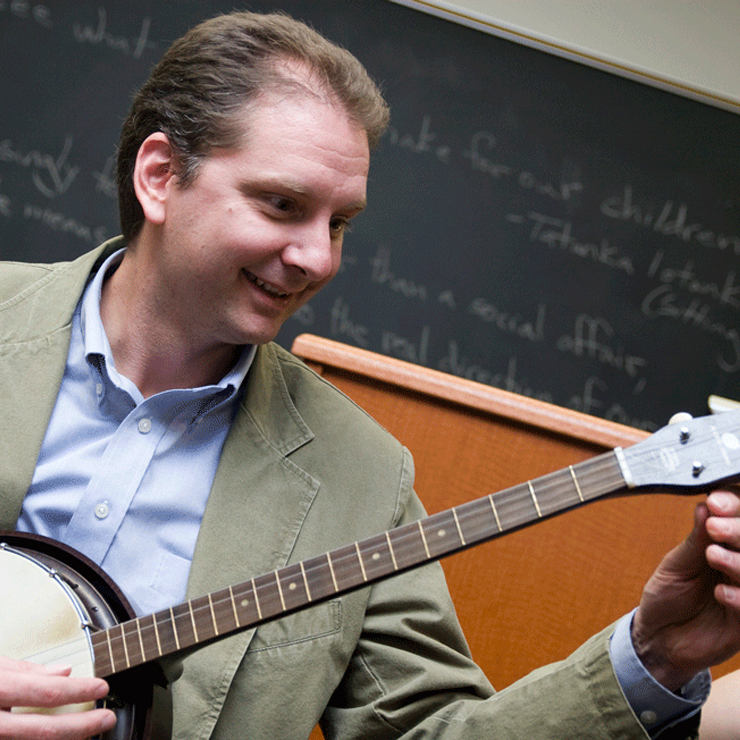 Christopher A. Scales (Ph.D. University of Illinois at Urbana-Champaign, M.A. University of British Columbia, B.A. University of Guelph) is an ethnomusicologist whose research and teaching interests include North American indigenous music, Southern Appalachian music, music and technology, intellectual and cultural property, and the North American popular music industry. His recent research focuses on contemporary Northern powwow culture and musical creation both on the powwow grounds and in Aboriginal recording studios, specifically engaging the effects of technology and mass mediation on powwow performance aesthetics.
This research is best represented in the book Recording Culture: Powwow Music and the Aboriginal Recording Industry on the Northern Plains. His work has also appeared in the Ethnomusicology Journal, Worlds of Music and the Canadian University Music Review. Chris has also been active collaborating with Native musicians and has produced, recorded, or performed on several powwow and "Contemporary Native music" CD projects for Arbor Records and War Pony Records, independent record labels specializing in North American Aboriginal music. 
An active musician, he also performs southern Appalachian music on guitar, fiddle, mandolin, and banjo, as well as Shona mbira music from Zimbabwe, playing mbira dzavadzimu.  On Tuesday evenings throughout the semester you can find Chris in the lounge in front of Sparty's coffeeshop leading the RCAH-CMS old-time music jam session for students and community members.
Recent Courses Taught:
RCAH 492 -- Senior Seminar: Cultural and Intellectual Property: Creativity, Ethics, and the Law
RCAH 192 -- Freshman Seminar: The Anthropology of Music
RCAH 291 -- Creative Workshop: The Music of Southern Appalachia
RCAH 320 -- Topics in Art and Public Life: Music of the Fourth World: Indigneous Music and Globalization
Recent Publications:
Recording Culture: Powwow Music and the Aboriginal Recording Industry on the Northern Plains. Durham: Duke University Press, 2012.
"Contemporary Northern Plains Powwow Music: The Twin Influences of Recording and Competition," co-authored with Gabriel Desrosiers, in Aboriginal Music in Contemporary Canada: Echoes and Exchanges, edited by Anna Hoefnagels and Beverley Diamond. Montreal: McGill-Queen's University Press, 2012; 89-108.
"Plight of the Redman: XIT, Red Power, and the Refashioning of American Indian Ethnicity," in Popular Music and Human Rights, Volume 1: British and American Music, edited by Ian Peddie. Burlington: Ashgate Press, 2011; 127-142.
Recent Presentations:
"From Ethnic Nationalism to Multiculturalism: A Social History of Native American Popular Music in North America." Paper presented at the Society for Ethnomusicology, Annual Meeting in Philadelphia, PA, November 2011.
"Social and Sonic Landscapes in the Powwow Music Industry." Invited plenary speaker at the International Society for the Study of Popular Music (IASPM-Canada) Annual Conference in Montreal, Canada, June 2011.
"Ethics and Ownership in the Powwow Recording Industry: Conflicting Ideas About Music as Property." Paper presented at the Society for American Music Annual Meeting in Cincinnati, OH, March 2011.