Steve Baibak
Academic Specialist and
LookOut Gallery Preparator 

C220A Snyder Hall
517-884-6003
He him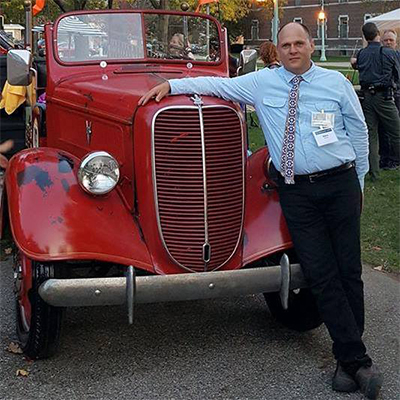 Education
MFA in Sculpture, Michigan State University
BFA, San Francisco Art Institute
AAS in Photography, Lansing Community College
More
CAPR, the Puppetry Arts Collective
Biography
Steve Baibak ("by-back") is an artist and an Academic Specialist with the Residential College in the Arts and Humanities (RCAH). His teaching focuses on creative processes and community engagement. His courses spotlight creativity as an embodied experience that can be integrated into how people live.
His aims are to partner with students to:
build bridges with other groups people via making

cultivate resourcefulness

experiment with material reality to find ways to visually communicate ideas

deepen attention to reality through making

seek an understanding of "visual poetics"

highlight the importance of diversity in the arts
In addition, as The Lookout Gallery preparator (art installer), Steve:
physically installs art shows in the Lookout gallery

works alongside visiting artists to best represent their vision

instructs students on museum and gallery practices

consults with faculty and students on creation and presentation of their work

serves as a liaison between RCAH and other MSU art communities

amplifies the role of underrepresented populations in art
The Lookout Gallery is an informal learning space, art gallery, and gathering space that amplifies scholarly research, social justice artworks, LGBTQ+ artists, BIPOC artists, community projects, language, and poetry events.
 
Media