Terese Guinsatao Monberg
Associate Dean and Associate Professor
C230C Snyder Hall
517-884-1324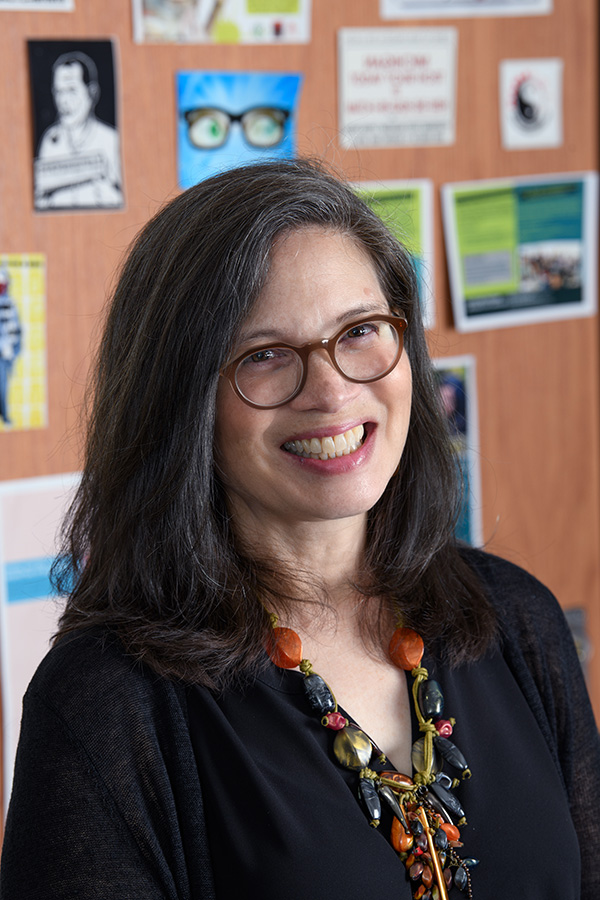 Education
PhD, Communication and Rhetoric, Rensselaer
MS, Communication and Rhetoric, Rensselaer
BA, Liberal Arts and Sciences, University of Illinois at Urbana-Champaign
Biography
Terese Guinsatao Monberg (she/her) is a community-engaged teacher and scholar in rhetoric, writing, and literacy studies. She is an Associate Professor and a founding faculty member of RCAH, having taught in the College since 2007. Through methodologies that look at spatial and temporal dimensions of community—dwelling, listening, and reciprocity—Dr. Monberg is interested in the ways communities use arts and humanities methods to write, revise, and sustain their rhetorical legacies and collective memory.
Her ongoing research on and work with the Filipino American National Historical Society (FANHS)—a national network of Filipinx American community-based historians, writers, artists, activists, and academics—has shaped her approach to community-engaged teaching and scholarship. Her research has been published in Representations: Doing Asian American Rhetoric; Reflections: A Journal of Community-Engaged Writing and Rhetoric; Enculturation: A Journal of Rhetoric, Writing, and Culture; and the Community Literacy Journal. She also published, as co-editor, Building a Community, Having a Home (with Jennifer Sano-Franchini and K. Hyoejin Yoon; 2017) and a special issue of Enculturation on transnational Asian American rhetoric (with Morris Young; 2018). Dr. Monberg serves on the Advisory Board for the Coalition of Community Writing, the Trustees Board of FANHS, and as co-editor (with Patricia Halagao) of the FANHS Journal, which places academic research in conversation with community-based forms of knowledge.
Her current research project traces community-based literacies and forms of labor needed to create community spaces for sharing, documenting, and publishing stories that have long been silenced or erased. This work examines how historical and contemporary forms of exclusion and empire continually impact the spaces and infrastructures for community knowledge production, with a particular focus on Asian Pacific American Desi American (APIDA) communities. A related project looks at building equitable and accessible university infrastructures that recognize collaborative and co-generative forms of knowledge making.
In addition to her appointment in RCAH, Dr. Monberg serves on the graduate faculty in the Department of Writing, Rhetoric, and American Cultures in the College of Arts and Letters at MSU. She is also former Director (2017-2019), Executive Board Member, and a core faculty member of MSU's Asian Pacific American Studies Program. She continues to organize and support co-curricular programming connected to APIDA artists, poets, and community organizers in RCAH and across campus. As a community-engaged scholar, she sees community-engaged and collaborative projects as necessary not just for the tangible products they might produce but also for the relationships that are built and sustained through these collaborations.
Selected Publications
Courses Commonly Taught
RCAH 111: Writing in Transcultural Contexts
"Communities in Motion: Im/migration, Memory, and Identity"
RCAH 225: Introduction to Community Engagement
"Reciprocity, Sustainability, and Reflexivity in Community Engagement Projects"
RCAH 336: Topics in Language and Culture
"Language, Literacy, and Culture"
RCAH 492: Senior Seminar
"The Art(s) of Counter-Memory: Stories as Collective Geographies of History"