Isabel Hershey Named MSUFCU RCAH Dean's Choice Award Recipient
June 7, 2021
Recent RCAH grad Isabel Hershey received the 2021 MSUFCU RCAH Dean's Choice Award

Her project

Seeing Injustice

displayed strong community engagement skills

The award winner receives $2,500 to pursue their goals 
By Chrystel Lopez '22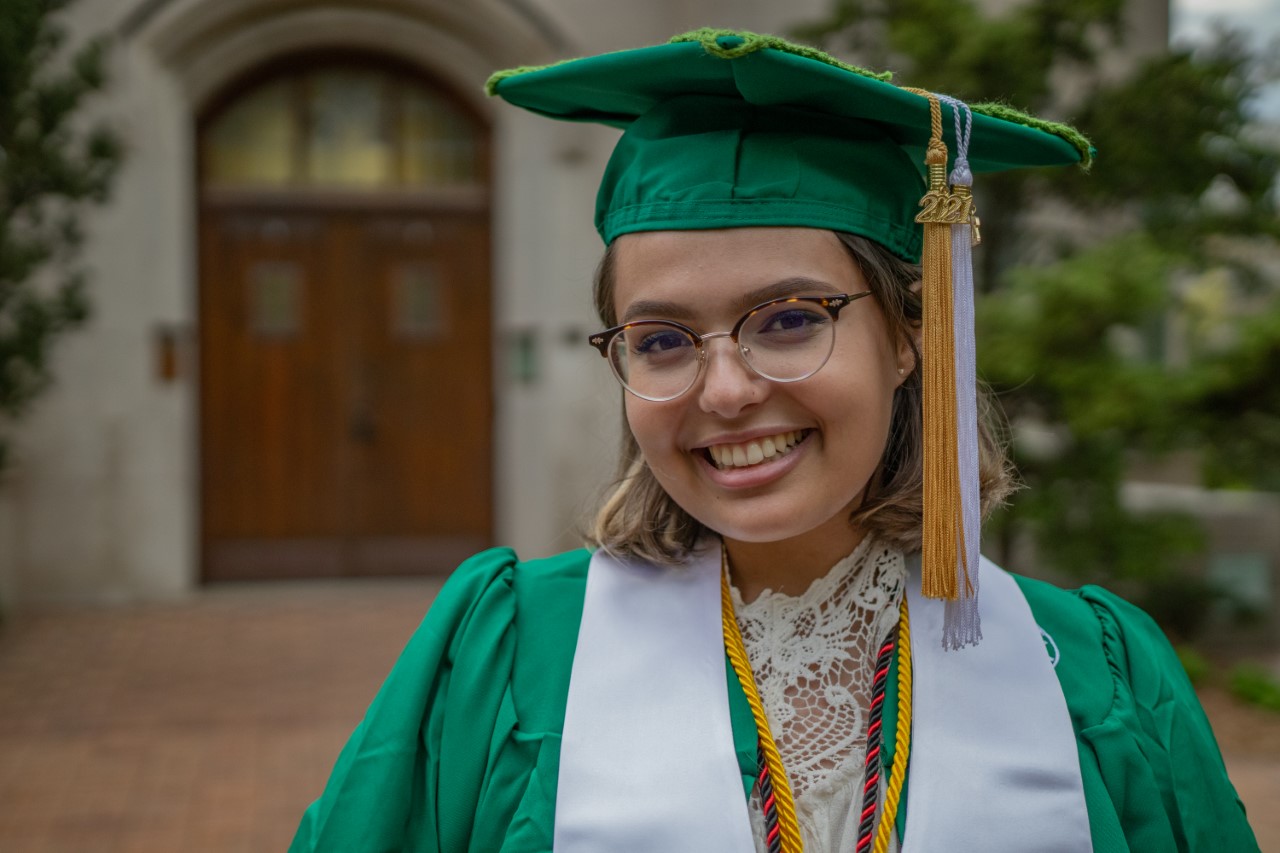 Isabel Hershey '21, a recent alum with a dual degree in the Residential College in the Arts and Humanities (RCAH) and anthropology at Michigan State University, has been announced as the recipient of the 2021 MSUFCU RCAH Dean's Choice Award for her project Seeing Injustice. The project utilizes visuals, like photography, collage, and drawing, to raise awareness about structural injustice.
On top of two majors, Hershey had three minors during her college career: human behavior in social services, peace and justice studies, and Latin American and Caribbean studies. For Hershey, these educational endeavors were beneficial to Seeing Injustice and the Dean's Choice Award itself.
"Because the Dean's Choice Award is so rooted in civic engagement and community participation," Hershey said, "I was really able to showcase all of those different subjects I learned and skills that I've developed through these minors and the second degree. Everything culminated in this project."
Hershey said that her dual majors and triple minors have led her to where she is now and where she plans to go: law school. 
Hershey cited RCAH Professor Vincent Delgado as an inspiration to apply for the award, "because of his faith in me."
"Isabel has been on a journey," Delgado said, "one that I am sure will not end with her graduation and future work in human rights education. In fact, I feel I can confidently say that the most important aspect of Isabel's scholarship, community engagement and creativity is that her curiosity and commitment to making the world a better place has taken us all on a journey with her."
Seeing Injustice was developed by Hershey's research advisor, associate professor of anthropology and director of the peace and justice studies minor Elizabeth Drexler. Drexler invited Hershey to work on the project as a student researcher. 
"We really collaborated together on a lot of things," Hershey said. "Basically the project is to utilize visuals, whether that's photography, visual arts, stuff like that, to raise awareness about structural injustice. While definitely felt, a lot of times it can be difficult to visualize structural inequities. And we worked a lot with the MSU student community."
Hershey took a peace and conflict class with RCAH Dean Stephen Esquith, which led her to the peace and justice studies minor. From there, she realized that she wanted to go to law school and study human rights law.
"I learned from RCAH the importance of the person in fighting and advocating for human rights," Hershey said. "And so that's what I want to continue to do: talk about the human, fight for the human, and protect the human."
The Dean's Choice Award recognizes a student's involvement and passion within the field of community engagement. The winner receives $2,500, along with their achievements highlighted throughout RCAH.
"That financial help is so helpful and it will absolutely be used for law school," Hershey said. "It's that nudge towards the direction I want to go."
The Residential College in the Arts and Humanities at Michigan State University is a unique living-learning community offering the advantages of a small college liberal arts education and the opportunities of a Big Ten research university. Students prepare for meaningful careers by examining critical issues through the lens of culture, the visual and performing arts, community engagement, literature, philosophy, history, writing, and social justice. RCAH's 99 percent placement rate for graduates over the past eight years is the best at MSU. Visit rcah.msu.edu, email rcah@msu.edu, or call 517-355-0210.

Facebook https://www.facebook.com/RCAHMSU/ 

Instagram https://www.instagram.com/rcahatmsu/ 

Twitter https://twitter.com/RCAH_MSU 

YouTube https://www.youtube.com/channel/UCpfDHNy0ws5nxgaL9v1xMGw