RCAH Sophomore Wins Mosaic Mobile Film Contest
November 9, 2019
RCAH's Chrystel Lopez wins first place in the Mosaic Mobile Film Competition.
Lopez hopes to become a photojournalist post-graduation.
Active Novi native works in the LMC, edits RCAHive, and is an RCAH Communications intern.
By Amelia Herron '20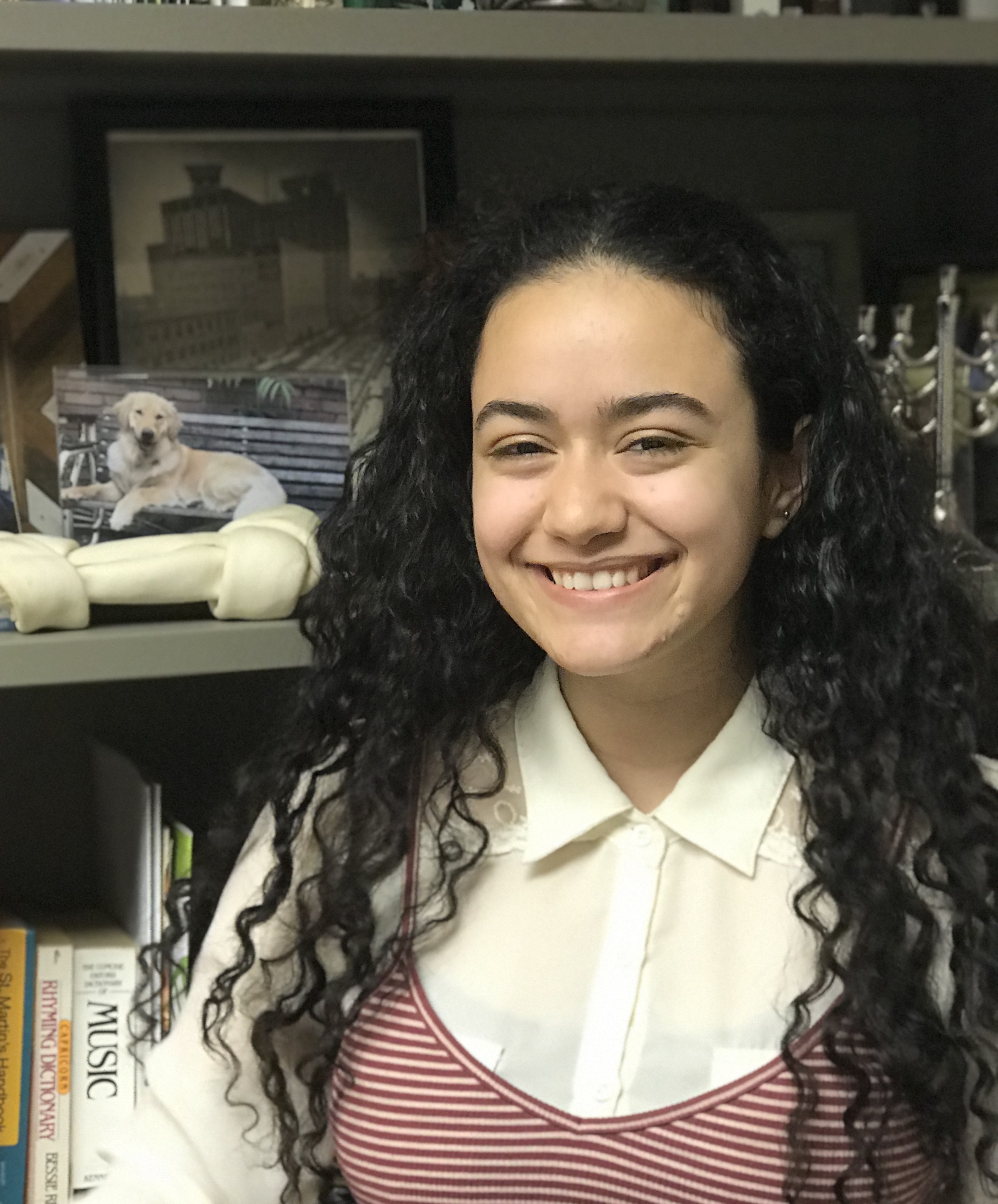 Chrystel Lopez never expected anything when she submitted her video to the Mosaic Mobile Film Competition in Grand Rapids, Michigan. She definitely didn't expect the news she received last week, on November 7: Not only had she placed in this film event, she had won first place in the college category. 
Lopez, a sophomore dual major in arts and humanities from the Residential College in the Arts and Humanities and in journalism from the College of Communication Arts and Sciences, enjoys photography and hopes to become a photojournalist once she graduates. She also serves as a creative consultant at RCAH's Language and Media Center, as well as an intern with RCAH's Communication office.
Last year, Lopez resurrected the student-run creative journal, RCAHive, which has since published two issues (Bloom and Seeds), and will be publishing a third issue in spring 2020. 
The film she submitted to The Mosaic Mobile Film Competition for the Mosaic Film Experience is entitled "MOTHER, a remake" and was shot entirely on her mobile phone. The video features RCAH student Juliet Kosmyna, with a voiceover by Lopez of a poem she wrote. Shot almost exclusively on Michigan State University's campus, Lopez capitalizes on the shortcomings of using a mobile phone instead of a professional camera by giving the effect of an old home-made movie. 
"I only submitted something because I figured I had nothing to lose," she stated matter-of-factly, "It's weird that a whole group of people looked at my film and said, 'This is it.'"
However, even watching "MOTHER, a remake" once shows the effort taken by Lopez to construct an engaging video. The movement from winter to summer is often used in media to signify growth; however, this video takes that trope and subverts it. Instead of changing from the somber beginnings of the poem to an upbeat, positive outlook, it continues the same tone, showing a stark contrast between what the viewer sees, and what they hear.
"Knowing other people suffer keeps me sane," Lopez concludes, while showing us images of Kosmyna lying in the grass and picking at weeds. 
This contrast clearly shows how this first-place laurel is well-deserved.
The film: https://www.facebook.com/MosaicFilmExperience/videos/491358174922198/?v=491358174922198
The Residential College in the Arts and Humanities at Michigan State University is where students live their passions while changing the world. In RCAH, students prepare for meaningful careers by examining critical issues through the lens of culture, the visual and performing arts, community engagement, literature, philosophy, history, writing, and social justice. RCAH is situated in historic Snyder-Phillips Hall, where students learn and live together in a small-college setting, with all the advantages of a major university. For more information, visit rcah.msu.edu, email rcah@msu.edu, or call 517-355-0210.
Facebook https://www.facebook.com/RCAHMSU/  
Instagram https://www.instagram.com/rcahatmsu/
Twitter https://twitter.com/RCAH_MSU
YouTube https://www.youtube.com/channel/UCpfDHNy0ws5nxgaL9v1xMGw