Message from the Dean: Building Public Spaces One Story at a Time
October 1, 2015
By Stephen Esquith, Dean of the Residential College in the Arts and Humanities.
When RCAH first opened – in fact before we opened in fall 2007 – we started something called Building Stories. We photographed, tape recorded, and videotaped the construction of the new building. The idea of telling the story of the College and simultaneously building the College – hence the phrase Building Stories – was attractive to us. For some of us, it was reminiscent of the work of the oral historian and master storyteller Studs Terkel, whose larger than life photograph graced the walls of the College for several years. And from time to time, as we have told our story and built new connections to community partners, we've quietly talked about reviving the idea of Building Stories.  
Consider the following examples, among many, in which we are still building stories.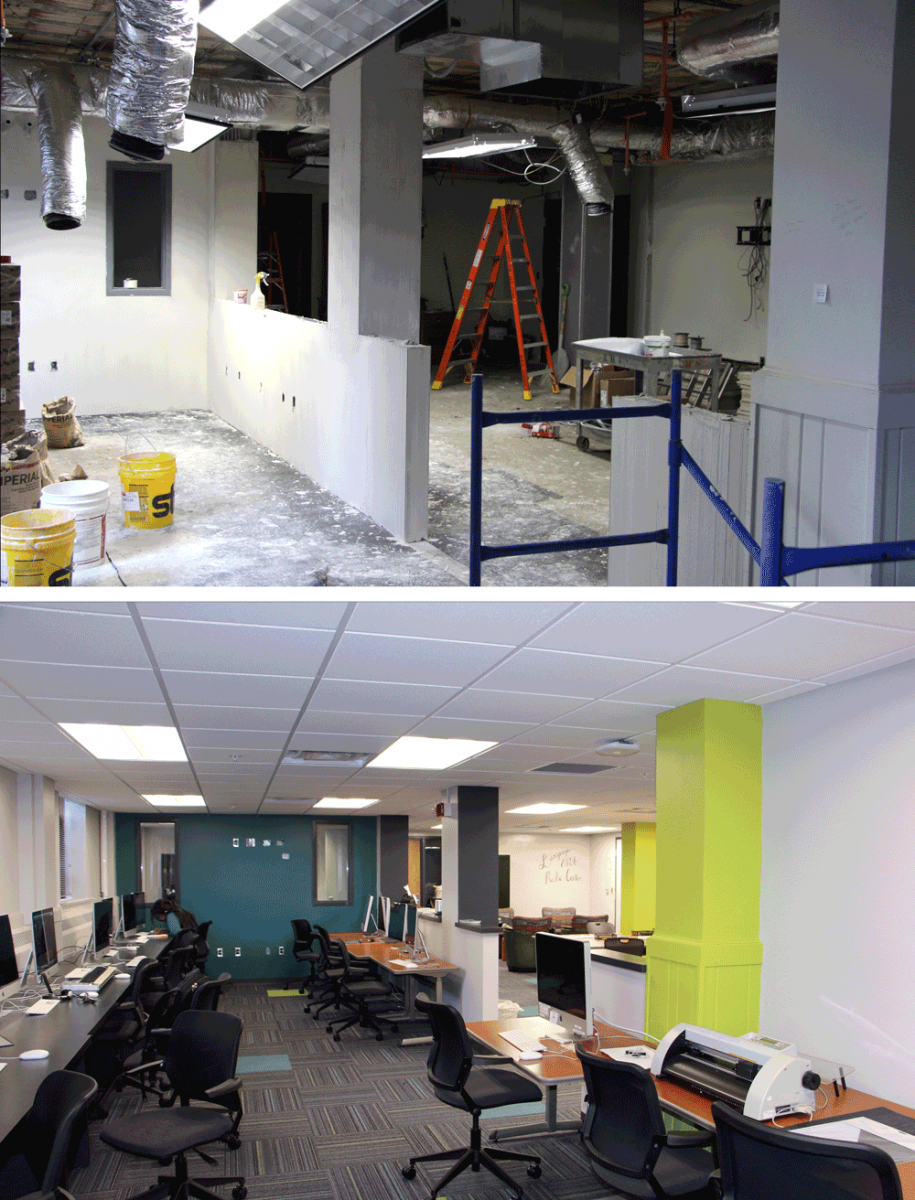 The RCAH Language and Media Centerhas just gone through a major renovation.  Led by Dave Sheridan, we have removed a few walls and added a few colors, creating a more open, flexible, and vibrant space. This is one important way in which the story of the building continues. But there is other building that is also going on, the building of new public spaces inside and outside the College. Like the LMC, these are spaces in which people feel empowered to tell their stories, listen and enjoy the stories of others, and learn from one another.  
Some of you may know the Allen Neighborhood Center on the East Side of Lansing. They have a farmer's market once a week, and two weeks ago in the parking lot there, RCAH and WKAR's Current State held the first Pop-Up Stories event, led by Katie Wittenauer and April van Buren and inspired by National Public Radio's The Moth Radio Hour. Our local version of amateur storytelling is site-specific. With a gentle welcome from WKAR's Mark Bashore, a steady flow of people stepped up to the mike and each told a 5-minute story related to being Hungry & Fed. We weren't sure how it would go. Would there be enough storytellers?  Would there be much of an audience? Would Allen Neighborhood Center feel good about this way of spicing up their farmer's market?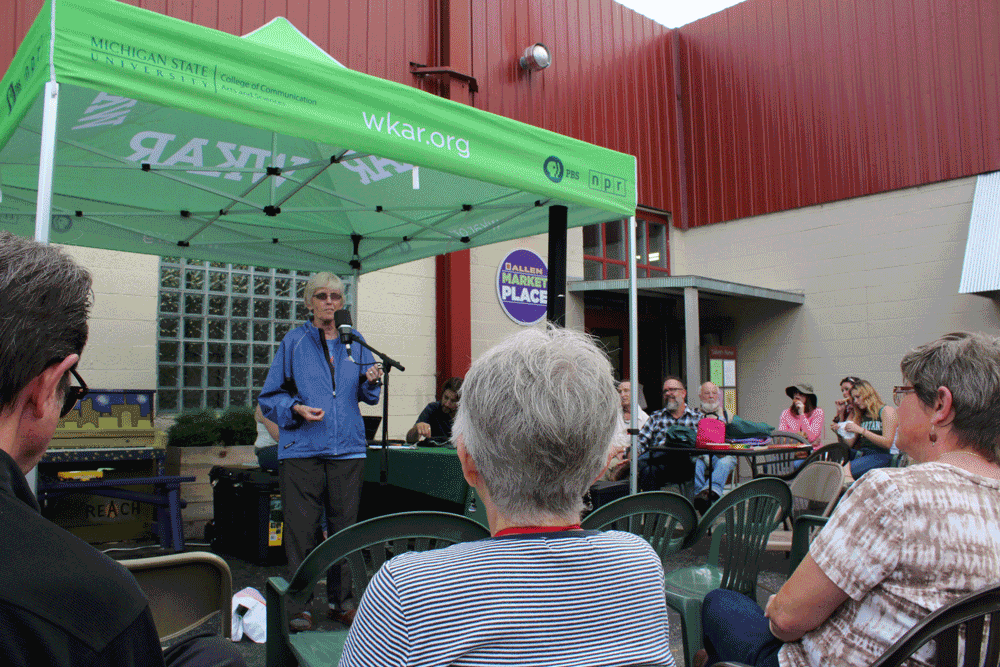 The answer to all three questions was a resounding Yes. It was a pleasure to listen to students, young and old, to regulars at the farmer's market, to faculty, and more reminisce about favorite foods, memorable moments cooking, and even tell stories just barely related to food at all, but so clearly stories they wanted dearly to share with others.  Next time, Pop-Up Stories will be at the East Lansing Public Library, and it's not hard to imagine what the stories will be about.
At the same time that we are creating new public spaces like Pop-Up Stories in places like the Allen Neighborhood Center, we are also looking inside RCAH to be sure that we hear those voices that are not always heard. On October 6 and 7 we are launching a new project for RCAH students, faculty, and staff called RCAH Dialogues. This project has been almost a year in the making. After a series of conversations prompted by events on and off campus that dramatized the need for more focused dialogues on topics such as race, ethnicity, gender, and economic inequality, a student-led planning group has organized two evenings of facilitated dialogues on the topic of Creating Community through Diversity. We start at  5 PM with pizza and beverages in the Abbott 'dining area' (lounge) and then from 6 to 8 PM both evenings, we'll begin creating this new public space. 
Another example which combines both internal and external voices in spaces that we have used many times before is a project which focuses on the issue of mass incarceration that was discussed in RCAH at the beginning of the semester with the One Book One Community author Bryan Stevenson. Our LookOut! Art Gallery will be hosting a stunning exhibit, Living Inside the World: Artwork from Michigan Prisons, throughout the month of October. This will feature paintings, drawings, and sculptures by artists currently or formerly incarcerated in the state of Michigan. On October 8 there will be a reception and panel discussion for the exhibit, which is being organized by RCAH faculty and staff and by the Prison Creative Arts Project at the University of Michigan with the help of Carolyn Loeb and Chris Worland from RCAH. Then, later on October 15 we'll host in the RCAH Theater a staged reading from the play Justice for Maurice Henry Carter written by Donald Molnar & Alicia Payne, and directed by RCAH's Lisa Biggs.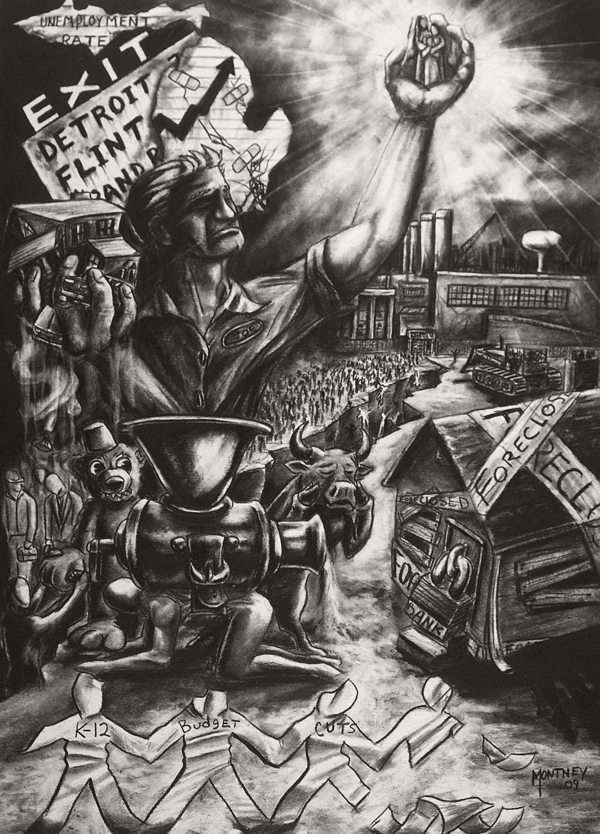 Join us in the new LMC, in the LookOut! Gallery, in the RCAH Theater, and wherever RCAH pops up throughout the community.  These are spaces in which community through diversity is being built, one story at a time.