Exhibit: Inside Guillermo Delgado's 'Rituals to Seed Clouds with Crystals'
February 22, 2019
LookOut! Art Gallery exhibit features works by and with incarcerated artists in mid-Michigan prisons.
Exhibit runs from Feb. 25 to March 15. The opening reception is Thursday, Feb. 26, from 4 to 6 p.m.
The inspiration behind turning the prison poetry course experience into an exhibit was to "shine a light on the dark and hidden places we have created in this country."
Kara Dempsey '19
Following the latest semester of his prison poetry course, Guillermo Delgado, Artist and Academic Specialist in Community and Socially Engaged Arts in the Residential College in the Arts and Humanities at MSU, cultivated several years' worth of inspiring stories and inmate artwork, resulting in the unique, immersive exhibit opening Monday, Feb. 25, 2019, in RCAH's LookOut! Art Gallery.
Pieces on display in "Rituals to Seed Clouds with Crystals" range from paintings and mandalas by Delgado, as well as other mandalas, zines, and poetry from RCAH students and incarcerated individuals over the years. There is a commemorative piece to recognize the absence of incarcerated students who have participated in Delgado's courses, as well as an interactive installation consisting of yoga mats and blocks that visitors can use while viewing the exhibit.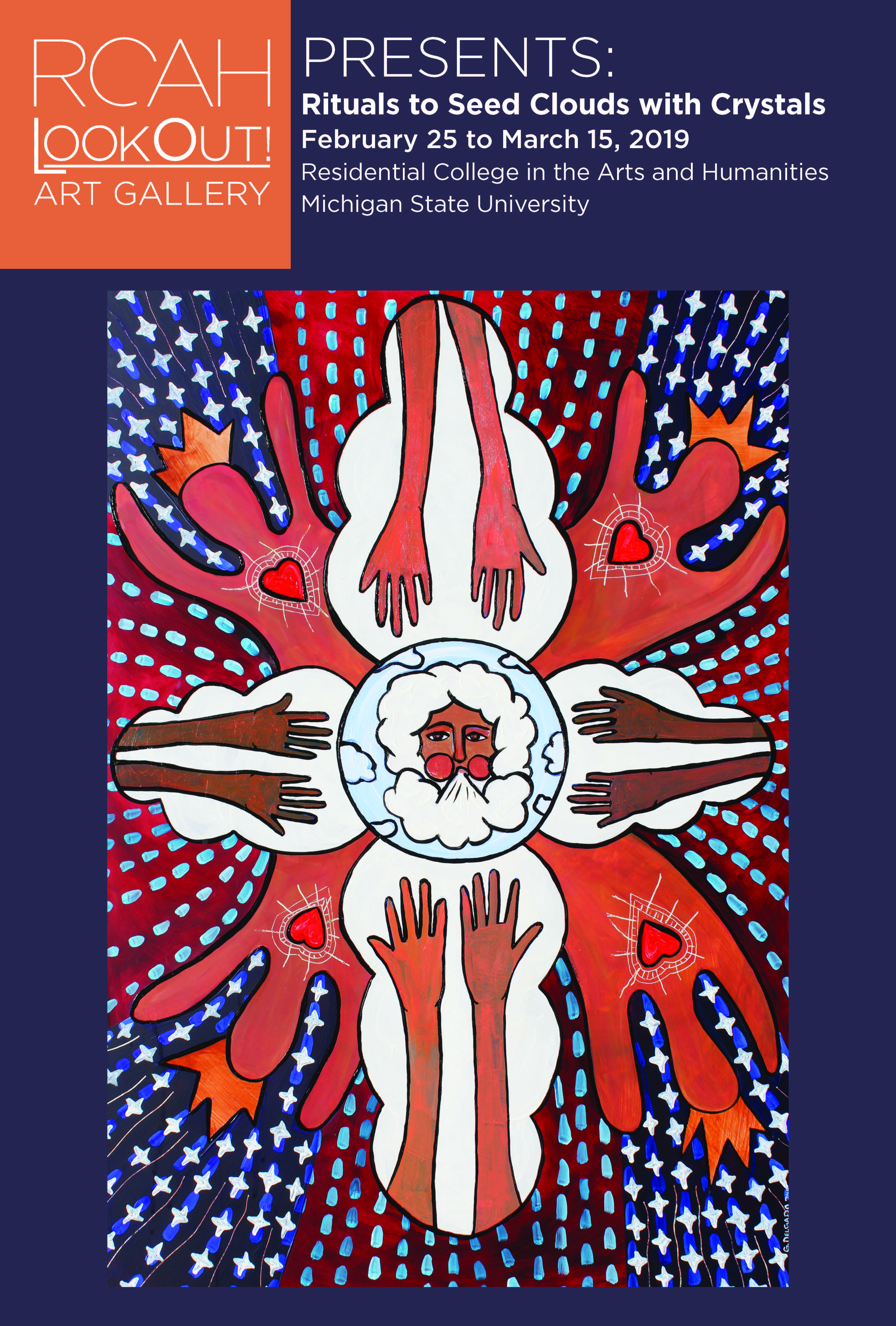 The inspiration behind turning the prison poetry course experience into an exhibit was to "shine a light on the dark and hidden places we have created in this country," Delgado said.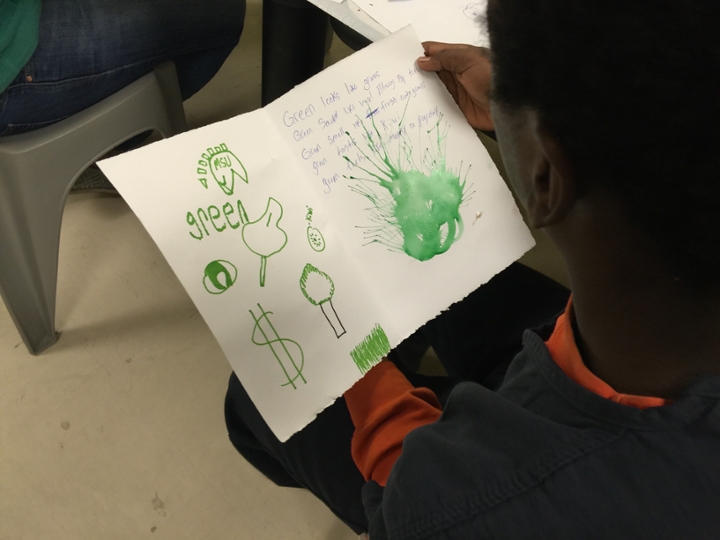 He said the exhibit explores the creative work of the incarcerated while also bringing to life their voices and the deprivation they have experienced. This topic also raises a larger perspective for viewers to experience of the poverty in our communities.
"The exhibition allows the campus community to expand their perspective on what's going on outside the MSU perimeter," Delgado explained. "We are surrounded by communities struggling with poverty and a lack of resources. These deficiencies break people down and destroy lives. It is in all of our best interests to understand this and find ways to become engaged citizens creating change that allows everybody more dignity and opportunities for building better lives and communities."
Delgado's work has not only expanded student perspectives on incarceration in our country. He said that he has learned lessons about his own perspectives along the journey. One lesson in particular is that he is not alone in his thinking: "The arts are powerful tools and serve us in many ways, including self-care," he said.
"I'm inspired by [incarcerated peoples'] ability to write poems and create images for the first time in their lives and come away with a brightness in their eyes that they've never had before—or had abandoned a long time ago," Delgado noted.
"This exhibition taught me that no one can take away your creativity. It is there, sometimes cold, sometimes warm, but it's always there. Sometimes we just need a nudge and supportive and safe space to create and learn in."
Another lesson that came across to Delgado during the creation of the exhibit was to "meet people where they are—not in their past or future."
"To me, the ability to do that, including for myself, has been the greatest gift. The incarcerated artists and poets have taught me to be freer in my thinking and to take more creative risks. They reminded me that creativity is a practice and that it doesn't always have to be masterpieces or works for exhibitions."
Delgado explained that his work with the incarcerated, and the building of this exhibition, has had a tremendous influence on the inmates, as well.
"The incarcerated people are grateful for the opportunity to be themselves—shed the hard personas they have to wear in order to survive in prison," he explained. "They have expressed that they feel a desire to live, be present, and that our program makes them feel human again. I've been told that our program is window of light."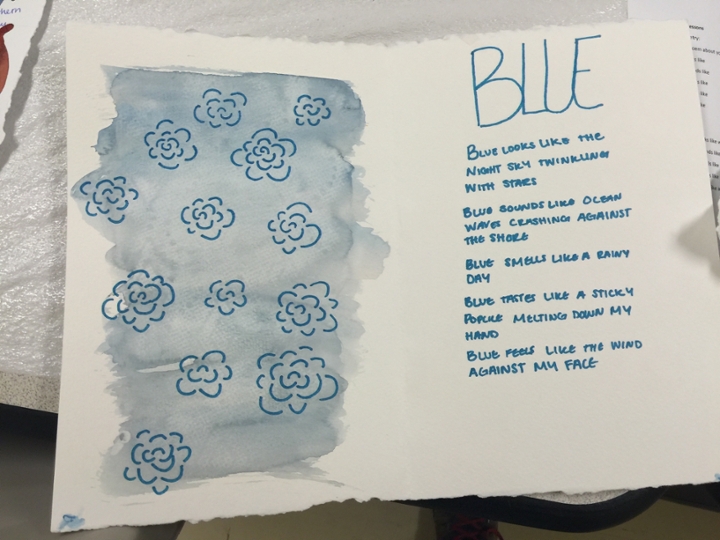 Tessa Paneth-Pollak, Director of the LookOut! Art Gallery, has learned about different aspects of incarceration and teaching during the creation of the exhibit. She attended a class Delgado led at the Michigan Reformatory in Ionia and volunteered as a judge at the end-of-semester Free Verse Arts Poetry Jam Delgado organized at the Parnall Correctional Facility in Jackson to get a first-hand experience with the work that is being showcased in the exhibit.
Paneth-Pollak noted that the interaction the incarcerated students have with Delgado gives them a chance to experience a professor as a human rather than a distant authority figure. She also noted the large impact that taking education beyond the classroom walls has on the community.
"Professor Delgado is teaching RCAH students about the problems of mass incarceration in this country, Paneth-Pollack said. "But he is also teaching students to work within the current system, as flawed as it is, to bring resources to the currently incarcerated."
She noted that in the prison poetry classes, RCAH students are not tutoring or teaching incarcerated students—they all are students, "side by side—no hierarchy involved—which in itself is a radical act."
The effect on the incarcerated students is significant, she said.
"The creative processes Professor Delgado introduces in his classes offsets a lot of pressures inmates are under in the prison system. They are hungry to learn, to experience, and to create art. It is the humanities at their best: deeply humanizing work, for all involved." 
"Rituals to Seed Clouds with Crystals" will be on display from Feb. 25to March 15. The RCAH LookOut! Art Gallery is open Monday to Friday from noon to 3 p.m. The opening reception will take place Thursday, Feb. 26, from 4 to 6 p.m. in the LookOut! Art Gallery, Snyder-Phillips Hall on MSU's campus. All are welcome and admission is free.
The Residential College in the Arts and Humanities at Michigan State University is where students live their passions while changing the world. In RCAH, students prepare for meaningful careers by examining critical issues through the lens of culture, the visual and performing arts, community engagement, literature, philosophy, history, writing, and social justice. RCAH is situated in historic Snyder-Phillips Hall, where students learn and live together in a small-college setting, with all the advantages of a major university. For more information, visit rcah.msu.edu, email rcah@msu.edu, or call 517-355-0210.
Facebook https://www.facebook.com/RCAHMSU/ 
Instagram https://www.instagram.com/rcahatmsu/
Twitter https://twitter.com/RCAH_MSU
YouTube https://www.youtube.com/channel/UCpfDHNy0ws5nxgaL9v1xMGw