RCAH Peace Education Video Aims to Transform Conflict in Mali 
April 3, 2019
MSU's Residential College in the Arts and Humanities (RCAH) and MSU's Scientific Animations Without Borders (SAWBO) created a video with a grant to RCAH from one of its donors, allowing RCAH to build upon a significant grant from the MSU Alliance for African Partnership. 

The "Building Peace" video exemplifies the power of storytelling as a teaching tool for students living amid civil unrest. 

The special collaboration between RCAH and several communities in the country of Mali in West Africa began in 2004.
By Charlotte Baykian RCAH '19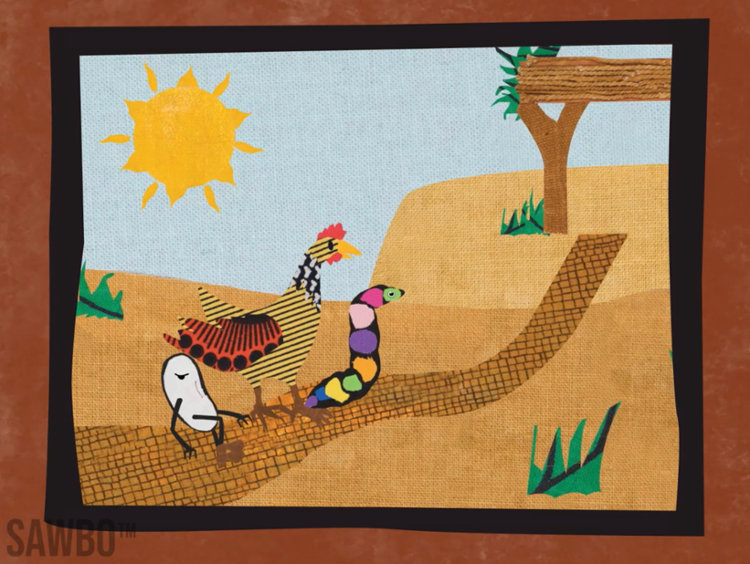 Creating spaces for productive dialogue in the West African country of Mali is the goal of a new animated video in French and in Bamanankan produced by the Residential College in the Arts and Humanities (RCAH) at Michigan State University. The video can be seen at https://sawbo-animations.org/video.php?video=//www.youtube.com/embed/EFjMtQ95SzE.
In late February, RCAH Dean Stephen Esquith will be traveling back to Mali to work with several longtime Malian partners to train local teachers, coaches, and community leaders to use the "Building Peace" video as an educational tool for Malian students. The core group also will be fundraising in Mali to create more videos like "Building Peace" and other performance-based pedagogical tools in French and local languages that the teachers and communities there can use for their students and young people.  
"Conflict transformation" is how Esquith has described the peace education collaboration in Mali—an effort that has been almost 15 years in the making.  
Esquith began working on peace education projects in Mali in 2004, which eventually lead to RCAH students travelling to the country on a study abroad program every two years through 2014, with the exception of 2012. Students worked with teachers and community groups to address political and ethical challenges for a country that has suffered from poverty and other forms of structural and physical violence. Through mediums such as visual and performing arts, as well as recreational sports, the RCAH participants have been able to assist the Malian students as they confront the effects of violence and conflict in their lives. 
A 2012 coup d'etat, displacing approximately 400,000 Malians, increased levels of conflict in the country. Esquith said that this peace-education endeavor has been designed to encourage conversation within local communities, allowing them to address and better understand the sources of unrest and develop alternatives to violent conflict.  
The focal point of this work has been in the town of Kati, 10 miles from Mali's capital of Bamako. Educators at the Ciwara School, a small community school with 300 students, lead the way in this collaboration to create a tangible means of processing and addressing the town's conflicts. The result? Innovative, locally-brainstormed books—and now the video—that have prompted a series of community dialogue forums. 
"The Ciwara School has been a kind of laboratory for working with the teachers and students," Esquith explained in an interview. "Together, we designed books which addressed post-traumatic stress, obstacles young girls face attending school, conflicts between the displaced and the settled within Mali, and other issues that the village has been confronted by in recent years." The books, designed with African fabric, tell stories experienced by the Malian people themselves that address displacement, trauma, and marginalization.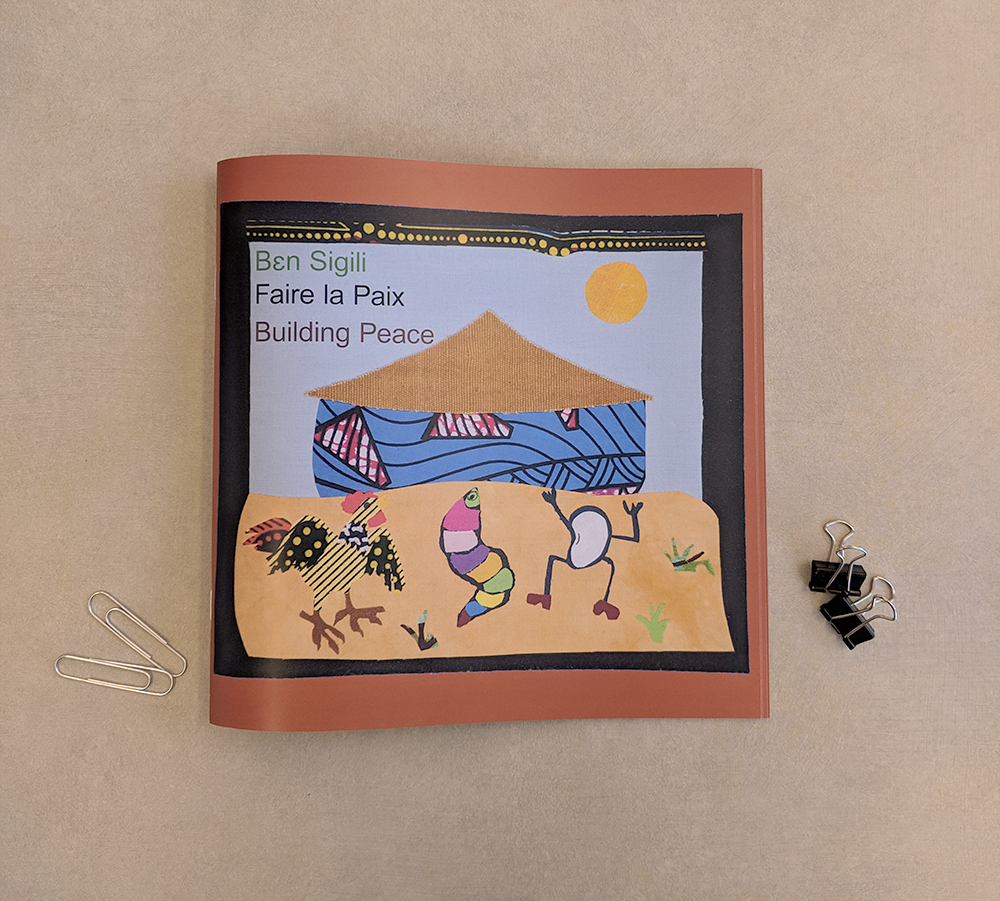 The book "Building Peace," on which the RCAH-SAWBO video is based.
A political simulation, called "The Malian Peace Game," was also launched as a result of this collaboration. The game centers on similar issues as the Ciwara books, encouraging younger Malians to lead community dialogues in their village. After this, the goal has been to spread peace education outside of Kati to other regions of the country. 
To make these education tools readily available to other Malians, one of these Ciwara books, "Building Peace," has been turned into a video animation adapted from the book by MSU's Scientific Animations Without Borders (SAWBO) with help from RCAH faculty Dave Sheridan and Marcus Fields in RCAH's Language and Media Center, and fabric artist Chris Worland. A story about displacement and democratic deliberation, the animated version of "Building Peace" is being distributed throughout Mali and neighboring countries. The network for distribution is being created by RCAH's new local partners in Mali, including Right to Play, the International Sports Alliance, and the Université des Lettres et des Sciences Humaines de Bamako.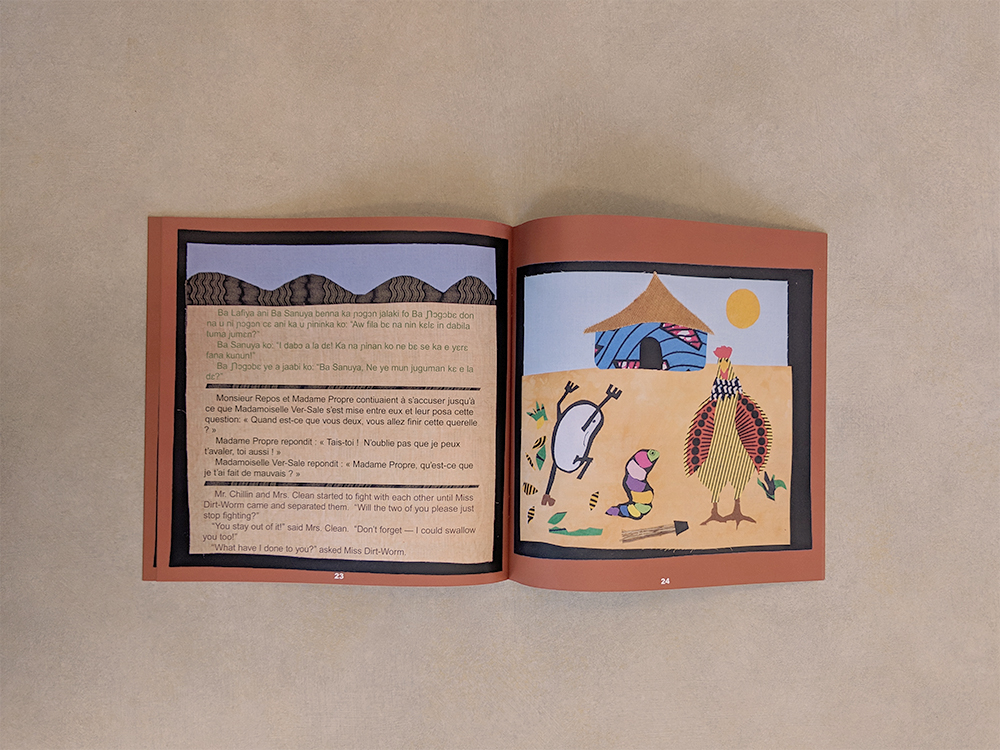 In the story, a bean symbolizes a displaced person in the village who is sleeping on the land of a homeowner, played by a chicken, "Madame Clean." A worm acts as a mediator between the chicken and the bean. This story was chosen for the video project after the teachers at the Ciwara School saw that it had sparked enthusiasm in students of all ages.  
SAWBO is co-directed by faculty members Julia Bello-Bravo and Barry Pittendrigh of MSU's College of Agriculture and Natural Resources. SAWBO is a research platform designed to ask fundamental questions of how we can scale knowledge, according to Bello-Bravo. However, it does also result in animations that can be used for outreach in communities.
RCAH collaborated with SAWBO because its animations are made freely available to those who wish to use them for educational purposes. 
"SAWBO has both the capacity to ask the research questions and provide the technological infrastructure necessary to help scale deployment of the videos," according to Bello-Bravo.
Vital in Android-dominant Africa, the "Building Peace" video can be downloaded onto SAWBO's Android Deployer app and then shared across devices via Bluetooth without the use of the Internet.
"Our app allows the video to be distributed in other, more remote villages in Mali and neighboring countries," Bello-Bravo stated. "The App also allows us to ask questions of how to most effectively scale content in these areas." 
The video has been received well, according to Esquith, with Right to Play, the International Sports Alliance, and the Ciwara School beginning to utilize it as a teaching tool in the Segou and Koulikoro regions of Mali already. 
"We want to transform local conflicts so they are less violent, but we know that often conflict is unavoidable and working through it is how things progress," Esquith stated. "Our belief is that we shouldn't try to eliminate conflict. It will be there, but when it is non-violent, it is a healthy sign that people are engaging with one another." 
Particularly, Esquith said, the partners in this work hope these books and the video will encourage the creation of local democratic forums where the conflicts depicted resonate with the participants and serve as catalysts for continuing dialogue. 
"We have a lot of places where we want to go," Esquith remarked. "We are at the very beginning—and that's exciting to me."
The Residential College in the Arts and Humanities at Michigan State University is where students live their passions while changing the world. In RCAH, students prepare for meaningful careers by examining critical issues through the lens of culture, the visual and performing arts, community engagement, literature, philosophy, history, writing, and social justice. RCAH is situated in historic Snyder-Phillips Hall, where students learn and live together in a small-college setting, with all the advantages of a major university. For more information, visit rcah.msu.edu, email rcah@msu.edu, or call 517-355-0210.
Facebook https://www.facebook.com/RCAHMSU/ 
Instagram https://www.instagram.com/rcahatmsu/
Twitter https://twitter.com/RCAH_MSU
YouTube https://www.youtube.com/channel/UCpfDHNy0ws5nxgaL9v1xMGw