Sariah Metcalfe: Fearless RCAH Student Makes Her Voice Heard
February 13, 2019
Metcalfe has grown to become a bold organizer and activist

.

 

She thanks her RCAH professors for 

creating

 an environment that has allowed her to realize her skills and interests

.

 

"I've engaged with the RCAH faculty and I've had all of these ideas and exciting things that I was able to try because I was here with all of these people, in this space."

 
By Charlotte Baykian RCAH '19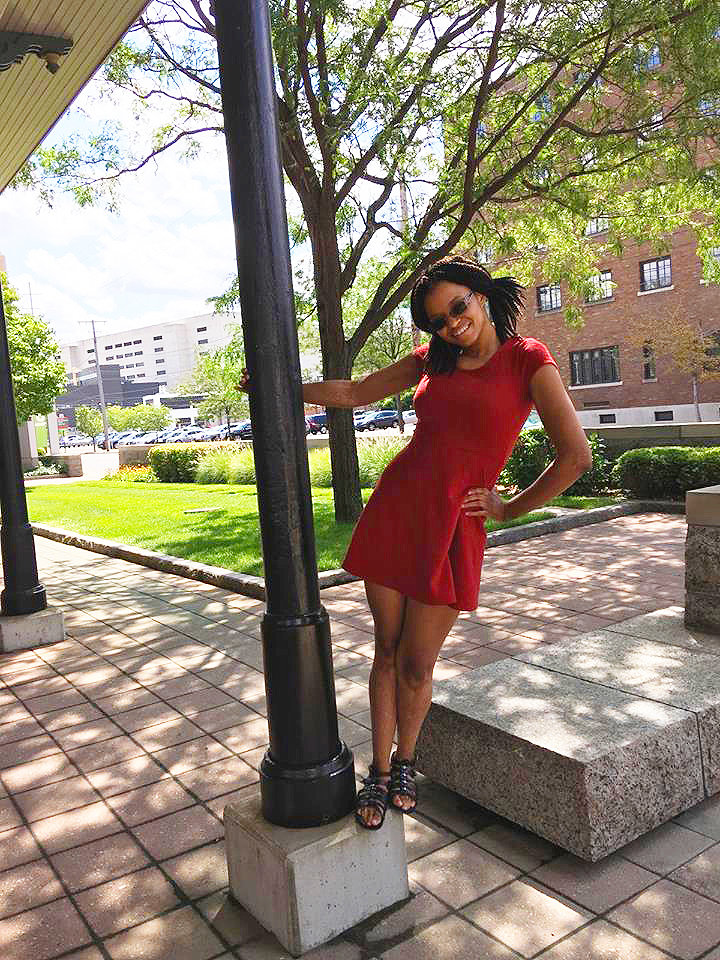 Activist. Organizer. Public speaker. Trainer. Collaborator.  
Sariah Metcalfe has exemplified each of these roles and more during their time at Michigan State University, and they point to the Residential College in the Arts and Humanities (RCAH) for providing the resources to make it all possible. 
An RCAH and history double major currently in her fifth year—or "victory lap," as she calls it—Metcalfe said she is thankful for her RCAH professors and the opportunities they have given her to realize her skills and interests.  
"You don't know what you don't know until you're presented with having to ask questions or think critically about something that's different," Metcalfe explained in an interview. "That's what has made RCAH really impactful for me."  
While attending Loy Norrix High School in Kalamazoo, Michigan, Metcalfe looked into college programs that peaked her interest. A friend had attended an RCAH preview day, where prospective students are introduced to the basics of the RCAH's degree program while also getting a glimpse of what life is like every day in Snyder-Phillips Hall. From what she heard, Metcalfe said she felt that it could be the perfect fit for her.  
She was right. 
"I've engaged with the RCAH faculty and I've had all of these ideas and exciting things that I was able to try because I was here with all of these people, in this space," stated Metcalfe. 
Metcalfe said she has learned to collaborate with others and has created a voice for herself by organizing and planning several events through RCAH. They planned "Peacejam Jam" events centered around justice, one such event being featured as an RCAH Wednesday Night Live program, where community leaders spoke of the work they have done in the Lansing region and shared the stage with student musicians. Metcalfe's sophomore and junior years included helping to plan RCAH Dialogues to discuss race, gender, and other social issues.  
As an MSU Intercultural Aide, Metcalfe became a supportive student resource at Michigan State for first-year students. They engaged these students in the Multi-Racial Unity Living Experience (MRULE), planning and facilitating discussions and events focused on cultural, political, and social topics.   
In her RCAH community engagement courses, Metcalfe worked alongside other students and Professor Estrella Torrez to help Latinx students at Lansing's Everett High School in their transition to college and navigating potential career paths. There, the class engaged in discussions surrounding the good and the bad of the high schoolers' education. Metcalfe regarded this experience as having ignited their passion for building community. 
Torrez spoke highly of her time working with Metcalfe. "Over the last few years, I have had the great opportunity to work alongside Sariah on a number of community-based participatory action research projects with local Latinx youth," Torrez explained. "Our high school co-researchers engaged with Sariah because she listened–truly listened to them–on a level most were not accustomed from non-peers." 
"In my time with her, I have come to appreciate the immense compassion, respect, love and thoughtfulness Sariah brings to community work. It is truly inspiring to see someone dedicate such energy and love to social equity work. Honestly, it is because of students like Sariah that make the work I do so rewarding." 
Metcalfe's most recent position has been as an Undergraduate Organizing Fellow with Michigan Student Power. With MSP, they have met with other student organizers across the state to learn about the history of progressive campus movements, plan campaigns, and learn about improving turnout for events. Metcalfe successfully organized a Student Power Summit in collaboration with RCAH. The College welcomed 140 guests, offered more than 20 workshops on progressive movement history, organized trainings, and hosted caucus meet-ups.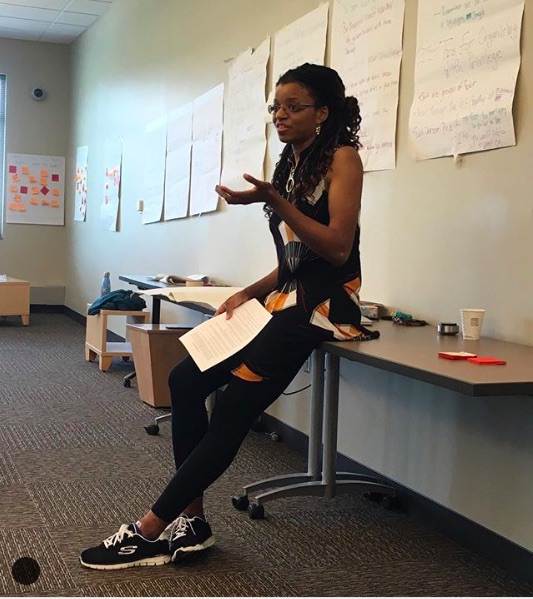 "I think all of those little ventures where I put myself on stage have made me a stronger person," Metcalfe said. "It's made me someone who can organize events, someone who—even if she's screaming on the inside—can walk into a room and get everyone's attention and ask them to do an icebreaker. It's given me the opportunities to just grow." 
Looking toward the future, Metcalfe said her goals change often but she remains focused on community work and social justice, using the skills she has gained by being an RCAH student. Whether it be as a lawyer, a college advisor, a researcher, or a professor—all careers Metcalfe has entertained—Metcalfe knows she will take what she has learned at the College and apply it after she graduates. She continues to cite RCAH as a source of her critical analysis, organization, and facilitation skills, and identifies it as the reason Michigan State University feels like home. 
"I now have this sense of independence that wouldn't have developed in me had I not built the relationships I did in RCAH," Metcalfe said. "There's just so many of us—so many people and students who come and want to share their stories, their art, their work... and I have been able to benefit immensely from that." 
Photos courtesy of Sariah Metcalfe and Michigan Student Power.  
The Residential College in the Arts and Humanities at Michigan State University is where students live their passions while changing the world. In RCAH, students prepare for meaningful careers by examining critical issues through the lens of culture, the visual and performing arts, community engagement, literature, philosophy, history, writing, and social justice. RCAH is situated in historic Snyder-Phillips Hall, where students learn and live together in a small-college setting, with all the advantages of a major university. For more information, visit rcah.msu.edu, email rcah@msu.edu, or call 517-355-0210.
Facebook https://www.facebook.com/RCAHMSU/ 
Instagram https://www.instagram.com/rcahatmsu/
Twitter https://twitter.com/RCAH_MSU
YouTube https://www.youtube.com/channel/UCpfDHNy0ws5nxgaL9v1xMGw