Disconnection, Struggle, and Resistance Themes of 2019 Spring Poetry Festival
March 20, 2019
The RCAH Center for Poetry festival runs from April 3 to April 17, with guest poets Gabrielle Calvocoressi, Tyehimba Jess, and Franny Choi.
"They will help us think about how poetry can be used in the service of healing and how poetry gives us a way into other lives," said the Center for Poetry's Cindy Hunter Morgan.
All events are free and open to the public.
By Kara Dempsey '19
The RCAH Center for Poetry's 2019 Spring Poetry Festival will feature three of America's leading voices in poetry confronting issues such as exploitation, oppression, invisibility, and erasure.     
The Festival will kick off April 3 with Gabrielle Calvocoressi. She is the author of Los Angeles Times Book Prize finalist The Last Time I Saw Amelia Earhart, Apocalyptic Swing, and winner of the Audre Lorde Award for Lesbian Poetry, Rocket Fantastic. Calvocoressi has received many awards and fellowships such as a Stegner Fellowship and Jones Lectureship from Stanford University, the Rona Jaffe Woman Writer's Award, a Lannan Foundation residency in Marfa, Texas, and the Bernard F. Conners Prize from The Paris Review, as well as a residency from the Civitella Ranieri Foundation.
Calvocoressi writes about small towns and spent towns, but she engages all of America, according to Cindy Hunter Morgan, interim director of the Center for Poetry and an assistant professor at RCAH. Morgan said Calvocoressi's work embodies the messages that the Festival is aiming to address and present to students and the community.
"Calvocoressi is interested in resiliency," Morgan said. "She's interested, as she has said, 'in the body's capacity to get up'."
Morgan noted the relevance of Calvocoressi's statement to the goal of the Festival saying, "This is at the heart of what we can learn from poetry and what we can learn from our visiting artists: how we rise after falling, how we get up after getting pushed down. Our visiting writers have crafted poems that need to be heard. Their poems tackle issues we need to discuss, and the wonderful thing about poetry is that it allows us to head into deep and difficult territory without abandoning joy or hope."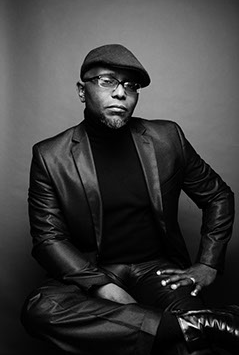 Tyembhia Jess will appear at the Festival on April 10. Jess is author of two award-winning poetry publications. His most recent book, Olio, won the 2017 Pulitzer Prize, the Anisfield-Wolf Book Award, The Midland Society Author's Award in Poetry, and an Outstanding Contribution to Publishing Citation from the Black Caucus of the American Library Association. The book was also nominated for the National Book Critics Circle Award, the PEN Jean Stein Book Award, and the Kingsley Tufts Poetry Award. His other book, Leadbelly won the 2004 National Poetry Series. The Library Journal and Black Issues Book Review both named Leadbelly one of the "Best Poetry Books of 2005."
"Olio combines poetry with historical documents, letters, and song lyrics to address stories of the first generation of freed slaves," Morgan said, "The book also presents stories about the music some of those freed slaves made: ragtime, blues, worksongs, church hymns. The poems examines the lives of mostly unrecorded African American performers before the Civil War up to World War I."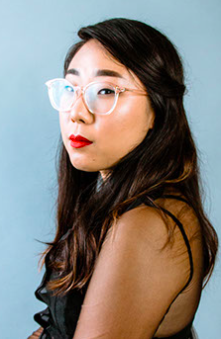 Franny Choi is the third and final guest during this year's Festival, appearing on April 17. Choi is author of the poetry collections Soft Science and Floating, Brilliant, Gone, and a chapbook, Death by Sex Machine. Choi has received awards from the Poetry Foundation and the Helen Zell Writers Program, and fellowships from the Vermont Studio Center and the Rhode Island State Council on the Arts. Her work has been showcased in journals including POETRY, The American Poetry Review, and New England Review, The Huffington Post, Ms. Magazine, PBS NewsHour, and Angry Asian Man.
 "Choi's work, too, shows how someone can find her own voice," Morgan said. "She's thinking about how people of color, immigrants, women, and queer/trans people often feel some pressure to be or pretend to be someone else. As a girl, Choi studied the speech patterns of other Korean-American kids so she wouldn't sound like them. But with her poetry, she reveals the power of the tongue unfurled."
Morgan explained that the Festival organizers always try to bring some of the nation's leading poets to MSU's campus.
"We read all year long, and our ears are always tuned to poetry," she said, adding that poets are selected based on the body of work they've produced and their poet's attention to craft.
"This year, we gave particular attention to poets whose work addresses disconnection and fragmentation, struggle and resistance," Morgan noted. "Our visiting poets address important issues in their work: exploitation, oppression, invisibility, erasure. All of the visiting poets we will bring to campus can help build and sustain a conversation in East Lansing about the role of art in our lives. They will help us think about how poetry can be used in the service of healing and how poetry gives us a way into other lives."
Morgan emphasized the importance of aspiring student writers hearing from accomplished poets.
"We must be exposed to good work to become good writers," she said. "We learn to write by imitating rhythms and patterns in language, by noticing what other writers notice, and by hearing how other writers find and create musicality and metaphor."
The Festival is not just for writers, though. The readings and events offer opportunities for all students and community members to experience the power of poetry. According to Morgan, this kind of experience is important.
"We need poets to encourage us to speak up, and to remind us how art frees us—even in the face of oppression," she noted.
The 2019 Spring Poetry Festival is free and open to the public. All afternoon conversations will take place in the RCAH LookOut! Art Gallery, and evening conversations will take place in the RCAH Theater, both located in Snyder-Phillips Hall.
April 3: Gabrielle Calvocoressi
Afternoon conversation at 3:30 p.m. in the LookOut! Art Gallery
An evening with Gabrielle Calvocoressi at 7 p.m. in the RCAH Theater
April 10: Tyehimba Jess
Afternoon conversation at 3 p.m. in the LookOut! Art Gallery
An evening with Tyehimba Jess and Balocating Undergraduate Prize for Poetry Presentation at 7 p.m. in the RCAH Theater
April 17: Franny Choi
Afternoon conversation at 3 p.m. in the LookOut! Art Gallery
Wednesday Night Live with Franny Choi, 7 p.m. in the RCAH Theater (counts as WNL credit)
For more information visit: http://poetry.rcah.msu.edu/spring-poetry-festival.html
The Residential College in the Arts and Humanities at Michigan State University is where students live their passions while changing the world. In RCAH, students prepare for meaningful careers by examining critical issues through the lens of culture, the visual and performing arts, community engagement, literature, philosophy, history, writing, and social justice. RCAH is situated in historic Snyder-Phillips Hall, where students learn and live together in a small-college setting, with all the advantages of a major university. For more information, visit rcah.msu.edu, email rcah@msu.edu, or call 517-355-0210.
Facebook https://www.facebook.com/RCAHMSU/ 
Instagram https://www.instagram.com/rcahatmsu/
Twitter https://twitter.com/RCAH_MSU
YouTube https://www.youtube.com/channel/UCpfDHNy0ws5nxgaL9v1xMGw