Sitara Thobani of RCAH Receives Fulbright for Research on Dance in India
April 30, 2019
RCAH Assistant Professor Sitara 

Thobani

 has received the 

Fulbright-Nehru Academic and Professional Excellence Award

 

She plans to use the grant to fund further research on representations of the Indian dancer in 

Dehli

, Pune, Benare

s, and 

Lucknow

 

This research will l

ead to the publication of her second book

 
By Charlotte Baykian '19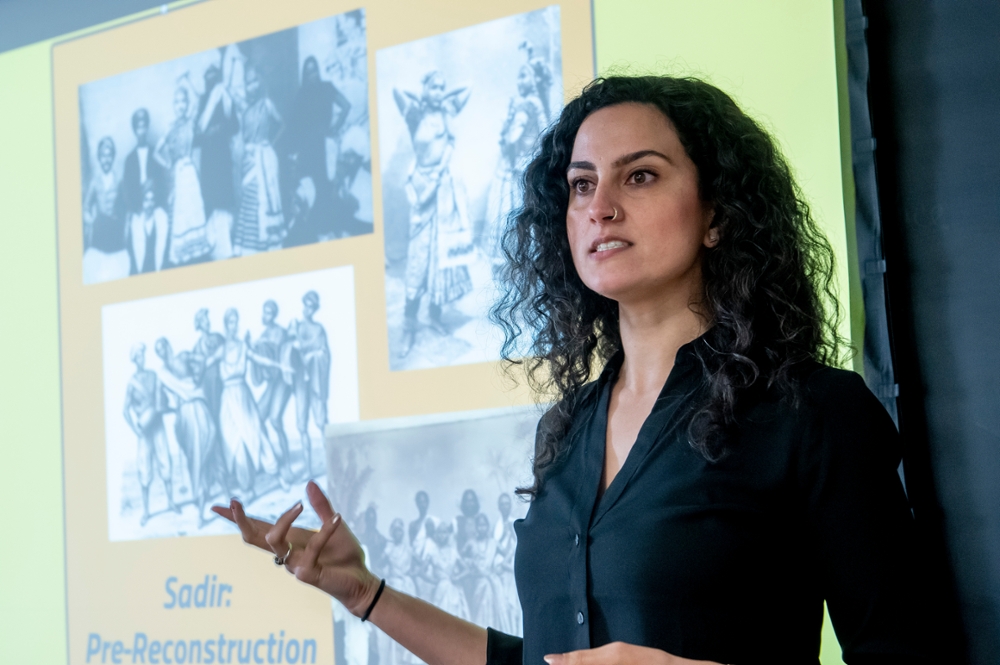 Sitara Thobani has established herself as a respected researcher of the performance arts in colonial and postcolonial South Asia and its diasporas—for which she has now received a Fulbright-Nehru Academic and Professional Excellence Award.  
Thobani, an assistant professor in the Residential College in the Arts and Humanities (RCAH) at Michigan State University, focuses her research on representations of the Indian dancer in both Euro-American and Indian sources in the 19th and 20th centuries. The Fulbright allows Thobani to conduct archival research in the Indian cities of Dehli, Pune, Benares, and Lucknow over the next year.  
Research gained from these trips will build on the exhibition Thobani presented at the LookOut! Art Gallery at the beginning of the 2018-2019 academic year and will lead to the publication of her second book. Thobani draws on a range of references in her research, such as print sources, literature, film, performance, and visual arts.  
Her first book, "Indian Classical Dance and the Making of Postcolonial National Identities: Dancing on Empire's Stage," was based on her ethnographic fieldwork in the United Kingdom and India, which demonstrated how performances of Indian classical dance serve as a critical site for the mutual constitution of deeply entangled Indian, diasporic, and British national identities. 
"I'm delighted to have received this Fulbright," Thobani expressed. "I really look forward to undertaking my research on representations of the Indian dancer and the role these play in constructing ideas about race, gender and religion in the 19th and 20th centuries." 
The Fulbright-Nehru Academic and Professional Excellence Fellowships aim to facilitate exchanges between faculty, researchers, and professionals in India and the United States. These fellowships provide the opportunity to teach, conduct research, or carry out a combination of teaching and research.
Thobani plans to begin her archival research in India this summer and will return for further research the following spring. Each city she plans to visit offers different dimensions of her research, she said. Delhi is home to the national archives, Pune holds the national film archives, and Benares and Lucknow were major centers of dance performance in North India in the 19th century.  
"Grants like this are crucial in providing support to scholars in the social sciences and humanities," Thobani pointed out. "Such fields of study help us understand how ideas about power and difference are grounded in, and shape, everyday cross-cultural practices." 
The Residential College in the Arts and Humanities at Michigan State University is where students live their passions while changing the world. In RCAH, students prepare for meaningful careers by examining critical issues through the lens of culture, the visual and performing arts, community engagement, literature, philosophy, history, writing, and social justice. RCAH is situated in historic Snyder-Phillips Hall, where students learn and live together in a small-college setting, with all the advantages of a major university. For more information, visit rcah.msu.edu, email rcah@msu.edu, or call 517-355-0210.
Facebook https://www.facebook.com/RCAHMSU/  
Instagram https://www.instagram.com/rcahatmsu/
Twitter https://twitter.com/RCAH_MSU
YouTube https://www.youtube.com/channel/UCpfDHNy0ws5nxgaL9v1xMGw