RCAH Student Performs 'Through the Storm': Discussing Sexual Assault and the Healing Process
February 7, 2019
'Through the Storm' will be performed Sunday, Feb. 10 at 8 p.m. and Saturday, Feb. 16 at 8 p.m. in the RCAH Theater, Snyder-Phillips C20. Doors open at 7:30 and admission is free.
The show includes original poetry, dance performances and scenes from students who have heavily researched plays dealing with assault.
"The goal behind 'Through the Storm' is to take a critical look at the different faces and stages of healing after trauma."
By Kara Dempsey '19
During a time on campus when sexual assault is at the forefront of the cause for change, RCAH students are rising to the occasion. Camille Thomas '19, an RCAH and theatre student, and fellow theatre student Molly Bennett, are the artists behind "Through the Storm." The two said they conceived the the show when frustrations in the student body concerning sexual assault situations came to their direct attention in the theatre department.
After deciding action needed to be taken, the two said they cultivated their talents and created "Through the Storm." The performance showcases 55 minutes of original poetry, dance, and scenes from students who have heavily researched plays dealing with assault.
"We want to examine all of the various emotions that we as women and gender non-binary people face after going through traumatic situations, and by doing so encourage our audience to engage in this healing process with us and contemplate what healing looks like for them," Thomas said.
"Through the Storm" performances will be Sunday, Feb. 10, at 8 p.m. and Saturday, Feb. 16, at 8 p.m. in the RCAH Theater, Snyder-Phillips C20. Doors open at 7:30 and admission is free to all students and staff members. During the performance, due to the triggering topic of discussion, there will be a safe space available outside of the auditorium for audience members during the show.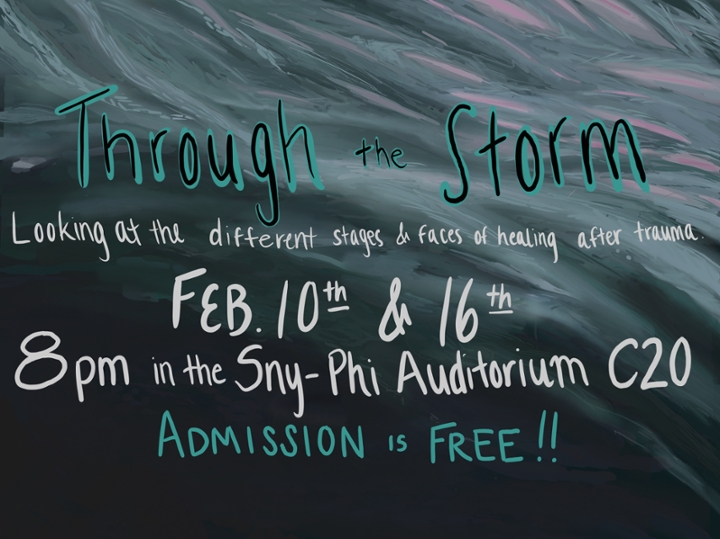 The Residential College in the Arts and Humanities at Michigan State University is where students live their passions while changing the world. In RCAH, students prepare for meaningful careers by examining critical issues through the lens of culture, the visual and performing arts, community engagement, literature, philosophy, history, writing, and social justice. RCAH is situated in historic Snyder-Phillips Hall, where students learn and live together in a small-college setting, with all the advantages of a major university. For more information, visit rcah.msu.edu, email rcah@msu.edu, or call 517-355-0210.
Facebook https://www.facebook.com/RCAHMSU/ 
Instagram https://www.instagram.com/rcahatmsu/
Twitter https://twitter.com/RCAH_MSU
YouTube https://www.youtube.com/channel/UCpfDHNy0ws5nxgaL9v1xMGw