RCAH Students Presenting at UURAF Friday
April 1, 2019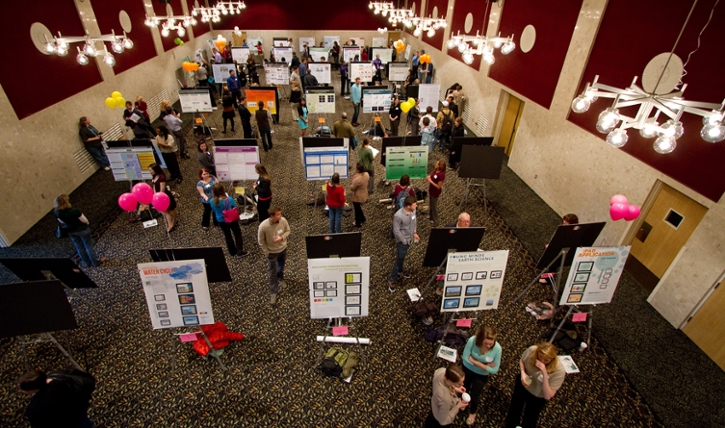 Seven students from the Residential College in the Arts and Humanities (RCAH) at MSU will present at the 21st annual University Undergraduate Research and Arts Forum, held this Friday, April 5, at the MSU Union.
UURAF provides MSU undergraduate students with an opportunity to showcase their scholarship and creative activity. Held each spring, UURAF offers a unique educational opportunity for students to gain experience presenting their work, answering questions from audience members and guests, and receiving constructive feedback from judges.
The RCAH students presenting are Aileen Dwyer '20 of Traverse City, Michigan; Gillian Gahn '20 of Traverse City, Michigan; Emily Hatch '20 of Ann Arbor, Michigan; Kate Lafrenz '20 of Stevensville, Michigan; Claire Marks-Wilt '21 of Tecumseh, Michigan; Ryan Roehler '19 of Traverse City, Michigan; and Lora Root '21 of Howell, Michigan.
For more about UURAF, visit http://www.urca.msu.edu/uuraf
RCAH Student Presentations
On the Outside, Looking In: Creating Narrative-Driven Games Exploring Empathy and Player Choice
Poster presentation by Aileen Dwyer, along with Gabriela Gendreau, George McNeill, Becky Roman, Stefani Taskas, Alec Tryan, Hanna Wong, Shay Yao,
Where and when: Ballroom from 11 to 12:30 p.m.
Faculty mentor: Rabindra Ratan
Description: An anthology of narrative-driven games places players in several distinct social environments and asks them to make impactful choices. Will you lend a hand to a socially awkward student? Can you help a young boy understand why his family cannot afford to buy him trendy shoes?  How do the outcomes of your choices feel when you take on the role of the awkward student or young boy? The narratives will dynamically change based on player choices. The game is designed to induce empathy and reduce stereotyping and an assessment study will test this hypothesis empirically. This project is part of a larger empathy games initiative being supported Office for Inclusion and Intercultural Initiatives. 
The Roles of the Arts and Humanities in Youth Empowerment Programs
Oral presentation by Gillian Gahn

Where and when: MSU Room at 12:30 p.m.

Faculty mentor: Kevin Brooks
Description: Civic engagement is about going out in the community, and seeing what problems people are having, and saying, "These are the resources and skills I have, how can I best assist you?" It is about building a relationship that is beneficial for all parties involved. Incorporating the arts and humanities into youth empowerment programs is vital because the arts help boost confidence, help youth find a sense of purpose, and a sense of belonging. They also promote cognitive and social skills, democratic decisions, group work, and empowerment. The humanities include working with other people, building relationships out in the community, discussing current social issues, and problem solving. By incorporating these skills into youth empowerment programs, they give the youth more tools to succeed and become the best that they are capable of being. With this in mind, these perspectives developed my understanding of civic engagement and guided my participation during civic engagement activities. Therefore, this paper reflects on my roles in three youth empowerment programs where I created lesson plans and facilitated weekly sessions on social and emotional learning as well as promoted healthy living and literacy for students in kindergarten through 12th grade. These experiences have given me great insight into what works and what does not work for various types of youth empowerment programs. This presentation explores the importance of creating successful youth empowerment programs that incorporate the arts and humanities.
Community Participatory Research in Palmichal, Costa Rica
Poster Presentation by Emily Hatch and Kate Lafrenz

Where and when: Lake Huron Room from 1 to 2:30 p.m.

Faculty mentor: Vincent Delgado
Description: During the spring of 2018, three researchers lived and worked in the community of Palmichal de Acosta for two months as part of a study abroad program for civic engagement and sustainability through Michigan State University. Many conversations with community members, as well as an examination of past research in Palmichal, uncovered a need to further learn about, and address issues facing teens in the community. This interest and concern led to the following research question: What are the social challenges that youth in Palmichal face today? What are the causes and effects of these challenges? Researchers utilized three surveys, informal and formal interviews, and an Appreciative Inquiry art installment as the methods to answer this question. Additionally, researchers consulted the Community Participatory Research Cycle (Stoecker, 2013), the RCAH Engagement Model (Delgado, 2010), and the Inquiry Model (Reimer et al, 2004) to design their methodology and analyze results. Research in Palmichal concluded that underage drinking, drug use, and teen pregnancy are the most apparent challenges that teenage youth in the community face. Causes of these challenges include peer pressure, a desire to fit in, easy access to substances, opportunities to use them, lack of information about sex, and lack of communication between parents and children. Effects of these challenges consist of academic struggles, loss of friendships, missed opportunities, and financial and health issues. Recommendations for future students in Palmichal include working with the community to identify a strategic plan that would address the main challenges facing youth.
Documenting Housing Discrimination in Lansing, MI, 1930s-1950s
Poster presentation by

Claire Marks-Wilt

Where and when: Lake Huron Room from 3 to 4:30 p.m.

Faculty mentor: John Aerni-Flessner
Description: Urban Renewal generally refers to redevelopment projects involving the removal of blighted housing or building structures and the addition of replacement structures that are theoretically stimulating economically. Lansing, Michigan attempted several urban renewal projects, including the construction of Interstate 496 from 1963-1970 and in the area around the Oldsmobile/General Motors Grand River Assembly Plant. Similar to many other narratives of Urban Renewal throughout the 20th century, neighborhoods housing African American residents were disproportionately affected. Thus, African American residents living south of downtown Lansing were removed from their homes in preparation for the urban redevelopment projects and were forced to face federally backed redlining processes, on-contract housing, and racially based housing discrimination. By using real estate cards from the CADL archives I was able to map a narrative of the 300 to 1500s blocks of Olds Avenue from the 1930s to 1950s. The blocks on Olds Avenue transitioned into a neighborhood that slowly changed to allow African American occupants, starting on the east side of Olds Avenue and progressing to the west. The transition also shows the class divides within the African-American community by the marketing practices of those selling houses. The gradual shifts in these neighborhoods, and the strong communities that were present in the neighborhood suggest when the Urban Renewal projects of the 1960s were so disruptive to communities that were predominantly African-American. This research exemplifies topics such as redlining, on-contract housing, and racially based housing discrimination while also reflecting the racial composition of Olds Avenue, as it transitioned from a largely caucasian concentrated neighborhood, to a primarily African American neighborhood. This research shows the process of redlining and the use of discriminatory housing practices.
Tools for Empowerment:Using Social-Emotional Learning for the Academic and Character Development of Lansing Youth  
Oral presentation by Ryan Roehler

Where and when:

Mosaic Multipurpose Room at 9:15 a.m.
Faculty mentor: Kevin Brooks
Description: In my presentation, I will discuss how I used the framework of social-emotional learning to construct and run an after-school program at Willow Elementary in Lansing, MI for youth, grades 1st through 3rd, who have been identified by the school system as needing extra attention. Many of these students struggle with poor living conditions (such as homelessness or an unsafe home environment) and/or have a history of behavioral problems in school. Therefore, the program was designed to instill positive character traits (empathy, inclusion, responsibility, resilience, empowerment, etc.) in these students in order to improve their ability to cope with difficult circumstances, to develop confidence in their abilities inside and outside the classroom, and to allow them to explore who they are (and who they want to become) through creative expression. This was accomplished through weekly sessions in which one of the character traits was focused on, so that the students had the opportunity to define the trait, to see how it relates to their lives, and to share what they learned with others in the program. In doing this, the students were able to take control of their learning and, in the process, increased their proficiency in social-emotional skills that allow them to better regulate their emotions and maintain positive relationships.
Coin-Op Carnival: Electrifying tales of Mechanical Contraptions
Poster Presentation by Laura Root

Where and when: MSU Ballroom from 9 to 10:30 a.m.

Faculty mentor: Ryan Claytor
Description: Originally conceived during the Great Depression era in the United States, coin-operated games and devices have come a long way in terms of complexity and lasting impact. The earliest versions of these games included indoor derivatives of lawn-ball games, including croquet and bocce ball, but with the eventual added elements of the aforementioned coin-operation as well as electromechanics, pinball and other tabletop ball games were adapted into their more recognizable, modern-day form. The purpose of this research project stems from tracing the impact of these games and representing this information in visual format in partnership with the promotion of MSU's Comic Art and Graphic Novel minor. Interview and biographical material was formatted to be read in comic form in Professor Ryan Claytor's Coin-Op Carnival, which marries coin-operated amusement devices and their history with the comics medium.
The Residential College in the Arts and Humanities at Michigan State University is where students live their passions while changing the world. In RCAH, students prepare for meaningful careers by examining critical issues through the lens of culture, the visual and performing arts, community engagement, literature, philosophy, history, writing, and social justice. RCAH is situated in historic Snyder-Phillips Hall, where students learn and live together in a small-college setting, with all the advantages of a major university. For more information, visit rcah.msu.edu, email rcah@msu.edu, or call 517-355-0210.
Facebook https://www.facebook.com/RCAHMSU/ 
Instagram https://www.instagram.com/rcahatmsu/
Twitter https://twitter.com/RCAH_MSU
YouTube https://www.youtube.com/channel/UCpfDHNy0ws5nxgaL9v1xMGw