Beaumont's Beauty: A Student Reflects on Life After Tragedy
February 26, 2023
This story has been published on the MSUToday website.  
RCAH junior Maren Case looks back on her time at Michigan State in the wake of February 13, 2023

She served as historian for MSU's Tower Guard in the 2021-2022 academic year, and reflects on her memories of Beaumont Tower before and after tragedy

"I refuse to let cherished memories of MSU's peace be tarnished by terror; I only see them as something much more valuable now," Case says
By Maren Case '24
Walking arm in arm with your family across campus is something you do on the cusp of nervous freshman independence. I have also learned that it's what you do in the wake of unimaginable tragedy at your beloved university. 
"Spartan Sunday," an afternoon of incredible support that helped Spartans reclaim their campus after the violence of February 13, offered hours of welcome sunshine, lighting the uneasy path ahead for countless families who navigated difficult emotions between booths of embracing alumni and cellophane wrapped flowers that whispered in the wind. My family traversed memorials and quietly stopped at Beaumont Tower, whose gentle music was weaving itself around our ivy covered halls and enveloping us in a soft embrace of deep consolation.
It was then, in those solemn moments, that I became very aware of my own memories of this historic beacon of Michigan State.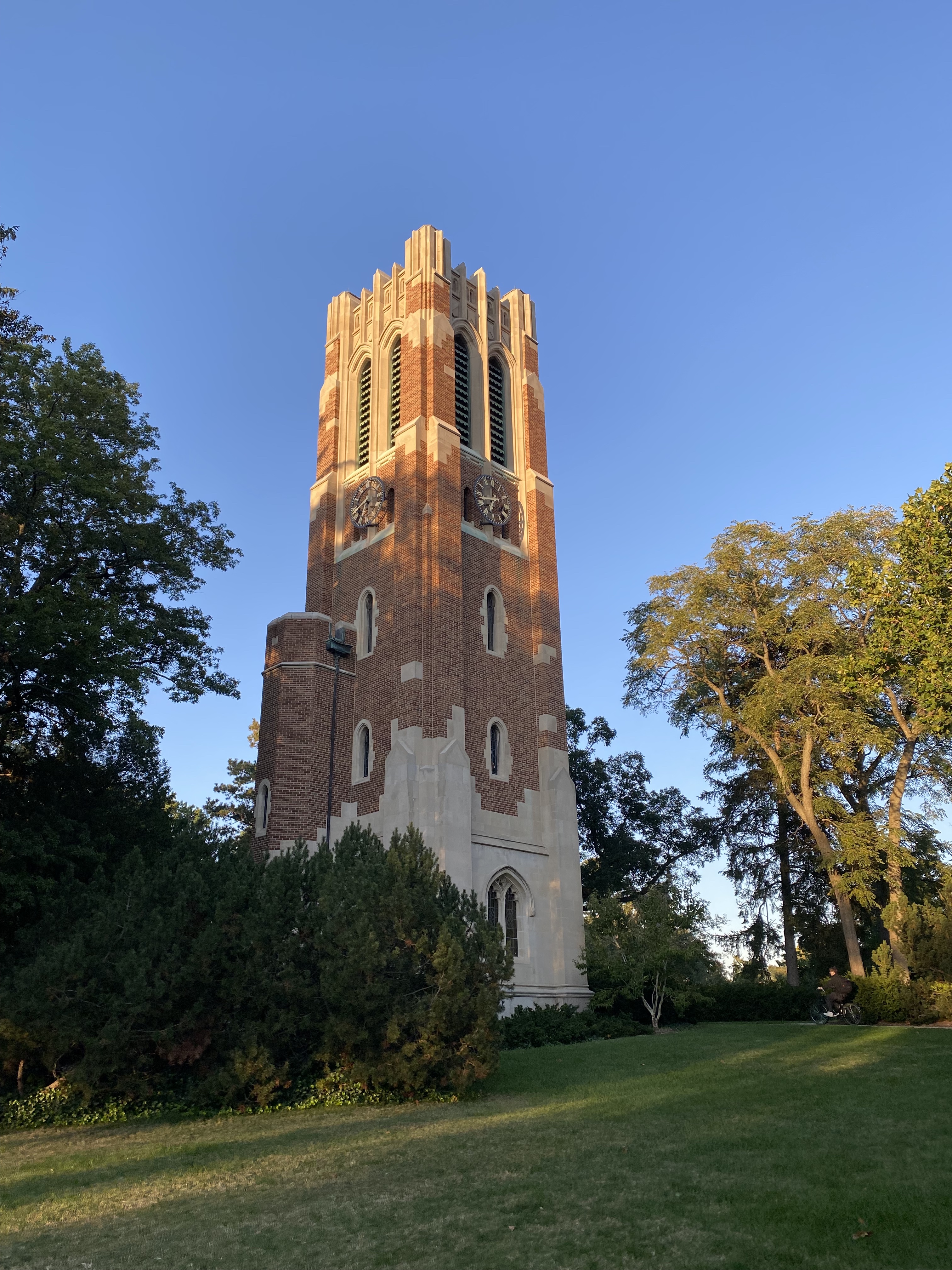 A year ago, I embarked on my second semester as the historian of Tower Guard, a sophomore honor society founded in 1934 whose mission is to create a more accessible university experience for all students. Serving as historian, I gave tours of Beaumont to the public and shared the sounds of the Tower's carillon–an instrument that marries a piano and 49 large bells that chime in tandem when chords play. 
Constructed in 1928, the four-story Beaumont is home to one of only 15 such carillons in the State of Michigan, with ours proudly nestled on the top floor. Whenever music is heard ringing from the red bricks on high, it indicates that an actual person has climbed up the Tower's 73 antiquated stairs to the "playing cabin" and chose to play a song for the campus. I always laugh to myself when I pass by and hear a tune flutter to the ground from behind the old clock face. How many other Spartans know that, surprisingly, there are actual live musicians in that Tower? 
Being historian also meant spending countless hours exploring Beaumont. Anyone who passes by the Tower might have a range of thoughts about the structure, that it's been transplanted from a fairytale realm or maybe that it stands as a haunted gothic stronghold. I must admit that similar ideas captivated me and ignited the desire for adventure once I was granted access to the Tower. I alone had the ability to comb my way through decades of honored history, to fly up the endless stairs like a lighthouse keeper towards my personal beacon of bright wonder, to be humbled by waves of massive sound from dutiful bells just a ceiling away, to feel the weight of the immense character of this place….
Though the Tower is almost a century old, I was never afraid to be in Beaumont alone. Ghosts, if there were any, permitted me to see their storied home. I supposed Michigan State did the same.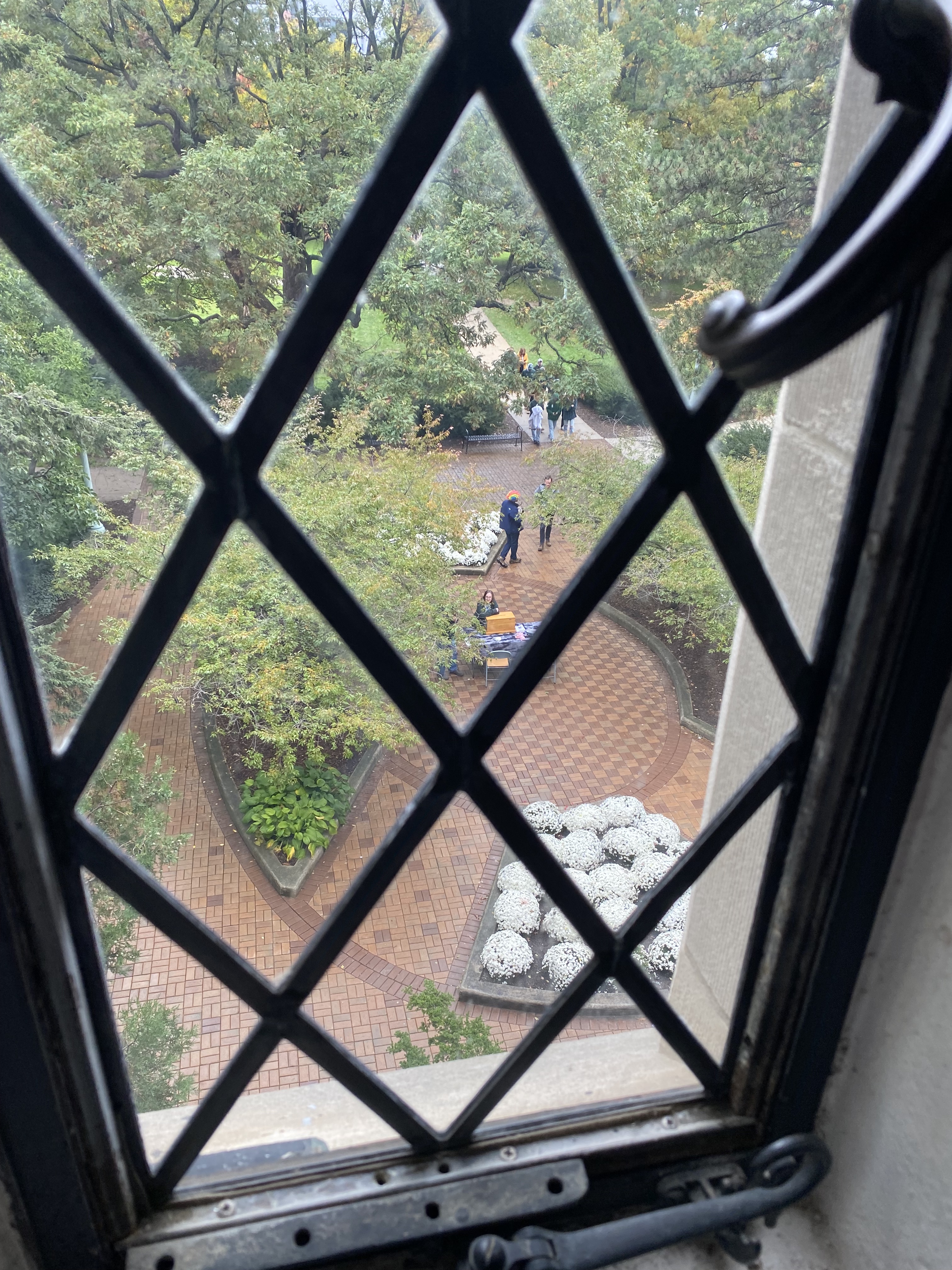 Upon entering, the first thing I noticed was the cathedral-like ceiling behind broad wooden doors and iron brocade windows cloudy with age. A trek up curling stairs leads to the second floor, the meeting room for Tower Guard, centered on the green sun-faded tapestry in the corner, adorned with white embroidery of the Tower itself. The view here across the lawn is unmatched and the bells sounding from the floor above aren't actually as loud as you would think. A final quick ascent leads to the third floor, a time capsule of a lounge for resident bell players, and a small hole in the ceiling leads to the carillon, the keystone of our campus. 
Tower Guard, partnering with MSU's Resource Center for Persons with Disabilities, allowed me to bond with like-minded individuals and to move MSU towards a more equitable reality. For decades, Tower Guard has been affiliated with the RCPD and they continue to work together today on projects and events, such as a marathon to raise funds for accessible initiatives or transcribing written materials into online formats for e-reading. An example of a project that still sticks with me was our Wayfinding program, where Tower Guard members and myself audited crosswalk signs on campus intersections to verify the accuracy of their spoken directions, road names, and volumes. 
When those hours of work were done for the day, I would often just rest at the Tower and reflect on my time. As you can imagine, Beaumont has become more than just a stolid landmark to me. It's been a mystical secret that I'm lucky to have experienced so personally and to have shared with other curiously entranced Spartans.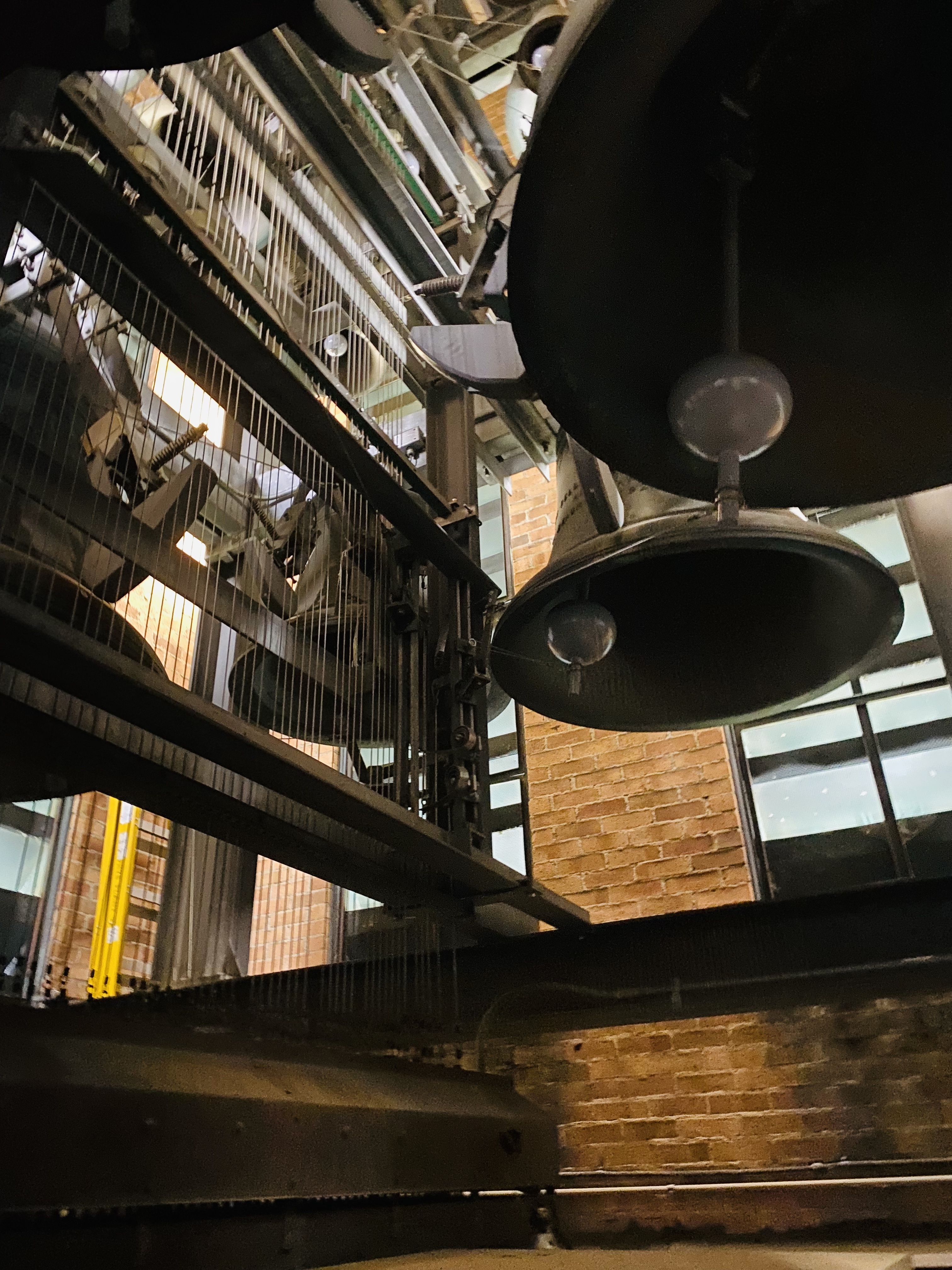 My experience of communing with the history of the Tower feels far away from where we are now, wading through this rip current of sorrow, laying nearly inaccessible beyond a dark film of formidable grief. Since the horrendous events inflicted on the university community, I know that I am not that same passionate and determined Tower Guard historian I once was. 
However, I also know that she is not gone forever. She lives on somewhere out of the present's destructive grasp, wondrously soaking up the books and music of her Tower, of her university's legacy. Perhaps she is still on the second floor, beckoning me to return to the surroundings of that living history. 
When I'm ready, those remembrances will be waiting for me in a place of comfort and familiarity. I refuse to let cherished memories of MSU's peace be tarnished by terror; I only see them as something much more valuable now.
This place of ours, this historic campus, is meant to be experienced with fearless curiosity. The life we breathe into it creates a welcoming space for adventure, discovery, love, and growth. It is the idyllic scenery where we overcome the daunting challenges set before us, find and become who we are meant to be, and laugh until our sides hurt with people who are more like family than friends.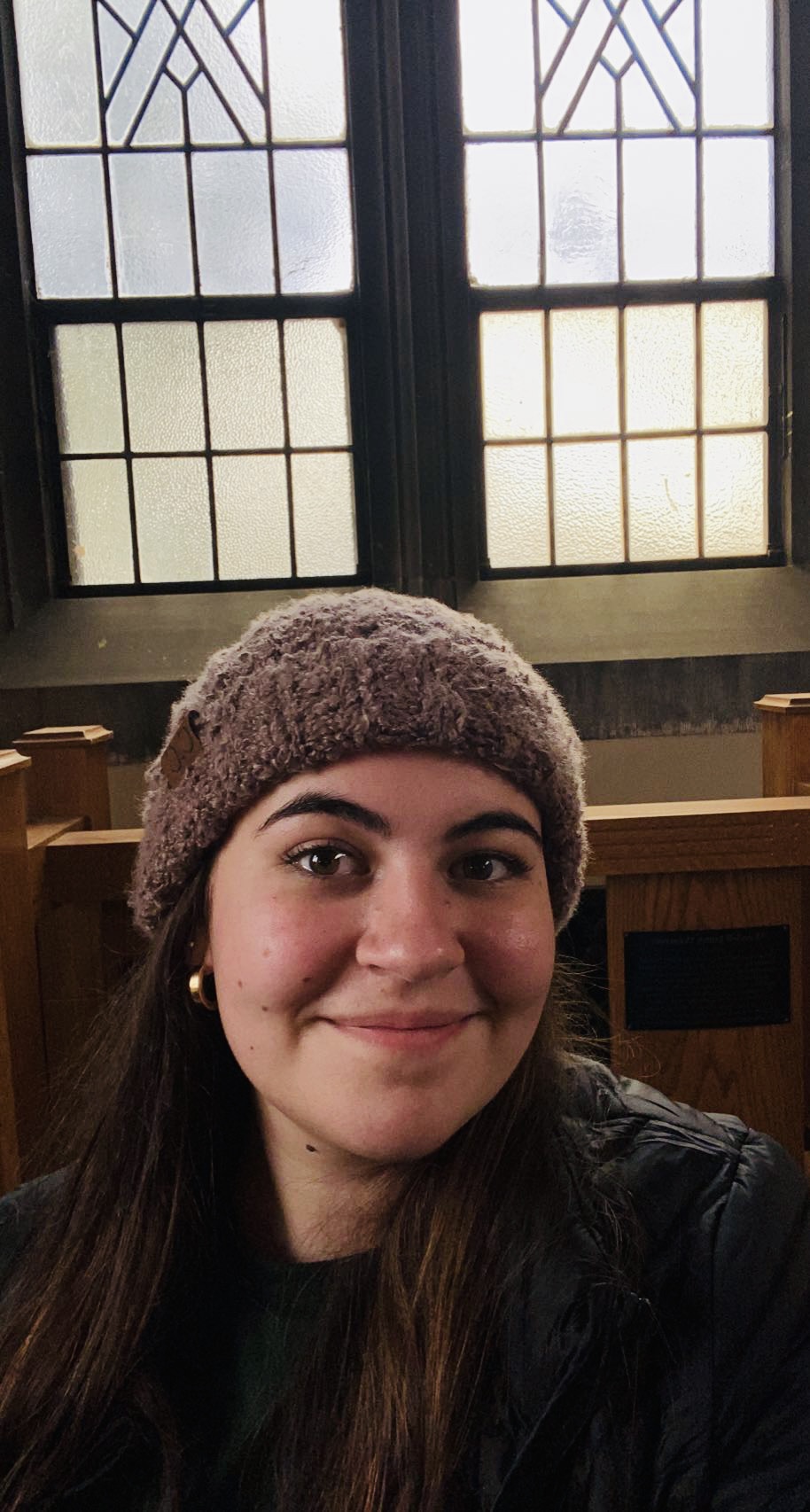 When life is taken away, the ability to remember that almost tangible feeling of goodness and completion becomes nearly impossible. To know that those experiences of light were senselessly ripped away from other Spartans is enough to crush the soul into a million painfully ruptured shards. This anguish is not something we will put down, but rather a weight we will learn to carry. 
Much like the shadow of myself who still stares up in wonder at the carillon's mosaic of bells, I choose to believe our sense of spirit is not forever lost. It is a promise waiting for us across this expanse of grief. If I know anything about Michigan State, it's that we will navigate a way through, together. 
Standing quietly on the sidewalk under the hanging pine boughs this weekend reminded me that I can take some advice from Beaumont as we weather this distress. Though it has faced unimaginable pain, our Tower stands tall and can find the strength to make music once more, when the time is right.