RCAH Students Exhibit at Broad Lab
December 13, 2020
RCAH's Maggie Lupton '23 and Vanessa Thompson '23 have their short film Civil Trinity on display at the Broad Art Lab.

With their work, the duo challenged the idea of who is a citizen.

Work will be on display at the Broad Art Lab now through Apr. 10, 2021.
Story and photos by Alyssa Briones '22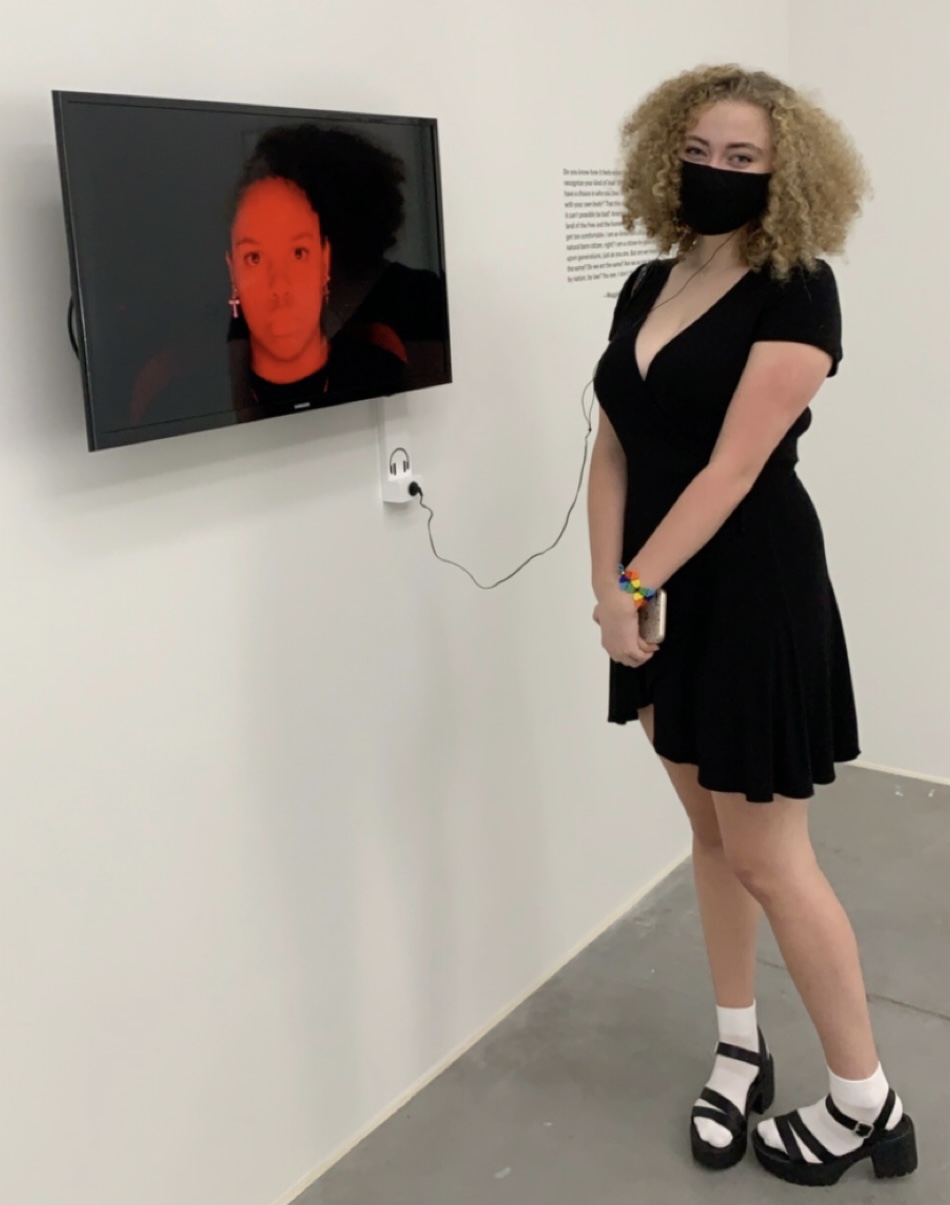 What do you think of when you think of a citizen? Is it you? Or is it your neighbor? Maggie Lupton '23 of Saline and Vanessa Thompson '23 of Detroit, two sophomores in the Residential College of the Arts and Humanities at MSU, wanted to challenge the prompt of "Who Is a Citizen." 
Lupton was taking an Intro to Digital Film course when MSU Broad put out a call for submissions for video and literary work in response to the question, "who is a citizen?" Lupton and Thompson joined together to challenge the idea of a straight white male being an ideal citizen to focus on the experience of a queer black woman. Because of their interest in writing and filmmaking, they decided to create a film.
Thompson, an arts and humanities major in RCAH, wrote a poem for the short film's narrative, while Lupton, an arts and humanities major in RCAH and Film Studies, filmed and directed it. The two both starred in their short film, which they titled Civil Trinity, along with some friends who appear in a few scenes. 
When Lupton was creating the film, she drew inspiration from the visual and directorial style of the film Situations by Claudia Rankine and John Lucas. The departments of English and Creative Writing and Film Studies collaborated with National Book Critics Circle Award-winning poet and Macarthur "Genius Grant" winner Claudia Rankine and documentary filmmaker John Lucas for the project. 
Lupton's film course introduced Rankine and Lucas' work with an open call for submissions. Lupton and Thompson shared RCAH 112 Writing Research Technologies: Daughters of the Screen and Black Women's Film Practice course with Professor Hamilton-Wray together. Hamilton-Wray also introduced the film contest and encouraged her students to create submissions. Lupton and Thompson realized this was the sign they were looking for to create and submit content.
"Their work is incredible," said Lupton, a double major in arts and humanities in RCAH and film studies in the College of Arts and Letters. "I had never made a poetic short film before, so I watched a lot of their work for inspiration." Situations explore multiple views of life in the twenty-first century. In it, Lucas and Rankine are interested in exploring the way social media influences society around us. 
When Lupton was asked to summarize her short-film, she said "I find myself wondering what it must be like to be a straight white man in America, dripping with privilege and respect without a second thought. To be the ideal image that plays across everyone's mind when asked 'who is a citizen?' I decided to turn this patriarchal image on its head. So many different kinds of people are citizens, even the people that could not be further from a straight white man. A queer black woman is the focus of my piece. I aimed to tackle the notion that although you may be a legal citizen, you might not be treated as one. For a queer black woman, accomplishing these things in America can be a difficult task." 
Thompson said "This piece is an opportunity for someone to see things from another's perspective. It's important for me to start a dialogue about point of view and what it truly means to have empathy."
In March Civil Trinity won the "Who Is a Citizen" contest along with five others. All six pieces are on display in the Broad Art Lab now through the spring. The exhibition features a mixture of spoken word and short films. 
According to the Broad Art Lab, "The exhibition offers responses to the evolving notion of citizenship and expresses varied experiences of civic belonging in critical, personal, and politically resonant ways. The artists tell often-unheard stories and make visible structural barriers and injustices." 
"We invite you to observe the current situation of citizenship in our MSU community and join us in imagining new forms of action." 
Who is a Citizen? is on display in the Broad Art Lab now until April 10, 2021. The Broad Art Lab is open on Tuesday-Saturday from 12-5 p.m. with free admission. You can visit the Art Lab at 565 E. Grand River Avenue, East Lansing, Michigan across from the Broad Art Museum.
Further Information:
https://broadmuseum.msu.edu/exhibitions/who-is-a-citizen
http://www.createasituationmsu.com/about/
http://claudiarankine.com/m/situations.html
The Residential College in the Arts and Humanities at Michigan State University is a unique living-learning community where students get the advantages of a small college liberal arts education and the opportunities of a major university. Students prepare for meaningful careers by examining critical issues through the lens of culture, the visual and performing arts, community engagement, literature, philosophy, history, writing, and social justice. RCAH's 100% placement rate for graduates over the past seven years is the best at MSU. Visit rcah.msu.edu, email rcah@msu.edu, or call 517-355-0210.