Message from the Dean
September 14, 2022
Dear Members of the RCAH Community,  
Last evening, MSU Faculty Senate held a special meeting to address the current situation transpiring at the University. Remarks were given by President Stanley, Provost Woodruff, and Executive Vice President Beauchamp. According to Faculty Senate Chairperson Kelly-Blake, there were four MSU Trustees in attendance; Trustees Vassar and Jefferson spoke. The Senate passed two resolutions.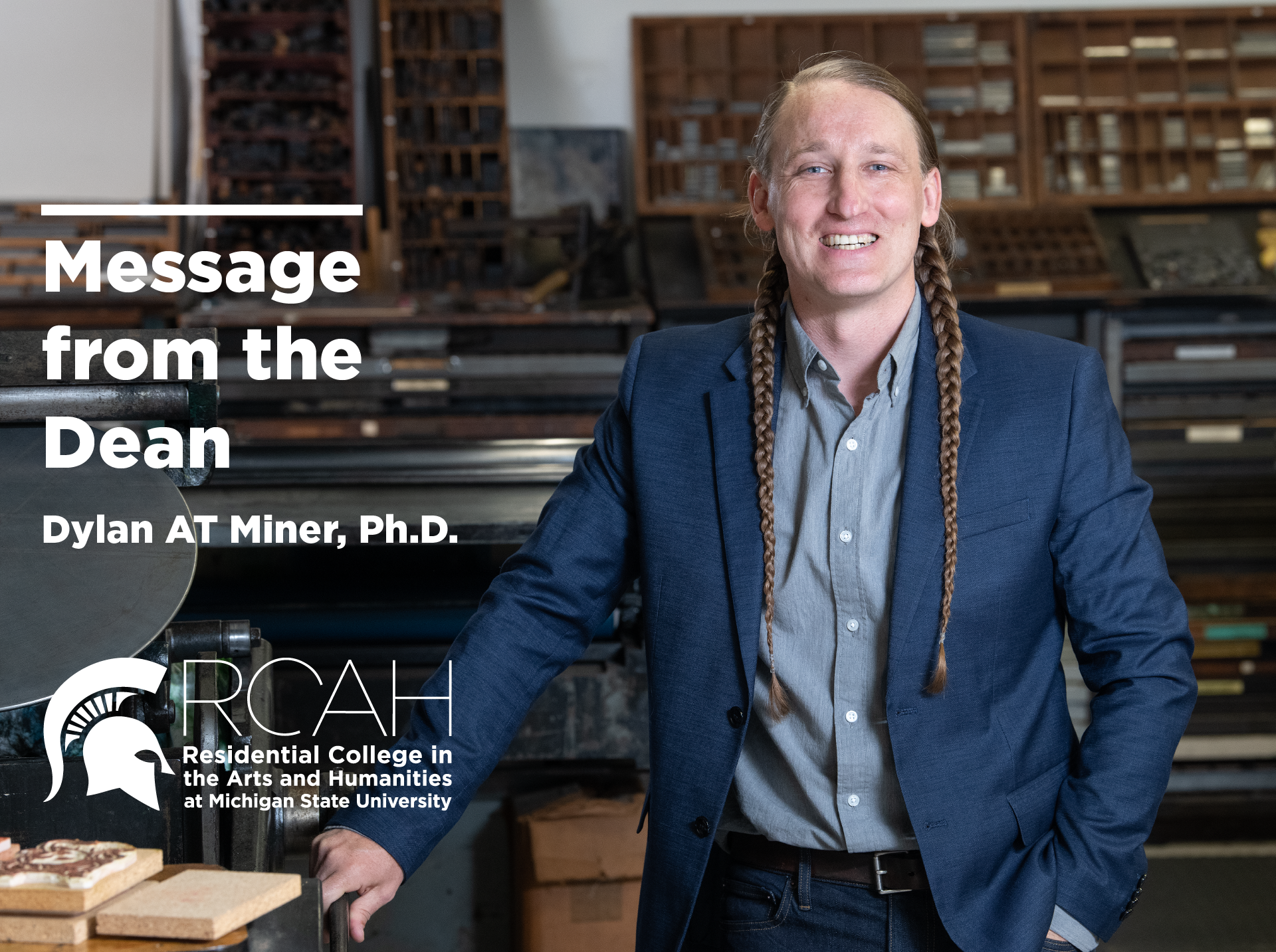 Over the past few days the Lansing State Journal (1, 2, 3), Detroit Free Press (1, 2, 3, 4), Detroit News (1, 2, 3, 4), MLive (1, 2), The Chronicle of Higher Education (1), and Inside Higher Education (1), among others, have reported on the actions of members of the MSU Board of Trustees as well as on decisions by University leadership. Like you, I learned of the potential Board action through the media and continue to learn more daily. On Monday evening, the President of the Association of American Universities (AAU), Barbara R. Snyder, issued a statement expressing concern about the "reports of interference in MSU's day-to-day operations by the university's trustees."   
In moments of uncertainty, it is important to unambiguously affirm RCAH's commitment to the wellbeing of members of the RCAH community, especially our students, alumnx, faculty and staff, and community partners. Right now, in my role as Dean, I am here to listen to and support the RCAH community. Despite what is transpiring outside the College, we have done extensive work to move RCAH forward, even in times of momentary clamor. As Detroit-based writer adrienne maree brown has written: "It is not enough to adhere to [our] values, however—we want to see our beliefs in practice."  
RCAH's commitment to "seeing our beliefs in practice" is real. In these times—now more than ever—we remain dedicated to mobilizing "socially engaged arts and humanities to seed change, build community, create inclusive futures, foster radical reciprocity, and imagine possibilities for a better world," as described in our Strategic Plan.
As we respond to uncertainty and learn more about this ongoing situation, I want to assure the RCAH community that I am here for you while we focus on fulfilling RCAH's mission with one another, our students, and our community partners. In a meeting yesterday with RCAH's Faculty Advisory Committee (FAC), they likewise want to establish that they, too—as the College's elected faculty and academic staff representatives—are here for you.
In solidarity,  
Dylan AT Miner 
Dean and Professor
Residential College in the Arts and Humanities 
Michigan State University