Engineering resilient communities in Costa Rica
May 19, 2023
By Pat Mroczek, College of Engineering Communications
MSU ceremonies in Costa Rica this spring broke ground on two projects that will improve lives half a world away while providing Spartan students with real, life-changing opportunities.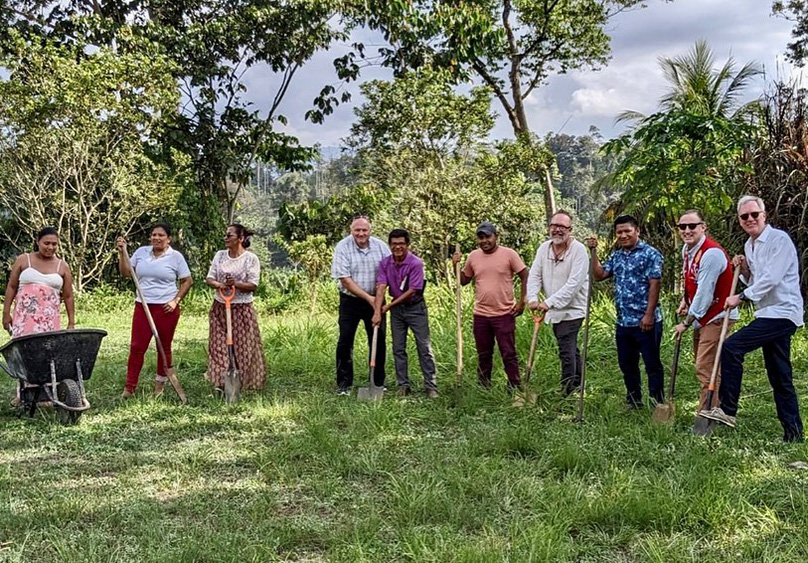 With shovels in hand, MSU was represented at the groundbreaking ceremonies by Residential College in the Arts and Humanities (RCAH) Dean and Professor Dylan Miner and Senior Academic Specialist Vincent Delgado, along with College of Engineering (EGR) Senior Associate Dean Thomas Voice and First-Year Engineering CoRe Experience Director Timothy Hinds.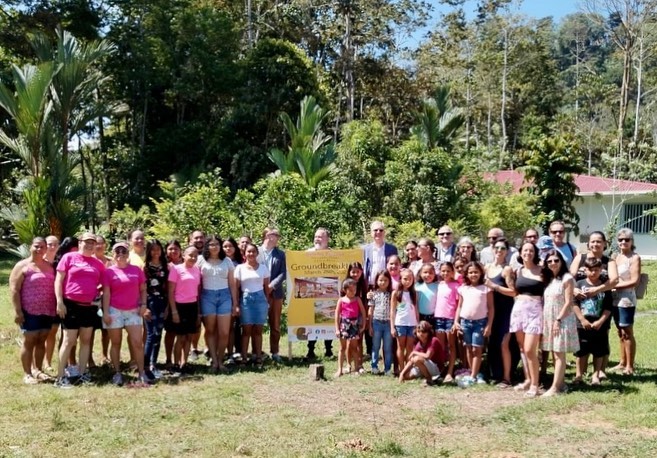 Miner said MSU's partnerships in Costa Rica positively benefit all those involved, particularly those grass roots community groups with whom we are collaborating.
"Engineering and RCAH students get unprecedented hands-on experience working side-by-side with Central American community partners discussing, designing, and building sustainable spaces like the new Indigenous-focused Bribri Social Services Building and the Girls for Success education center near the Caribbean coast. The result is that the diverse peoples of Costa Rica, including the Bribri Indigenous Autonomous Territory, work with MSU student teams to develop projects that they can call their own," he added.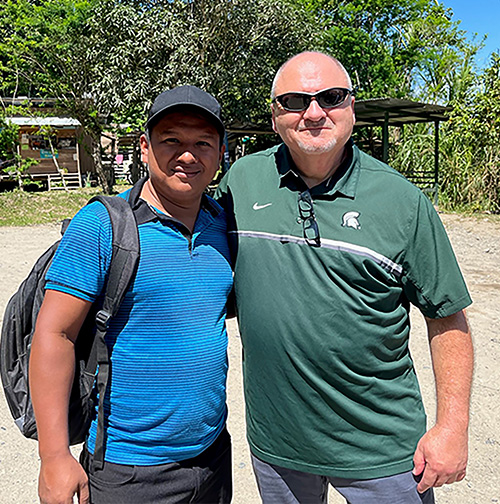 Voice said the international collaboration has given an important jump-start to a new education center in Costa Rica for the Girls for Success Program in Hone Creek and a new Social Services Building in the Bribri Indigenous Autonomous Territory.
"The school will offer a new path for generations of students, providing educational and career opportunities that may not have been available to them previously."
Hinds said the groundbreaking efforts have been a long-time coming. Physical designs created by EGR 100 students were supplemented by the RCAH students, who incorporated aspects of the local culture into the building plans. Different sets of students supported the two separate projects.
"RCAH and EGR students have worked collaboratively on community-based design projects since 2013, with Vincent and me as the leads," Hinds said. "In 2018, we began projects with the RCAH Program on Sustainability in Costa Rica. Nearly 600 students have participated in these international efforts in the past 10 years."
"Students in RCAH 205 (Designing for Peace) and RCAH 326 (Design for the Common Good) courses, which I have co-taught with Vincent, have also participated in the preliminary design work," Hinds continued. "We met in-person with both communities in January to plan the groundbreakings for their new buildings."  
One of the organizations with whom MSU students work is the Chicas para el Exito (Girls for Success) program in Hone Creek near the Caribbean coast and boarder with Panama.
"This is an English-based, after-school program focused on improvement of the educational and life prospects of Kéködi indigenous girls ages 6-12 in and around the territory," Hinds explained. "Our EGR 100 (Introduction to Engineering Design) students provided the preliminary designs for a new school building to be constructed over the next few months. Final designs were produced by a collaborating Costa Rican architect."
The other organization is the Asociación de Desarrollo Integral Indígena Bribri Talamanca  (ADITIBRI),which administers the Bribri Indigenous Territory and advocates for its citizens and their needs.
"The services they provide are housed in a development in the rural community of Suretka, the capitol of the territory, in the Talamanca province. Our students helped design a new social services center that incorporates Bribri symbolism and architecture. Vincent and I also reviewed those designs with the ADITIBRI board in January. They have begun to work with a local architect to produce final drawings of the building.
"It is important for our students to be able to generate solutions to meet the needs of others in cultures and environments unlike their own. These are real problems where the implementation of designs will make a difference in people's lives," Hinds concluded.