Don't Fret: Freshman Advice is Here!
October 11, 2019
Freshman year is hard, but you can get through it.

Explore... experience... do things (and don't skip!).
Freshman year just isn't that fresh.
By Chrystel Lopez '22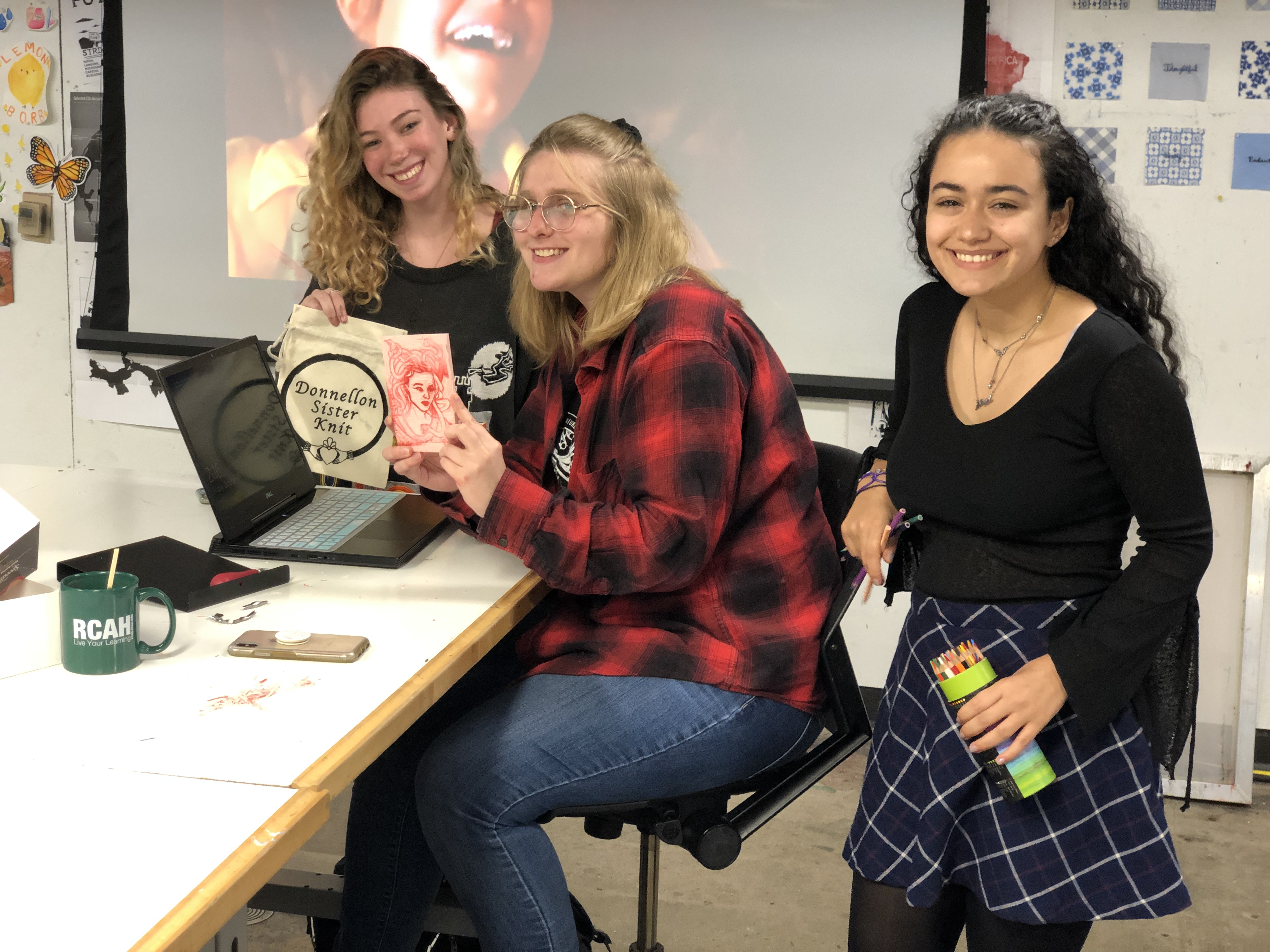 I tried to avoid going into my freshman year at MSU with a guide on how to survive the madness. (That's me on the right, in the RCAH Art Studio, along with Olivia Erlewein '21 and Mollie Ropp '21.) The only way to really know is to experience it yourself. Nevertheless, I couldn't help myself—I satisfied my craving for college with the occasional advice video or article. It was pretty useless. Since then, I've mainly learned from living it. That being hypocritically said, here are some things I wish I knew before freshman year.
1. Take advantage of events and opportunities near you. 
The amount of free, fun events offered on campus is overwhelming. There's at least one on any given day. For me, I probably only attended five my freshman year. And each time my friends and I made the effort to stand in a line of 200 kids to tie-dye a shirt or trudge through the snow to build our own bear at the Union, it was worth it. I'm especially upset with the amount of RCAH-hosted events that I missed out on—poetry readings, screenprinting, book-making—all in the basement of my very own dorm. So many memories I missed out on. Needless to say, I've learned my lesson. 
2. Explore. 
This campus is HUGE. Ridiculously so. "Find the things you really want to be involved with and run with them. Explore MSU and find your passion," Megan Lambrecht '22 said.
It took me a good semester to really understand the campus. If I took the first few weeks to allow myself to explore and get lost within the trees, I would have had a better chance of making it to my 8 a.m. on time.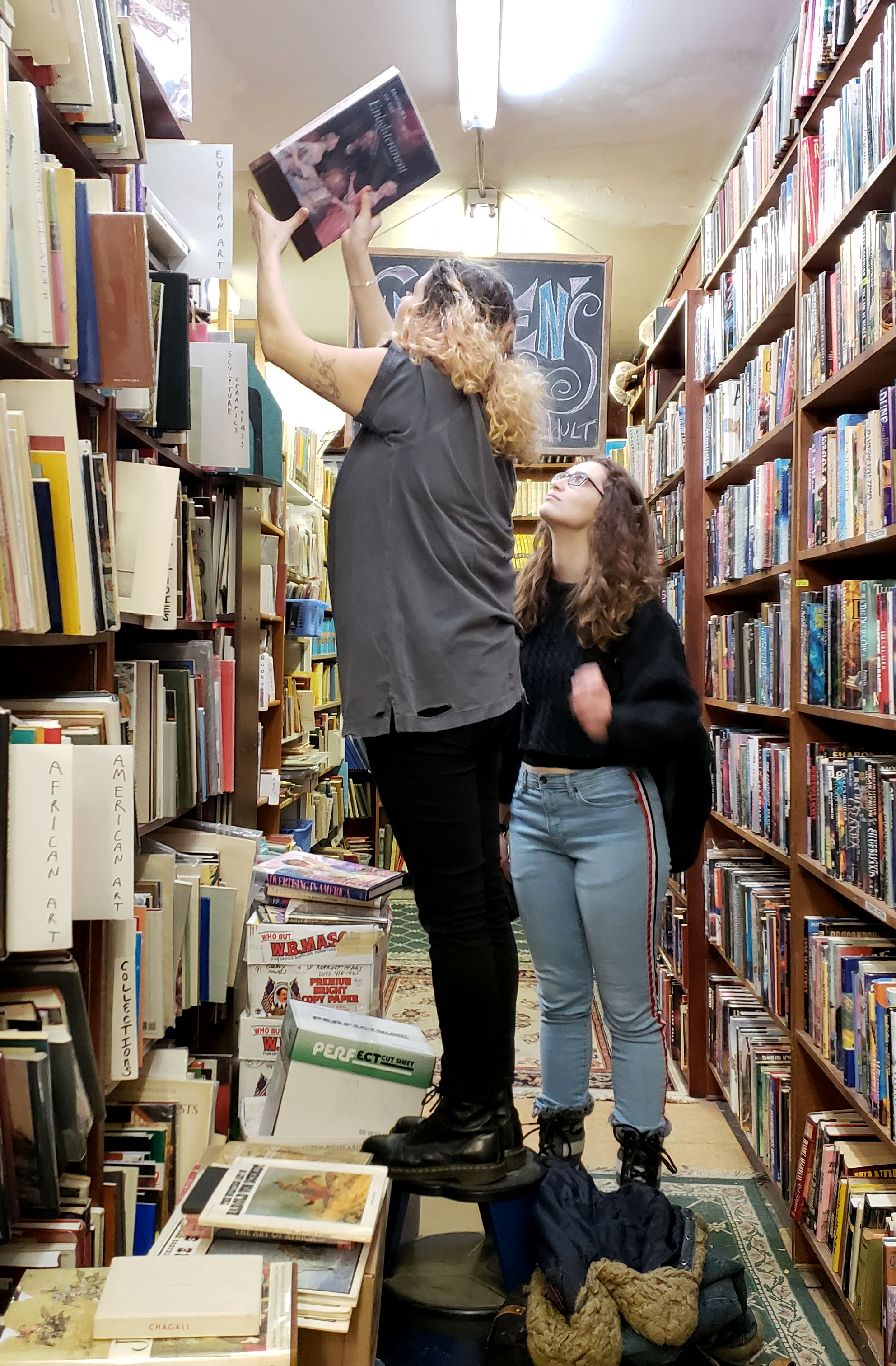 (Juliet Kosmyna-Blake '22 and Lauren House '22 enjoy the library. Photo by Chrystel Lopez)
3. Experiences are invaluable. 
I got involved in several different activities in RCAH and campus, such as RCAH Ambassadors, RCAHive, and IMPACT radio. Being able to learn from doing was better than any class I've taken so far. Along with this, the friends I've made here have taught me more than a professor.
"It is almost impossible to make connections without stepping away from your comfort zone," Lauren House '22 said. "Allow yourself to dive into new experiences."
4. Don't skip. 
Don't make a habit of skipping class. This isn't high school, bud. Mom isn't going to stop you. But profs will sneak some points off of your GPA as compensation. Think about it. Someone is paying for this course (probably you). The LEAST you could do is show up for it. And you can always nap afterwards—I promise. 
5. Force yourself to step outside of your dorm room.
There were too many times in which I isolated myself within my dorm or residence hall. It can be very easy to do so, especially in a place like RCAH where half of your classes are down the hall, all of your meals are downstairs, and most of your friends are your neighbors. Make a trip with your pals to Brody for some food you aren't sick of yet.
"Going to different dining halls can be a fun way to 'go out to eat' without spending all of your cash on Blaze or Sushiya," Elizabeth Tanner '22 said. "Or study in the Library instead of your bed. Spend your Wednesday at the Union for free bowling."
6. You can't plan your life. 
It's easy to step into the school year with a master plan of all you need to accomplish in order to get that dream job, but keep in mind that dreams can change. College isn't just about getting that degree. It's about learning more about the world around you, and more about yourself. You will go through so much unexpected change.
"You should always strive to do your best and take pride in knowing that you did everything you could. Sometimes not getting that job offer or internship leads you to opportunities that you enjoy even more," Juliet Kosmyna-Blake '22 said.
Plans can help you keep things in order and ease worries, but don't be afraid to let it steer off course. That's what college is all about!
The Residential College in the Arts and Humanities at Michigan State University is where students live their passions while changing the world. In RCAH, students prepare for meaningful careers by examining critical issues through the lens of culture, the visual and performing arts, community engagement, literature, philosophy, history, writing, and social justice. RCAH is situated in historic Snyder-Phillips Hall, where students learn and live together in a small-college setting, with all the advantages of a major university. For more information, visit rcah.msu.edu, email rcah@msu.edu, or call 517-355-0210.
Facebook https://www.facebook.com/RCAHMSU/  
Instagram https://www.instagram.com/rcahatmsu/
Twitter https://twitter.com/RCAH_MSU
YouTube https://www.youtube.com/channel/UCpfDHNy0ws5nxgaL9v1xMGw