RCAH Has Record-breaking Give Green Day
March 22, 2022
RCAH's best Give Green Day yet raised

$6,118 for the Enhanced Student Opportunity Fund

The total amount RCAH raised was $7,268 from 89 donations.

These donations will directly go to supporting students. 
By Chrystel Lopez '23
RCAH asked—and donors answered.
Thanks to 77 individual donors, RCAH enjoyed its best Give Green Day ever for a target project, raising $6,118 on March 15, 2022, for the Residential College in the Arts and Humanities Enhanced Student Opportunity Fund to support student scholarships. 
The total exceeds RCAH's project goal by more than 20 percent. Throughout MSU, Give Green Day donors gave over $1.3 million for a wide variety of projects. RCAH total for Give Green Day—including gifts that were donated to other RCAH funds—is $7,268 from 89 donations.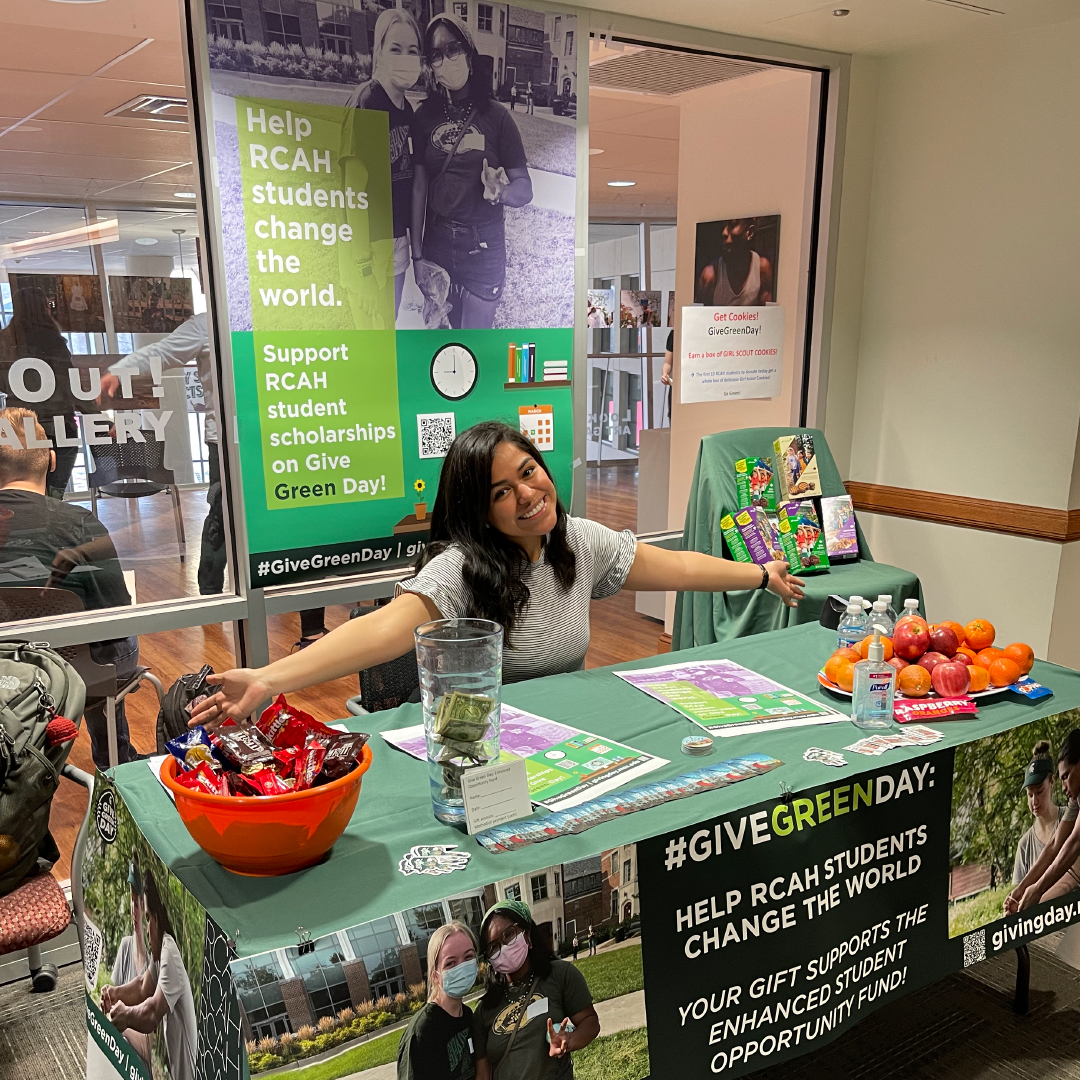 Give Green Day is a University-wide annual 24-hour fundraising experience where students, faculty, staff, alumni, and friends donate to their favorite MSU programs and colleges. 
RCAH Professor and Interim Dean Dylan Miner, who has been a part of the College for about 15 years, has seen firsthand the impact of the RCAH Enhanced Student Opportunity Fund Scholarship on students. 
"Many would not be able to attend college, depriving them of becoming the next Fulbright Scholar, the next community networker, the next comic book creator, the next environmental lawyer, the next award-winning poet, the next change agent," Miner said.
Junior Maggie Lupton, a dual major in Arts and Humanities as well as Film Studies, enjoys writing and producing short films. Without the RCAH Enhanced Student Opportunity Fund, she wouldn't be able to.
"This scholarship meant a lot to me as it allowed me to focus more time on my academics as well as creative projects," Lupton said.  
To see the donor honor roll, challenge winners, and other projects, https://givingday.msu.edu/projects/residential-college-arts-and-humanities 
The Residential College in the Arts and Humanities at Michigan State University is a unique living-learning community offering the advantages of a small college liberal arts education and the opportunities of a Big Ten research university. Students prepare for meaningful careers by examining critical issues through the lens of culture, the visual and performing arts, community engagement, literature, philosophy, history, writing, and social justice. RCAH's 99 percent placement rate for graduates over the past eight years is the best at MSU. Visit rcah.msu.edu, email rcah@msu.edu, or call 517-355-0210.

Facebook https://www.facebook.com/RCAHMSU/ 

Instagram https://www.instagram.com/rcahatmsu/ 

Twitter https://twitter.com/RCAH_MSU 

YouTube https://www.youtube.com/channel/UCpfDHNy0ws5nxgaL9v1xMGw