Students Earn MLK Jr. Advancing Inclusion through Research Award
February 25, 2020
By RCAH Communications
Two students from the Residential College in the Arts and Humanities (RCAH) at Michigan State University whose research supports the ideals of inclusive excellence through topics of inclusion, diversity, and marginalized populations have received the Martin Luther King Jr. Advancing Inclusion Through Research Award. Two other MSU students also received awards.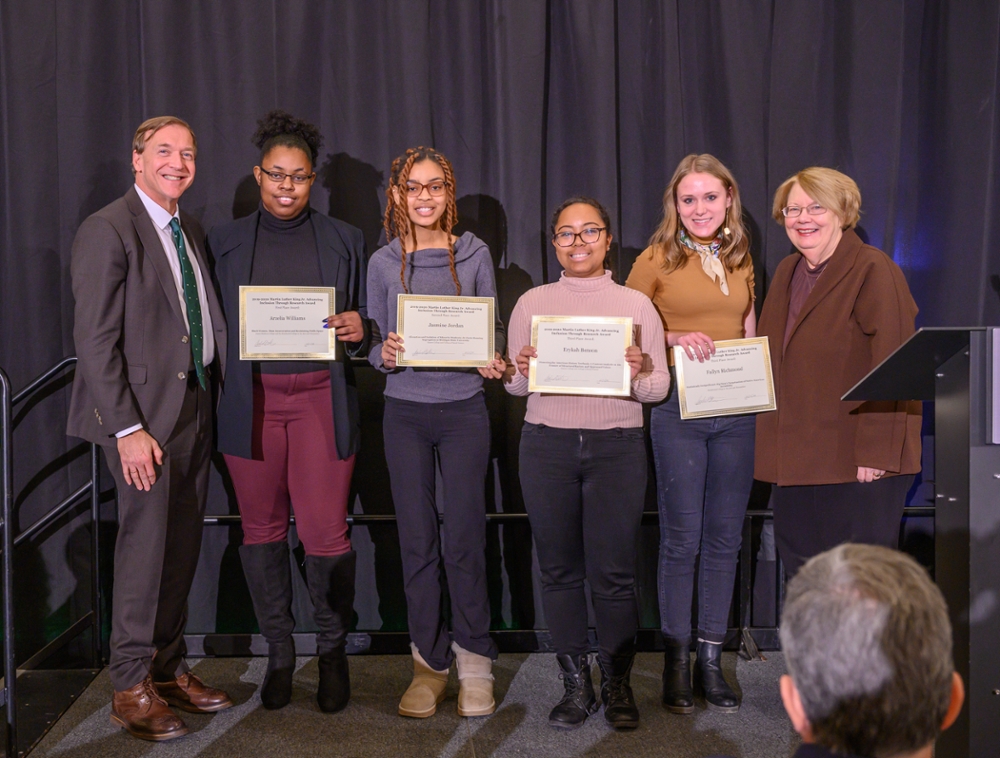 Recent RCAH graduate Arzelia Williams was the first prize winner, while RCAH senior Fallyn Richmond was awarded third prize. They were honored at the Diversity Research Showcase and the All-University Excellence in Diversity Awards program on February 11 at the Kellogg Hotel and Conference Center.
The award was created in 2010 to highlight the ways in which MSU students follow King's legacy, using their critical and creative skills to understand and re-envision the world. Student research and creative projects were considered if they were completed in 2019 and submitted by members of the MSU Honors College, James Madison College, Lyman Briggs College, or the Residential College in the Arts and Humanities.
First prize was awarded to Williams for her research entitled "Black Women, Mass Incarceration, and Reclaiming Public Space." An arts and humanities major ion RCAH and a social relations and policy major in James Madison College, Williams was awarded second prize for her research in 2019. She graduated in December 2019.
Second prize was awarded to junior Jasmine Jordan for research project, "Alienation and Isolation of Minority Students: De Facto Housing segregation at Michigan State University." Jordan is majoring in political science in the College of Social Science and is a member of the Honors College.
Two students were awarded third prize. Richmond was awarded third prize for research entitled "Statistically Insignificant: Big Data's Perpetuation of Native American Invisibility." Richmond is an Honors College student majoring in arts and humanities in RCAH.
Senior Erykah Benson was awarded for her research "Dissecting the American History Textbook: A Content Analysis on the Erasure of Structural Racism and Oppressed Voices." Benson is an Honors College student majoring in interdisciplinary studies in social science in the College of Social Science.
RCAH students Brittany Wise won first prize in 2018, and Erin Paskus won third prize in 2017.
"This year, the MLK Jr. awards honor students whose papers take up important topics ranging from mass incarceration to housing segregation at MSU," said Linda Racioppi, associate dean of James Madison College. "By analyzing historical and contemporary inequities, these papers generated by MSU residential college students seek to expose structural violence and inequality; their work also speaks to the resilience and hope captured in this year's MLK Commemorative Celebration theme, 'Still I Rise.'"
The Residential College in the Arts and Humanities at Michigan State University is a unique learning community offering the advantages of a small college liberal arts education and the opportunities of a major university. Students prepare for meaningful careers by examining critical issues through the lens of culture, the visual and performing arts, community engagement, literature, philosophy, history, writing, and social justice. RCAH's 100% placement rate for graduates over the past six years is the best at MSU. Visit rcah.msu.edu, email rcah@msu.edu, or call 517-355-0210.
Facebook https://www.facebook.com/RCAHMSU/  
Instagram https://www.instagram.com/rcahatmsu/
Twitter https://twitter.com/RCAH_MSU
YouTube https://www.youtube.com/channel/UCpfDHNy0ws5nxgaL9v1xMGw