Terese Monberg, RCAH Founding Faculty Member, Named Associate Dean of the College
May 10, 2022
Since summer 2021, Monberg has chaired RCAH's comprehensive strategic planning process and will continue her work on strategic plan rollout and implementation.
Monberg has taught in RCAH since its founding in 2007.
"Working with RCAH faculty, staff, students, alumni, and community partners over the past 15 years has been exceptionally generative for me," Monberg said. "I look forward to continuing the collaborative spirit that defines RCAH."
By Morris Arvoy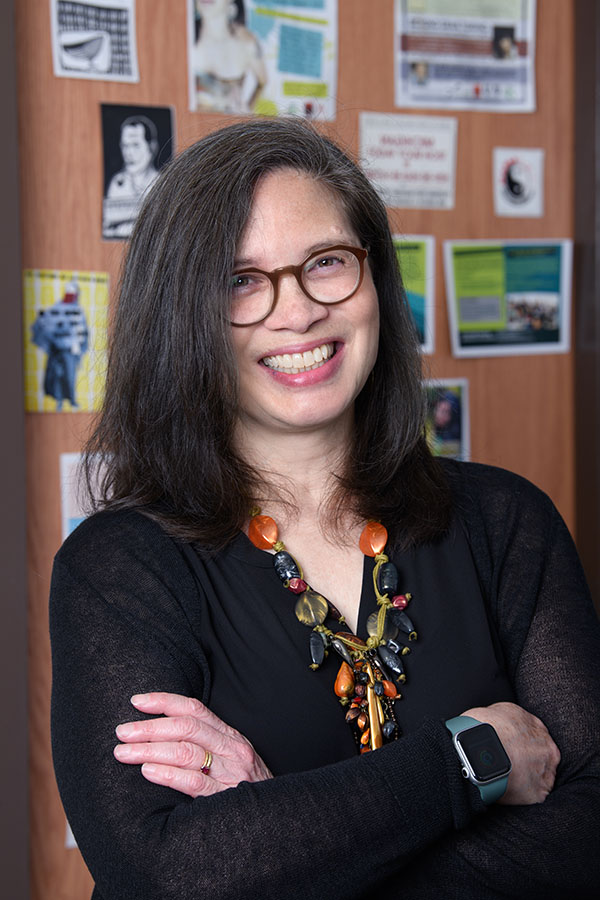 The Residential College in the Arts and Humanities (RCAH) at Michigan State University has named Terese Guinsatao Monberg, Ph.D., as its Associate Dean.
As Associate Dean, Monberg will be responsible for faculty personnel and development initiatives; student success, advising and recruitment; strategic plan implementation; and the day-to-day operations of the College's facilities and informal learning spaces, technology, and office management.
Monberg is an Associate Professor and founding faculty member of RCAH, having taught in the College since 2007. She is also on the graduate faculty in the Department of Writing, Rhetoric, and American Cultures and a core faculty member and Executive Board Member of the Asian Pacific American Studies Program at Michigan State University.
"We are pleased to have Terese Guinsatao Monberg accept this position as Associate Dean in RCAH," Interim Dean Dylan Miner said. "Over the past 15 years, she has worked steadfastly to build RCAH. She has honed her administrative skills in a variety of capacities, including her last year as the Faculty Lead on Strategic Planning in the College. Her previous work as Director of Asian Pacific American Studies at MSU is noteworthy, as is her work as a Trustee of the Filipino American National Historical Society."
Since the summer of 2021, Monberg has chaired RCAH's comprehensive strategic planning process. Monberg will continue her work on the strategic plan rollout and implementation, as well as offer support for other University-wide strategic plans—including MSU 2030; the MSU Diversity, Equity, and Inclusion Report and Plan; and the MSUArts plan.
"I'm honored and excited to serve RCAH in this capacity," Monberg said. "This is also a particularly significant moment for RCAH given our longstanding commitment to using the arts and humanities as community engaged methods for furthering equity and social justice. Working with RCAH faculty, staff, students, alumni, and community partners over the past 15 years has been exceptionally generative for me. And I look forward to continuing the collaborative spirit that defines RCAH."
Monberg, co-editor of the Filipino American National Historical Society (FANHS) Journal, is a community-engaged teacher and scholar in rhetoric, composition, and literacy studies. Through methodologies that examine spatial and temporal dimensions of community—dwelling, listening, and reciprocity—Monberg is interested in the ways communities continually write, revise, and sustain their rhetorical legacies and collective memory. Her specific focus is on the memory work and rhetorical legacies of Asian Pacific Islander Desi American (APIDA) communities. From 2017 to 2019, Monberg served as director of MSU's Asian Pacific American Studies (APAS) Program.
"I came to MSU in 2007 to help build RCAH, when it was then a new residential college," Monberg said. "This past year, I've been inspired by the energy that my colleagues consistently brought to our strategic planning process. As we move to implement RCAH's strategic plan over the next few years, I am committed to the mission and vision we have for the College and, as always, to RCAH students."
This semester, Monberg is teaching RCAH 225 Reciprocity, Sustainability, and Reflexivity in Community Engagement Projects, as well as a senior seminar in The Art(s) of Counter-Memory: Stories as Collective Geographies of History. These courses stem directly from her research, which has been published in Representations: Doing Asian American Rhetoric; Reflections: A Journal of Community-Engaged Writing and Rhetoric; Enculturation: A Journal of Rhetoric, Writing, and Culture; and the Community Literacy Journal. She also published, as co-editor, Building a Community, Having a Home (with Jennifer Sano-Franchini and K. Hyoejin Yoon; 2017) and a special issue of Enculturation on transnational Asian American rhetoric (with Morris Young; 2018).
"In addition to welcoming Dr. Monberg, I join the RCAH community in offering our deep gratitude to outgoing RCAH Associate Deans Joanna Bosse and Scot Yoder for their years of service," Miner added. "Dr. Yoder tells me he is very happy to be returning to the RCAH faculty to continue his love of teaching and research. Dr. Bosse will be moving to the MSU College of Music, and says she is interested in continuing to collaborate with RCAH from her new home."