Students Bring Positivity To Prison with Yoga
December 11, 2019
RCAH students and Professor Guillermo Delgado lead incarcerated men in a yoga class.

"In prisons, you have a negative environment coming at you from all directions. Dr. G's yoga class is somewhere positive," an incarcerated participant said.

The class consists of students, mats, and seriousness about the yoga.
By Amelia Herron '20
Photo: Senior Ezra Kushmaul in the RCAH LookOut Gallery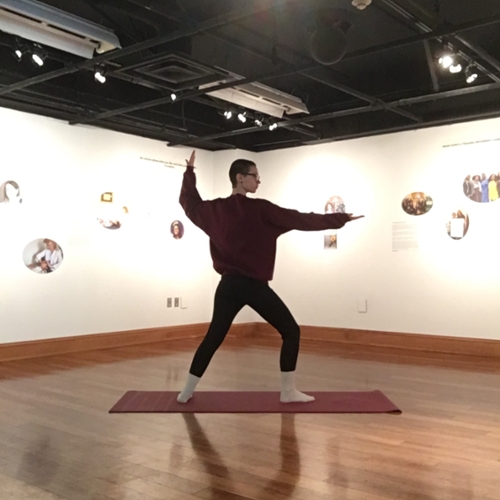 The rows of yoga mats laid out on the concrete floor aren't in perfect rows. Residential College in the Arts and Humanities (RCAH) Professor Guillermo Delgado sits on his own mat at the head of the room, facing the students. 
"Get in to any seated position of your choice…" Delgado tells the class. Each student chooses a position that is most comfortable for him. Throughout the yoga class, Delgado repeats that each man has a choice: to take a break if it is getting too hard, to alter the position to make it more comfortable, or to do a more difficult position. 
Delgado has chosen his words carefully. He is speaking to the incarcerated men of the Handlon Correctional Facility. Men who do not have many choices. That is part of being in prison. Giving them the ability to choose something, even if it is as small a choice as what position to sit in, can be important to keep them engaged in the class.
Each Wednesday night, Delgado takes several RCAH students to Ionia to lead a yoga class for around 18 incarcerated men at Handlon. 
Prisons are naturally a very negative space. While this is intentional for correctional purposes, it creates an environment where incarcerated people often are not seen as citizens. Delgado said he created the class to try to change this narrative, and the class is a privilege for which every single man who attends appears deeply grateful. 
"I love yoga," said Hank, an inmate whom this reporter interviewed after the yoga class. "It helps me deal with stress. In prison, you have a negative environment coming at you from all directions. Dr. G's yoga class is somewhere positive," added Hank, referring to Delgado. Hank also is enrolled in the prison's Calvin College bachelor's degree program and RCAH's prison poetry course. 
The yoga class is not only positive for inmates, however. For the MSU students, it's an extracurricular benefit of being in RCAH. It is not an official MSU class, and participation is voluntary. Despite this, the RCAH students attend on a regular basis and say that they are all grateful for the experience. 
"I was really surprised with how kind everyone is," said RCAH senior Ezra Kushmaul '20 of Ann Arbor. "I feel like this is an underserved population and it feels good to have them involved in such a positive experience."
For a prison, Handlon is not nearly as imposing from the outside as popular media would like you to believe. Once one gets inside, however, the unimposing atmosphere quickly dissipates. 
The walls are painted a dreary earth-tone, and a guard sits at a desk waiting to check visitors inside. If the volunteer forms have not been processed yet, or have not been processed correctly, one is not allowed through. 
For safety reasons, a female guard must pat down female volunteers in an area enclosed on two sides by sliding gates. The first part of the pat-down is simple: placing metal items in a plastic basket and walking through a metal detector, not dissimilar to going through airport security. The next part is more invasive: volunteers must stand with their feet shoulder-width apart and their arms extended, while a guard makes sure that they don't have any type of weapon or concealed contraband. Next, the volunteers must take off shoes and socks to further ensure no contraband enters the prison. Only then are the volunteers allowed to pass through the second gate. 
A short distance down the hallway is another booth where the volunteers must present pieces of paper which states that they have passed a background check and are allowed into the secure areas of the prison. The last station before the volunteers enter the prison is one that gives electronic panic buttons to all of them. One at a time, each volunteer must press their panic button to ensure that they all work. Finally, the volunteers walk through the door to officially enter the prison yard and make their way to their destination: the school building. 
To get to their yoga classroom, the RCAH students walk through the prison yard, a large, open space that feels almost like a campus. The MSU students, all females, are the first to arrive in the yoga room, followed by the incarcerated men. 
The men walk in with no shackles, no bright orange jumpsuits, no imposing security. Just yoga mats. After the class, the students intermingle with the men, talking and laughing together. The one rule that everyone abides by is that no physical touch is allowed. 
One incarcerated student, who wished to remain anonymous, said that the humanization of incarcerated people is an incredibly important step in creating a more positive society. 
"Regardless of why someone is in prison, they deserve to be treated as a human being," this student said. "Classes like this are a step in the right direction toward humanizing a group of people who are often forgotten about and maligned by society."
The Handlon warden, Dewayne Burton, recently said he feels strongly about the benefits of these programs. He and his staff have welcomed Delgado and the RCAH students for many years. At a recent poetry slam in the prison's auditorium, he was heard asking the incarcerated men what their GPAs were, and encouraging them to study. Hank stated that his GPA is a solid 3.76 in the Calvin program. The yoga class is not graded.
All of the other men said they agree about the benefits of Delgado's class.
"It helps keep me busy," said Antonio, an inmate. "It's challenging, and positive, which helps keep me out of trouble. The class boosts morale, and is a really inviting environment."
It is clear to this reporter that the entire experience, for the MSU students and incarcerated men alike, is one of civility, friendliness, and seriousness about the yoga. 
After class, Antonio volunteers to clean up the exercise room. 
He said that his experience has been such a positive influence on his life that he hasn't missed a single class. He hopes that this class can shift the public perception of prisoners. 
The Residential College in the Arts and Humanities at Michigan State University is a unique living-learning community where students get the advantages of a small college liberal arts education and the opportunities of a major university. Students prepare for meaningful careers by examining critical issues through the lens of culture, the visual and performing arts, community engagement, literature, philosophy, history, writing, and social justice. RCAH's 100% placement rate for graduates over the past six years is the best at MSU. Visit rcah.msu.edu, email rcah@msu.edu, or call 517-355-0210.
Facebook https://www.facebook.com/RCAHMSU/  
Instagram https://www.instagram.com/rcahatmsu/
Twitter https://twitter.com/RCAH_MSU
YouTube
https://www.youtube.com/channel/UCpfDHNy0ws5nxgaL9v1xMGw