RCAH Affirms that Reproductive Health Care Is a Basic Human Right
June 24, 2022
We in the Residential College in the Arts and Humanities at Michigan State University affirm that reproductive health care is a basic human right.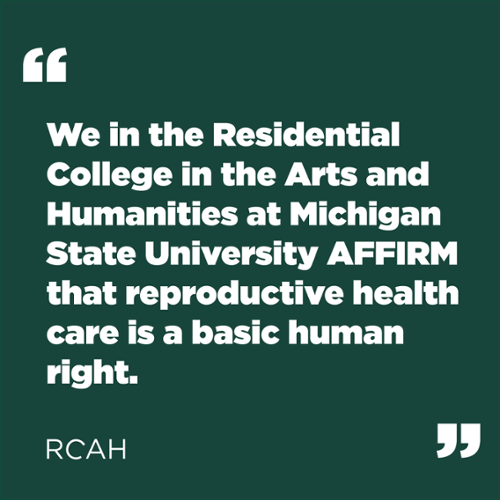 Today's ruling by the Supreme Court overturning Roe v. Wade will have a grave impact on the health and well-being of women and people of all genders with uteruses. According to the ACLU, abortion bans disproportionately affect Black, Indigenous, and other people of color; LGBTQIA+ folx; immigrants; young people; those with disabilities; and people struggling economically. This will only serve to exacerbate existing inequities in access to health care. 
RCAH is committed to employing the arts and humanities in the service of equity and social justice, and that includes reproductive justice. Many of us in RCAH have lived our entire lives with the protections offered by the 1973 ruling in Roe v. Wade. For nearly 50 years, the right to choose has been fundamentally protected by law. Today, the "right to choose" has been eliminated and, when the dust settles, those of us living in Michigan could be subject to a 1931 law that imposes harsh penalties on people who perform or receive abortions.  
It is not lost on us that the vast majority of those making these decisions about reproductive rights—the elected officials, judges, and justices eliminating these rights and legislating the bodies of women and people of all genders with uteruses—are cisgendered men (most, if not all, of whom have never been pregnant, given birth, nor had to navigate access to reproductive healthcare). 
RCAH will continue to seed change, create inclusive futures, and (re)imagine possibilities for social justice—including the fight for reproductive rights. 
------ 
In this difficult moment for reproductive justice in this country, if RCAH students need initial support, they should contact Marissa King (kingma17@msu.edu), RCAH's new Director of Student Success and Advising. Marissa has been at MSU since 2017 and began her new role in RCAH this week.
All MSU students also have access to Counseling & Psychiatric Services (CAPS). Those who need crisis attention can utilize CAPS 24/7 Crisis Line at https://caps.msu.edu/emergency/index.html.
As always, RCAH faculty, staff, and administration are also here to support students and community members.