RCAH Art Studio
Creativity Lives Here
RCAH has its own art studio, home to many of the College's creative workshops.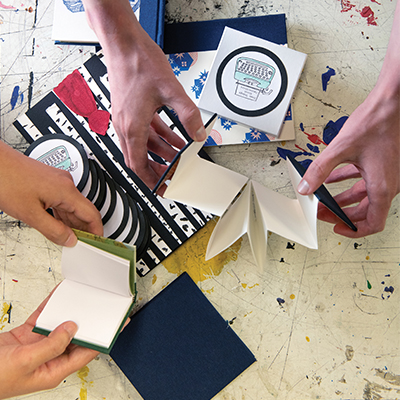 Drop-In Hours

Spring 2023 Art Studio hours are Sunday 1-10 p.m., Monday through Thursday 5-10 p.m., and Friday 1-5 p.m.
Contact Marcus Fields at fieldsm9@msu.edu or 517-884-6001 for questions related to the Art Studio.
Connect with the RCAH Art Studio
Teams: RCAH Teams
Instagram: @rcahartstudio
Facebook: @RCAHArtStudioatMSU
RCAH Art Studio
Located on the terrace level of Snyder Hall, the RCAH Art Studio is a creative space where students can work on a wide range of art projects, including drawing, painting, sewing, as well as screen printing, letterpress printing, linocut printing. RCAH students are invited to drop in during open hours to work on creative projects of their own choosing—or just to hang out. Peer consultants (RCAH students with an interest in art) are on hand to help!
Please come down during open hours to hang out with creative RCAH students, have a cup of coffee, and make something! We often have visiting artists, special workshops, and fun events—so follow us on Facebook and Instagram to stay connected.
Art Supplies
The Art Studio provides students with a wide range of free supplies: markers, crayons, colored pencils, pastels, watercolor paints, acrylic paints, paper, cardstock, scissors, glue, foam, and more for students to experiment with. Screen printing and letterpressing are two forms of expression that occur frequently in the Art Studio, and there are papers, inks, and screens available to use.
Letterpress
RCAH is fortunate to have several letterpress printers. Drop in on Thursday evenings to work with our master printer, Arie Koelewyn. Arie can teach you to print the way Guttenberg did!