Edgar Heap of Birds
Visiting Dates
February 20, 2019
February 21, 2009 - February 24, 2009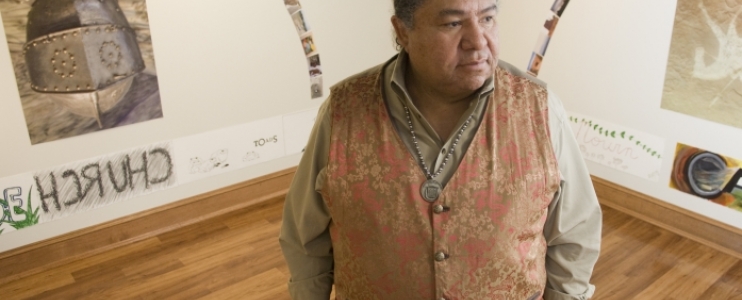 The artworks of Hock E Aye VI Edgar Heap of Birds include multi-disciplinary forms of public art messages, large scale drawings, Neuf Series acrylic paintings, prints, works in glass and monumental porcelain enamel on steel outdoor sculpture.
Heap of Birds' artistic creations and efforts as an advocate for indigenous communities worldwide are focused first upon social justice and then the personal freedom to live within the tribal circle as an expressive individual.
Cheyenne-Arapaho artist Edgar Heap of Birds was in residence for two weeks at RCAH in the spring of 2009. He worked with students to create a public art installation in the Snyder-Phillips courtyard. The work, "Michigan, today your host is..." consisted of 12 white metal signs marked in red with the names of 12 different Michigan Native American tribes.