Heather Maxwell
Visiting Dates
October 11, 2010 - October 15, 2010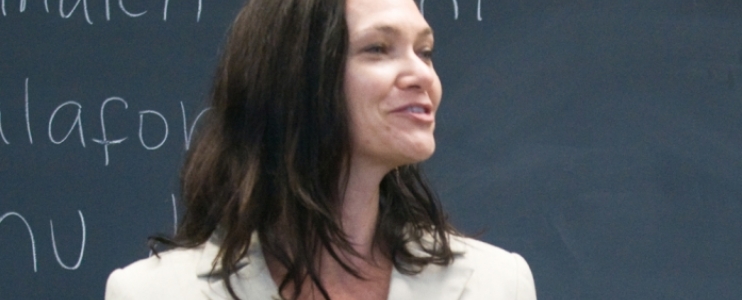 Musician and ethnomusicologist Dr. Heather Maxwell was in residence at the RCAH from October 11-15, 2010. Maxwell is the lead vocalist for Inner Rhythm, a world jazz band led by renowned drummer Robert Jospé, and a singer/songwriter in the ethno-urban musical style she invented, Afrika Soul.
She sings in English, French, Portuguese, and several African languages. Her songs rework traditional jazz, R&B, soul, Mande, and Wassolu themes and traditions. 
Originally from Flint, Michigan, Maxwell went from singing in churches with her family gospel band to singing and playing balafon at "soirees" -- village dance parties -- in rural Mali.  Today she performs and collaborates with some of Africa's biggest stars, including Oumou Sangaré, Salif Keita, Neba Solo, Vusi Mahlasela, Tiken Jah Fakoli, and Habib Koite. Maxwell plays traditional African guitar (kamalen n'goni) and marimba (balafon) and dances in the traditional Mande styles, all of which feature prominently in her performances. Her recordings include Inner Rhythm Now (2009), Afrika Soul (2006), Heart Beat (2006), Pygmé (1992), Ko To Nyogon T'a La La (1991), and Space Griots (1990).
Maxwell holds a PhD in ethnomusicology from Indiana University. In addition to  performing in venues around the world, she works as a teacher and arts consultant specializing in African and world music productions.  She has worked with Carnegie Hall, the Smithsonian Institution, the Virginia Foundation for the Humanities, Harvard University, the University of Virginia, Indiana University, the Richmond Public Library, and the Music Resource Center.
Links: