LMC - Language and Media Center
Creativity Lives Here
RCAH's Language and Media Center (LMC) is a technology-rich space for creating, learning, and collaborating.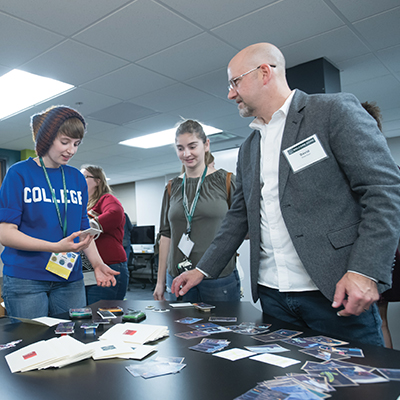 Virtual Hours

The LMC is serving students remotely using Teams. The Snyder-Phillips location is closed during Fall 2020.
Student consultants are ready for remote consultations Sunday through Thursday 1-11 p.m. and Friday noon to 5 p.m. on media, design, and art projects via RCAH Teams.
Contact Marcus Fields at fieldsm9@msu.edu or 517-884-6001 for questions related to the LMC.
Connect with the LMC
Teams: RCAH Teams
Instagram: @rcah_lmc
Facebook: https://www.facebook.com/RCAHLMC/ 
Phone: 517-884-1938
The Writing Center at the LMC
Appointments can be created via writing.msu.edu.

Follow the Writing Center on Facebook and Twitter for more updates.
The Language and Media Center (LMC) supports media production and world-language proficiency in the college through an array of resources and services. It is designed to provide a technology-rich space for creating, learning, and collaborating. In the LMC, you can plug your guitar into a computer and record a song; watch a foreign language film; learn to make and publish your own website for free; print out large banners and posters; and so much more. However, you don't need an excuse to hang out in the LMC. Come down, do homework, play a board game, or have coffee and talk with friends. Students can also work as LMC consultants, who help teach their peers how to use media production applications like Photoshop and Final Cut Pro as well as give feedback on creative projects.