Graduate Fellows
RCAH and the Graduate School at MSU jointly sponsor a graduate fellowship program for doctoral students with interests in teaching, learning, engagement, and assessment in higher education.
The primary goals of the RCAH Graduate Fellowship Program are to provide professional and career development opportunities outside of regular classroom instruction for a diverse group of graduate students as mentors, tutors, and group leaders in various aspects of RCAH and to contribute directly to the scholarship of teaching, especially in the areas of the humanities, the visual and performing arts, and community engagement.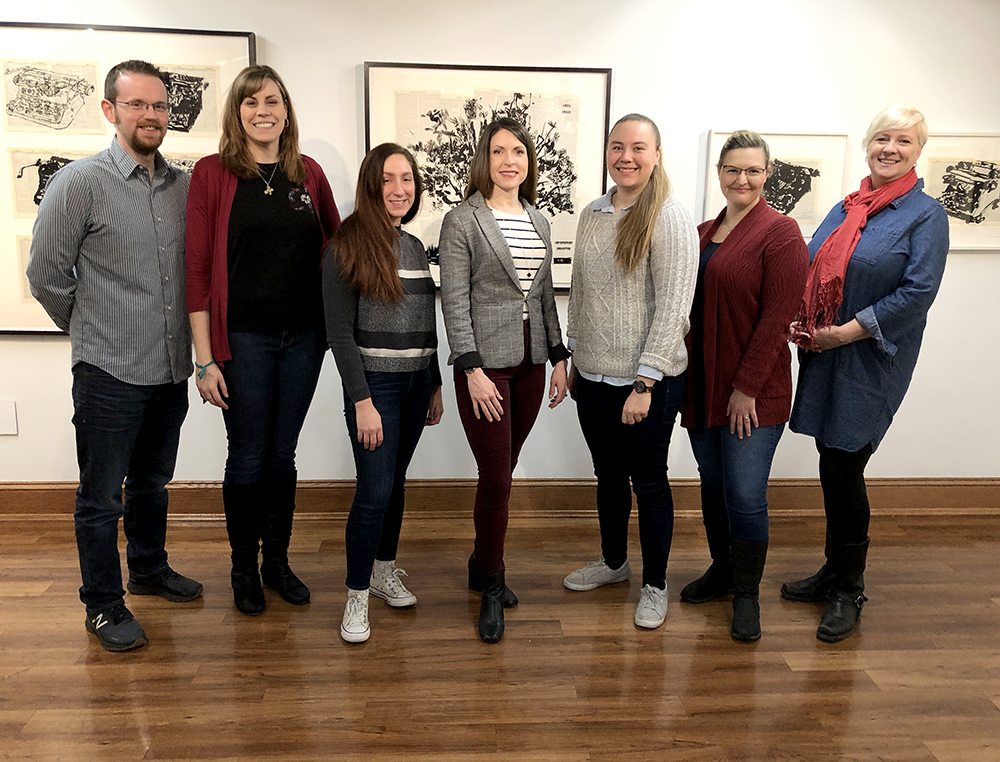 2020 Graduate Fellows:
Jonathan Thurston (English and Animal Studies)
James Brinkmann (Flute Performance)
Hima Rawal (Second Language Studies)
Erika Knapp (Music Education)
Lin Li (Information and Media)
Sharon Combs (Senior Fellow, Theatre)
Liza Calisesi Maiden (Choral Conducting)
McKayla Sluga (History)
Graduate Fellow Biographies 2020
Jonathan W. Thurston (English and Animal Studies)
Jonathan W. Thurston (they/them) is a PhD candidate in English and Animal Studies. They are the editor of upcoming MSU Press collection Animals and Race and are an activist for HIV destigmatization in the Greater Lansing Area, once giving a TEDx Talk called Being Positive: Living with HIV in 21st Century America. They also do editing work for the publishing house Weasel Press and occasional journalist work for Michigan LGBT newspaper Between the Lines. They received their MA in English at Middle Tennessee State University and their BA in English at Vanderbilt University. 
James Brinkmann (Flute Performance)
James Brinkmann (he/him) leads a diverse career as a performer, teacher, and researcher. He unites teaching and performing by creating interactive performances to strengthen the audience's connection with music. His research interests are musical awareness as listeners, the implications of audience engagement and creativity in classical music, and flute pedagogy. From concert halls to train stations, he has performed and given workshops across the country including at the 2018 and 2019 National Flute Conventions, University of Utah, and the University of Toronto Graduate Music Conference. He gave a TEDx Talk called Collaborative Listening: Rethinking Your Connection with Music and was featured in the Chicago Tribune for his interactive concepts. He was on faculty and woodwind department chair at the Merit School of Music in Chicago. He is a D.MA. student in flute performance and teaching assistant at Michigan State University. He holds a M.M. and Graduate Certificate in Music Career Development from MSU and a B.M. from DePaul University. 
Hima Rawal (Second Language Studies)
Hima Rawal is a doctoral candidate in Second Language Studies. She did her MA in Teaching English to Speakers of Other Languages (TESOL) from Michigan State University and M.Ed. in English Education from Tribhuvan University, Nepal. She was a Fulbright fellow for her MA in TESOL program. She worked as an editorial assistant in Studies in Second Language Acquisition. She has served as a graduate student representative in the College of Arts and Letters' College Graduate Committee, College Curriculum Committee, and College Advisory Council. She has volunteered in teaching English to immigrant youth and adults at Lansing Public library, Capital Area Literacy Center, and the Refugee Development Center's GLOBE program. Her research interests are teacher professional development, content comprehensible content for English learners in K-12 settings, learner and teacher emotions, and humanizing research and pedagogy in linguistically diverse classroom settings. 
Erika Knapp (Music Education)
Erika Knapp (she/her) is a second year Ph.D. student in Music Education with a cognate in ethnomusicology. A Texas native, Erika holds a B.A. from Austin College, with a double major in Music and Religious Studies and she earned a double master's degree in Choral Conducting and Music Education from Central Michigan University. She taught 14 years in the Mid-Michigan area, teaching elementary music, middle school choir, music appreciation and beginning ukulele, as well as serving as adjunct faculty for Central Michigan University. She currently serves as a choral director and ukulele instructor for the MSU Community Music School. Erika has certification in Orff-Schulwerk and is a Level I pedagogy teacher for the American Orff Schulwerk Association. She is a regular presenter, clinician and guest conductor at the local, state, national, and international level. She recently presented sessions at the Michigan Music Conference, Big Ten Academic Alliance Conference, American Orff Schulwerk National Professional Development Conference, and the New Directions in Music Education International Conference. Her research interests include disability studies, anti-racist pedagogy, teacher professional development and issues of intersectional identity in the classroom. 
Lin Li (Information and Media)
Lin Li (she/her) is a doctoral candidate in the Information and Media Program in the College of Communication Arts and Sciences at Michigan State University. Her research focuses on the intersection of health communication, communication technology, and media psychology. Her work examines how engagement with media is shaping individuals' health and well-being and its underlying psychological mechanisms. Her teaching background includes courses covering the history and effects of mass media and new media, quantitative and qualitative research methods, methods for understanding user, and digital technologies. She is currently working on her dissertation that investigates how the features of different communication channels (text, phone calls, social media, etc.) shape the effects of sharing positive events on individuals' well-being. She holds a M.A. degree in Journalism and Mass Communication from Tsinghua University and a B.A. degree in Teaching Chinese as a Second Language from Xiangtan University in China.    
Sharon Combs (Theater)
Sharon Combs (she/her) is a 3rd year MFA Acting Candidate with the Department of Theatre. She has been the Director of Education with Shake On the Lake Festival (SOTL) in New York and Arkansas Shakespeare Theatre (AST). As an actor, Sharon has worked professionally all over the country for the last twelve years with SOTL and AST as well as Williamston Theatre, Nebraska Theatre Caravan, Sonoma Valley Shakespeare, Murry's Dinner Playhouse, and Arkansas Arts Center, among others. She has appeared in the films Sheol, Surfacing, and Tiger. Her interest in arts and social justice has led to performing and working within correctional facilities in New York, with a program titled Voices Uncaged. As a director, she has been working with children and teens, devising original works through workshops in various programs. As a playwright, she has collaborated on various Theatre for Young Audiences adaptations including Will's First Drafts, DenMark Funk, and My Fair Shakespeare. While at MSU, she has been teaching introductory acting courses to non-majors in the Department of Theatre and Residential College of Arts and Humanities. She was the instructor for RCAH's theatre workshop course, Acting for Social Change, an introductory acting course focused on devising theatre for social change. She is also one of the creators of a new Podcast titled "The Moment Before" which offers original acting exercises based in various acting techniques and will be released in 2021. 
Liza Calisesi Maiden (Choral Conducting)
Liza Calisesi Maidens is a third year DMA candidate in Choral Conducting at Michigan State University and is a member of the conducting faculty at Eastern Michigan University. She serves as the Repertoire and Resource Chair for Women's Choirs for ACDA-MI and is an active guest conductor, clinician, and presenter. She recently provided research sessions at the state Colorado and Michigan ACDA Conferences, the Michigan Music Conference, and looks forward to presenting her session "(re)Consider the Canon" at the 2021 National ACDA Conference. Liza holds a master's degree from Westminster Choir College in Princeton, New Jersey and a bachelor's degree from Central College in Pella, Iowa. 
McKayla Sluga (History)
McKayla Sluga is a 4th-year doctoral candidate in the History Department. Her fields focus on US Cultural History, European/Soviet Cultural and Intellectual History, and Film History. She researches relationships between modern and avant-garde art, film, and leftist groups of the early twentieth century, particularly the formation of independent cultural-political organizations in New York City. Originally from New York, she received her B.A. in History and American Studies with a minor in Philosophy from Elmira College. At MSU, McKayla is currently a teaching assistant in the Social Science Scholars Program. This program centers interdisciplinary and liberal-arts-style teaching, and she is also guiding students through their own research projects. As a returning RCAH Graduate Fellow, she is interested in trauma-informed teaching, emotional labor in education, relationships between social justice and pedagogy, and how historians can draw on interdisciplinary research to create communities of care.