Gus Navarro: RCAH Alumnus Making His Way in the World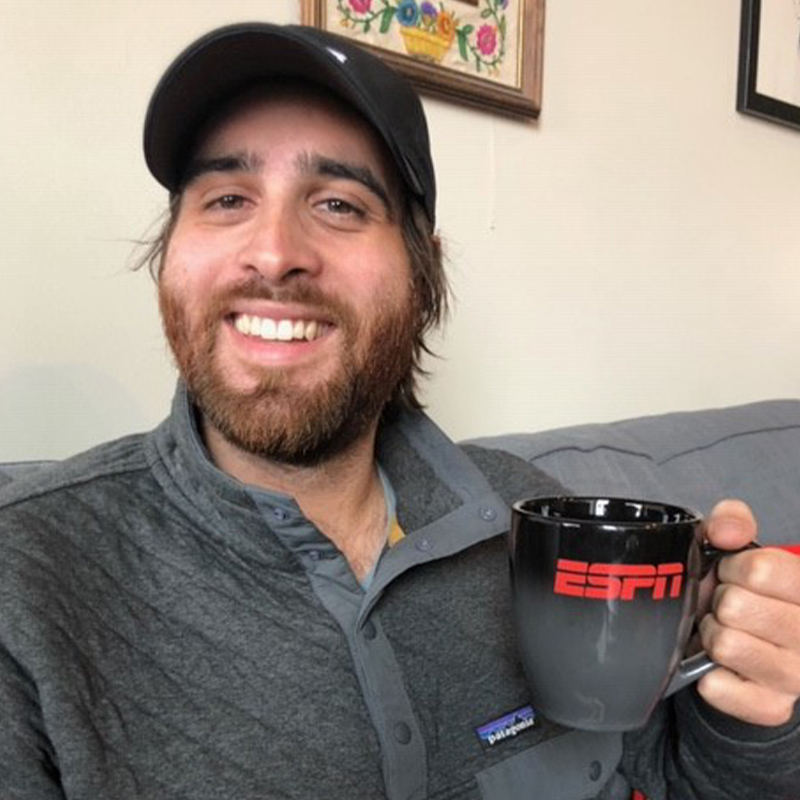 Tell us about your life since RCAH – what did you do after graduation, and what are you doing now?
During undergrad my goal was to pursue a career in non-profit education. After graduating in 2014, I taught in a high school on the east side of Detroit as part of the AmeriCorps program City Year. The next year I moved to Bahia, Brazil and taught English. Both of these experiences were formative, but after two years of teaching, I realized that wasn't what I really wanted to do. After Brazil, I went back to school and got a master's in communication from Wayne State, where I did an internship at WDET, the NPR station in Detroit.
In 2019, I finished at WSU and got a job at ESPN Radio at the main ESPN offices in Bristol, Connecticut. After six months working in radio, I got a job as a production assistant with ESPN Films and 30 for 30, which is broadly part of ESPN's storytelling division. It took some time, but I couldn't be happier with what I'm doing right now. The most recent project we completed was the 30 for 30 podcast March 11 2020, which tells the story of the day COVID was officially declared a pandemic by the WHO and the NBA suspended its season.  
What does a day in the life of Gus look like right now?
My primary function as a production assistant is finding archival material for the various films and podcasts in development. So most of my day is spent searching our digital archives and communicating with other people on the production team about what they need. In addition to archival research, I've gotten the chance to help with scripting, editing, and pitching podcast episodes. Our team has been working remotely since the start of the pandemic which, for the most part, hasn't been a problem. Besides work, I try to be outside as much as possible. When I was at ESPN Radio, I was working nights and weekends, so when I got the position at ESPN Films, my partner and I had all these plans to explore the East Coast during the weekend. Alas, COVID. That said, I'm incredibly privileged to be working from home and I look forward to when we can safely hang out with friends and family again.
Do you have any favorite RCAH memories or classes?
One specific experience I take with me is a class I took with Estrella Torrez that was a collaboration with MSU's CAMP program. For the class, we went to an elementary school in Lansing and were paired up with fourth graders to write stories that were turned into a book. It was such an important class that emphasized collaboration, student voice, and the power of story. I think about it often. Also, shout out Joanna Bosse and Tama Hamilton-Wray. 
What in RCAH really helped you or prepared you for what you're doing now?
More than anything, I think RCAH prepared me to think critically and apply a social justice worldview to whatever situation I'm in. Whether teaching, working in media, or even just hanging with friends, I know how to be critical and speak up but also how to listen and give space. In RCAH we're exposed to so many perspectives and every one of them has served me well. I think you see that in the amazing things my fellow RCAH alums are up to, as well. Everyone is doing something impactful across a wide variety of fields and disciplines. To me, that has everything to do with what we were taught and exposed to in RCAH.
Anything else you'd like to share with the RCAH alumni community?
I just want to wish everyone well. 2020 was such a disturbing year and '21 is clearly not off to a great start. I hope you're able to find space to rest so we can keep pushing on the institutions we all know are in desperate need of positive change. Keep doing you.