New Single To Be Released by RCAH Senior Sophia Jozwiak
April 9, 2021
Jozwiak will be hosting a virtual concert and Q&A via Zoom on April 15;

register here

.

The lead single, "Twenties," will be performed and released on streaming services that night

Her EP

Quarter Life Crisis

is a part of her senior thesis that she has worked on with RCAH Professor Chris Scales
By Chrystel Lopez '22
After a long semester of hard work, Sophia Jozwiak '21 will be sharing an exclusive first look behind her debut EP Quarter Life Crisis during her virtual concert and Q&A via Zoom at 7 p.m. on Thursday, April 15. Jozwiak, also known by her stage name Sophia Dove, wrote, performed, recorded, and produced Quarter Life Crisis as her senior thesis, and she will be graduating RCAH at MSU this spring.
The EP is named after a single Jozwiak wrote in December of 2020. The album is set to release May 28.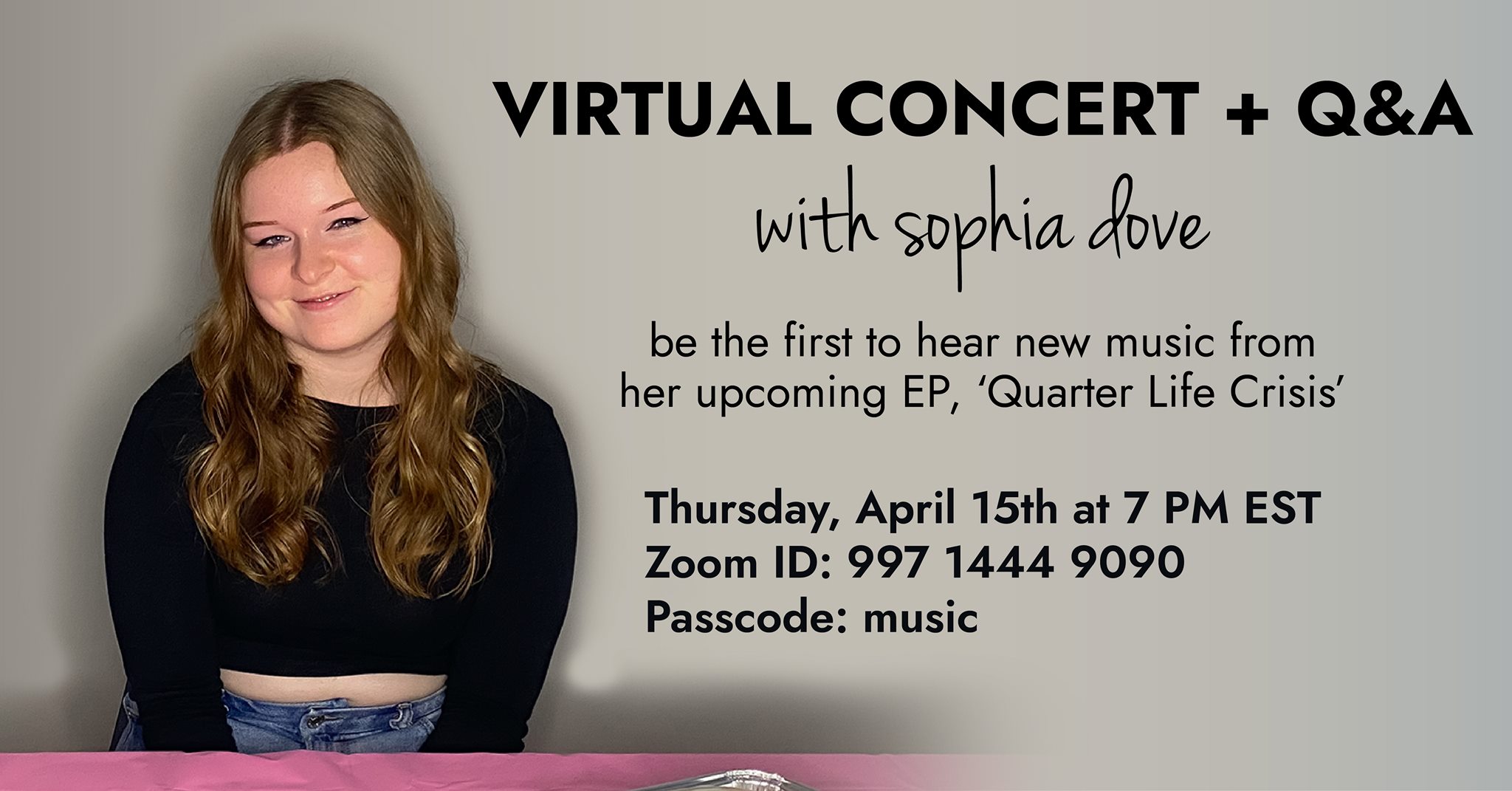 "We're at this point in our lives where we had certain expectations as to how things would go, and then everything fell out from under us," said Jozwiak. "It's the same kind of idea that 'Twenties,' the lead single, is about too: thinking that we would be spending this time celebrating 21st birthdays and transitioning into the professional world and starting what people said would be the best few years of our lives, but instead, we're just trying to survive a pandemic and everything that comes with it."
Jozwiak has been working on this EP as part of her independent study with Professor Chris Scales. Her freshman year she took his Music Production course, then took it again her junior year. She has been working with him ever since.  
"She is definitely one of the most talented and creative songwriters and music producers that I've had the pleasure of working with in RCAH," Scales said. "I've been continually impressed with her level of professionalism and commitment to her craft and to her career. It's really this commitment that sets her apart."
Scales said he is "really impressed and excited" about Quarter Life Crisis, which contains songs that are personal yet universally relatable. 
"I think there are going to be a lot of 20somethings who are going to hear these songs and think, 'Yeah, I feel that,'" he added. "And it's just a great sounding EP. Great singing, lots of great musical ideas."
As a celebration of her hard work, Jozwiak said that she is looking forward to hosting the virtual concert. 
"I've worked so hard on writing, recording, and producing this project, and now I want the world to hear it," Jozwiak said. "Seeing people RSVP definitely makes me feel supported and is good motivation to put on a great show."
After graduation, Jozwiak said she hopes to run her own music business. 
"As far as a day job goes, though, I'm still looking," Jozwiak said. "I would love to do something with music journalism, or audio production, or anything in communications."
RSVP to the virtual concert and Q&A here and pre-save Jozwiak's lead single "Twenties" here, available on Spotify and iTunes.
Related
The Residential College in the Arts and Humanities at Michigan State University is a unique learning community offering the advantages of a small college liberal arts education and the opportunities of a major university. Students prepare for meaningful careers by examining critical issues through the lens of culture, the visual and performing arts, community engagement, literature, philosophy, history, writing, and social justice. RCAH's 100% placement rate for graduates over the past six years is the best at MSU. Visit rcah.msu.edu, email rcah@msu.edu, or call 517-355-0210.
Facebook https://www.facebook.com/RCAHMSU/  
Instagram https://www.instagram.com/rcahatmsu/
Twitter https://twitter.com/RCAH_MSU
YouTube https://www.youtube.com/channel/UCpfDHNy0ws5nxgaL9v1xMGw