RCAH Welcomes Alyssa Briones as Executive Staff Assistant
January 12, 2023
Story and photo by Morris Arvoy
Alyssa Briones has been hired as Executive Staff Assistant to the Dean in the Residential College in the Arts and Humanities (RCAH) at Michigan State University (MSU).
In her new role, Briones is providing administrative and executive support to Dean Dylan Miner, Associate Dean Terese Guinsatao Monberg, and other leadership positions in the College. An MSU alumna, she brings a unique array of experiences to her new role from various positions across campus.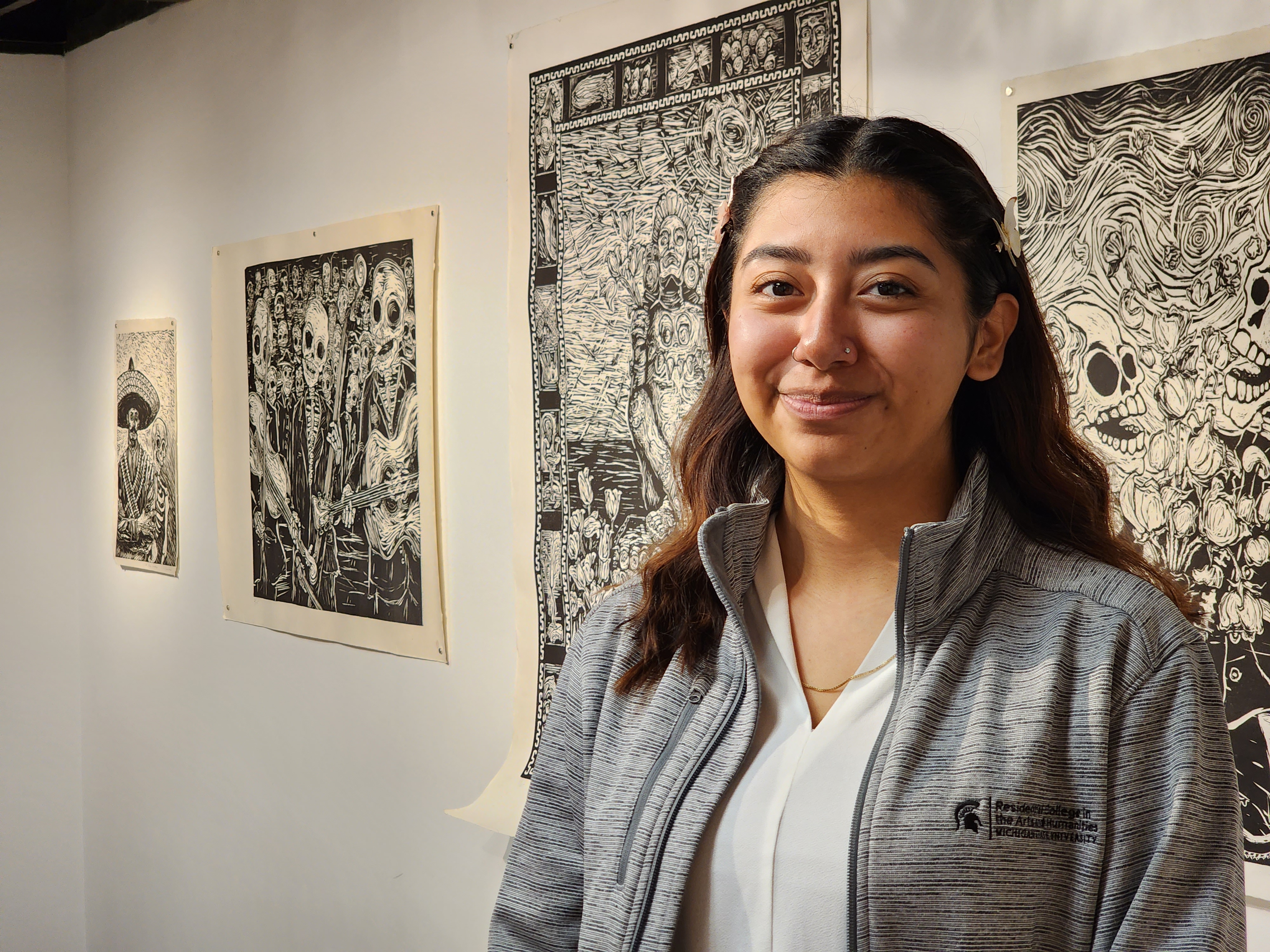 "With her purposefulness to work so that all members of our community have a voice, Alyssa Briones has enhanced the RCAH experience for students and staff for several years now," said Dean Dylan Miner. "I couldn't be happier that she wanted to continue serving in RCAH and I know that RCAH will be well served by her." 
In addition to her executive and administrative duties, Briones coordinates major College activities and researches and develops new and existing College projects; communicates with leadership staff across the University and with stakeholders of the College; helps administer College-level external grants; and supports RCAH's fundraising activities.
Most recently, Briones worked as a communicator with the RCAH communications and marketing team, a role she held as both an intern and staff member. During MSU's remote work as a result of the Covid pandemic, Briones was instrumental in helping to establish a robust online presence for the College beyond academics, developing and promoting events, opportunities, artistry, and resources. She compiled, wrote, and edited the weekly RCAH newsletter, and worked on social media, graphics, and other content. 
As a student who served as a Resident Assistant in Snyder-Phillips Hall for three years, Briones was dedicated to ensuring that diversity, equity, inclusion, and belonging are accessible to all. She was active with MSU's Office of Cultural and Academic Transitions (OCAT), Multi-Racial Unity Living Experience (MRULE), and Intercultural Aide Programs (ICAs), among other initiatives, and served as a Peer Assistant in MAGIC, MSU's summer transition program for incoming first-year students. 
"As a freshman, it was difficult for me to feel like I was in the right place," Briones said. "That only drove me to create the space for myself and others like me to feel we can take up space on this campus. Everyone deserves to feel they are appreciated and valued in their own ways."
A problem solver adept in a variety of design and media platforms, Briones mentored students on technology-related projects for nearly four years as a Student Consultant in the RCAH Language and Media Center. 
Briones was an arts and humanities major in RCAH, where she selected the community engagement academic Pathway while also minoring in Chicano and Latino Studies. 
A Lansing, Michigan, native, Briones enjoys disc golfing in the parks of Greater Lansing. She also enjoys exploring buildings on the National Register of Historic Places and reading their infamous green signs. 
"I am very excited to continue my time with RCAH in yet another capacity," Briones said. "It's an honor to be able to work in higher education as a first-generation student and Latina, showing it can be done. Plus, who doesn't love working in such a creative and welcoming environment?"
The Residential College in the Arts and Humanities (RCAH) is a beacon among Michigan State University's heralded learning communities, named best in the nation among public schools by U.S. News & World Report for four consecutive years. RCAH's unique "living-learning" community offers the advantages of a small-college, liberal arts education with all the opportunities of a major Big Ten university. RCAH students hone the key skills that are most in demand by employers today by examining critical issues through the lens of culture, visual and performing arts, literature, community engagement, social justice, history, writing, and philosophy. RCAH graduates' 99 percent placement rate into careers or graduate school is the best at MSU. Find out why: Visit rcah.msu.edu, email rcah@msu.edu, or call 517-355-0210. 
Facebook https://www.facebook.com/RCAHMSU/ 
Instagram https://www.instagram.com/rcahatmsu/ 
Twitter https://twitter.com/RCAH_MSU 
YouTube https://www.youtube.com/channel/UCpfDHNy0ws5nxgaL9v1xMGw