Writing Center Snyder Satellite Opens in RCAH's LMC
April 5, 2019
Now open Tuesdays and Wednesdays 3-6 p.m. in The Language and Media Center (LMC), located on the terrace level of Snyder-Phillips Hall, with special appointments available by request.
The Writing Center provides free peer consulting to MSU students across campus.
"We support students across disciplines and educational levels during any stage in the writing process and with various writing types such as professional documents, argumentative essays, creative assignments, and multimedia projects."
By Kara Dempsey '19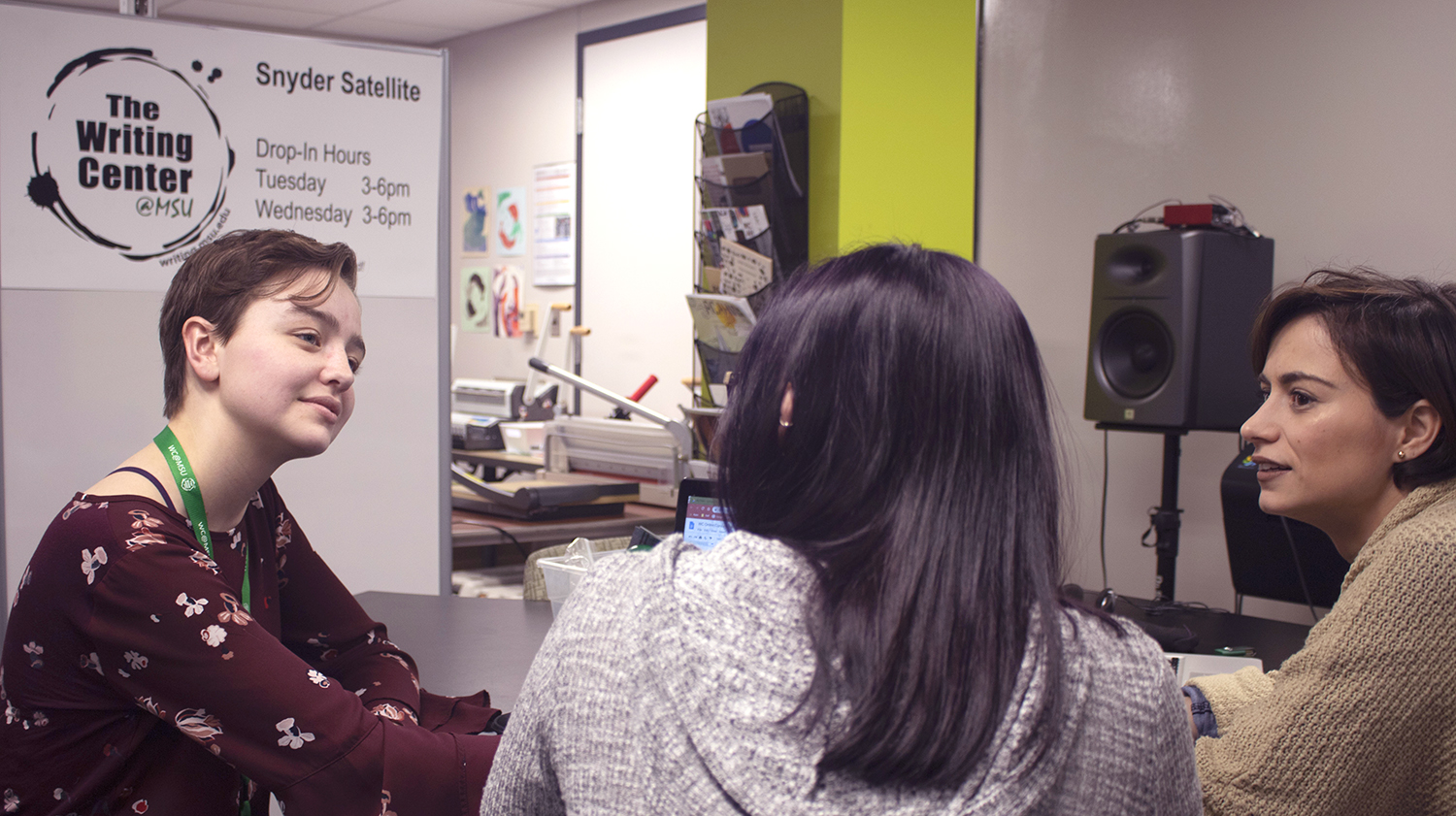 As the semester winds down and writing projects ramp up, students may be pleased to learn that a new Writing Center satellite has opened in the Language and Media Center (LMC) in the basement of Snyder-Phillips Hall, home to the Residential College in the Arts and Humanities (RCAH).
The Writing Center is a resource on campus that provides free, individual peer consulting to any MSU student. It is focused on developing writing skills, facilitating collaboration among students, and using new technologies to encourage a diverse understanding of writing.
Stephanie Aguilar-Smith, a Ph.D. student in the Higher, Adult, and Lifelong Education and Chicano/Latino Studies and graduate assistant for The Writing Center, said she believes this satellite is a great addition to the RCAH community.
"As students dedicated to the arts and humanities, it seems to me that this a skill that many RCAH students see the value in further developing," Aguilar-Smith noted. "Since The Writing Center's goal is not to produce better writing, but to support our clients in becoming better writers, I believe that this satellite is positioned to be an especially generative space and resource for RCAH students."
Aguilar-Smith also noted the impact the Writing Center has on her and the students she consults.
"In my almost three years as a consultant, I've met with hundreds of students who come to me worried that they're 'bad writers,'" she said. "One of the most important roles I think The Writing Center offers is reframing these conversations to encourage students to see writing as skill to be developed and that we, as consultants, are there to help them in this process."
Kara Headley, undergraduate student consultant for The Writing Center, spoke about her experience with the Writing Center.
"For me, the best part about working at The Writing Center is meeting people I otherwise would not have," Headley remarked. "It allows me to meet students from many different disciplines, and I get to read and learn about so many topics I would not have if it was not for The Writing Center."
Professors at RCAH are excited for the new satellite center, as well. Dave Sheridan, former associate director at The Writing Center and a current RCAH associate professor, said that with the LMC expanding resources, it gives students an extra hand in helping build successful projects.  
"I strongly believe that writers at all levels increase their chances for success by talking out their ideas with others." Sheridan stated. "The Writing Center gives students a chance to do this with knowledgeable peers.  We think of writing as a solitary activity, but many writers depend on various kinds of social interaction. The Writing Center is one place where we can have these productive interactions."
Specifically, for RCAH students, Sheridan agreed with Headley's point that the satellite serves as a great resource with multimedia projects. He mentioned the research poster assignment in RCAH 112 as a great example of how RCAH students can find help in the Writing Center. Students spend a semester researching a topic, then they create a poster that summarizes their results.
"The poster contains writing, but also colors, visuals, and other design elements," Sheridan said. "With The Writing Center in the LMC, we hope students can fluidly move across various support structures."
Sheridan explained just some of the ways in which the LMC and Writing Center can work symbiotically. Students might design their poster at a computer workstation and then visit The Writing Center consultant to get some feedback about the written content of the poster. Or they might drop into the LMC to have a conversation with a writing consultant about how to distill a 15-page paper into a single poster, and the consultant might flag an LMC staff member over to offer some advice about how much text can reasonably fit on a poster or how easy it is to insert an image.
"Having both kinds of support in the same place, close to where students live and take classes, means that our creative workflows are potentially richer and more productive," he said.
The Writing Center Snyder Satellite is located in the LMC in the basement of Snyder-Phillips Hall. Walk-in hours with take place Tuesdays and Wednesdays from 3 to 6 p.m., and students can schedule consultations outide of these hours. To learn more about The Writing Center Snyder Satellite at the LMC, visit http://rcah.msu.edu/programs/writing-center.html.
Photo by Marcus Fields '17.
Related: LMC website 
The Residential College in the Arts and Humanities at Michigan State University is where students live their passions while changing the world. In RCAH, students prepare for meaningful careers by examining critical issues through the lens of culture, the visual and performing arts, community engagement, literature, philosophy, history, writing, and social justice. RCAH is situated in historic Snyder-Phillips Hall, where students learn and live together in a small-college setting, with all the advantages of a major university. For more information, visit rcah.msu.edu, email rcah@msu.edu, or call 517-355-0210.
Facebook https://www.facebook.com/RCAHMSU/ 
Instagram https://www.instagram.com/rcahatmsu/
Twitter https://twitter.com/RCAH_MSU
YouTube https://www.youtube.com/channel/UCpfDHNy0ws5nxgaL9v1xMGw