RCAH and ArtPrize Form Artistic Bond
September 28, 2022
Dean Dylan Miner takes on role as Juror for Grand Rapids ArtPrize
ArtPrize is an 18-day-long international art competition in Grand Rapids, Michigan that takes place from September 15 to October 3
"I imagine a future where RCAH and Sny-Phi are an arts epicenter that intentionally connect to regional arts centers like Detroit, Grand Rapids, Chicago, and Toronto," Miner said.
By Chrystel Lopez '23
Did you know that a mere 70 miles away from our home here in Snyder-Phillips Hall exists the world's most attended international art competition, called ArtPrize? And get this: Our very own Dean Dylan Miner is a juror for the contest! 
Featuring thousands of works of art, ArtPrize is an 18-day-long event that takes place on the west side of the state in Grand Rapids, Michigan, from September 15 to October 3, 2022. Since it started in 2009, millions of people have attended the event. 
("Last" by Mo Juaw. Photo by Dylan Miner)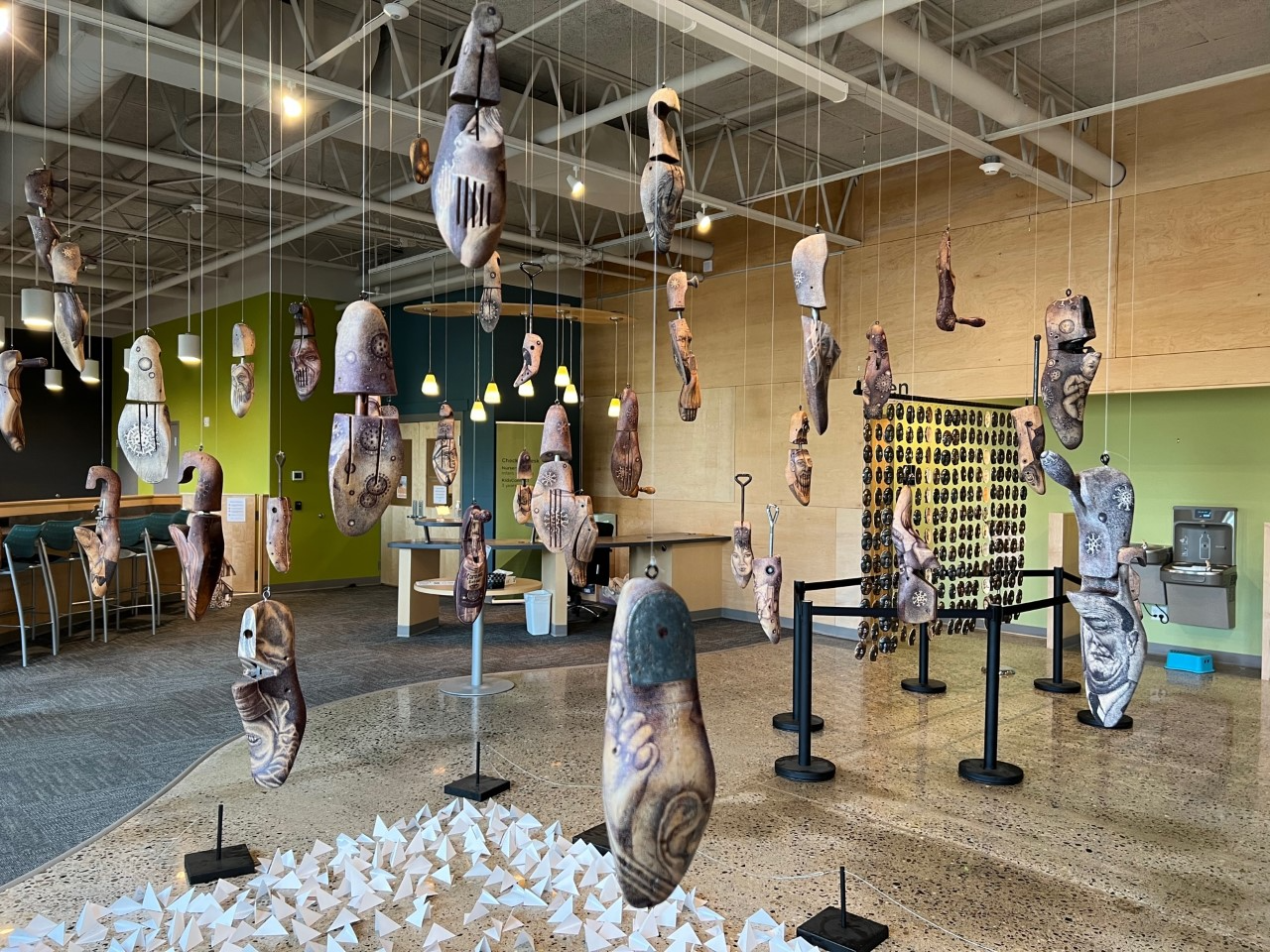 Miner is a first-time juror in the installation category, a select classification which consists of larger, place-based works. His previous involvement with ArtPrize was in 2015 when his art was featured in an exhibition curated by Ron Platt at the Grand Rapids Art Museum and he was a Jurors' Shortlist candidate.
ArtPrize and RCAH come together Thursday, September 29, 2022, at an event in Grand Rapids featuring Miner and ArtPrize Executive Director Craig Searer in a conversation about art, ArtPrize, and RCAH. For Miner, the newly appointed RCAH dean, RCAH, MSU and ArtPrize fit naturally together. 
"I would like to see RCAH and MSU be better connected to the larger arts ecology across Michigan and the Great Lakes region," Miner said. His participation as a juror in ArtPrize, as well as on a panel on the 'Intersection of Art and Nature' at the Frederik Meijer Sculpture Garden, helps ensure that RCAH and MSU are connected with the contemporary arts across the state. Establishing RCAH's home of Snyder-Phillips Hall as a major arts hub on MSU's campus is a big step in this direction.
"I imagine a future where RCAH and Sny-Phi are an arts epicenter that intentionally connect to regional arts centers like Detroit, Grand Rapids, Chicago, and Toronto," Miner continued. "So, making sure we connect to the vibrancy of what is already happening is crucial."
("Seeking A Pleasant Peninsula!" by Maddison Chaffer. Photo by Dylan Miner)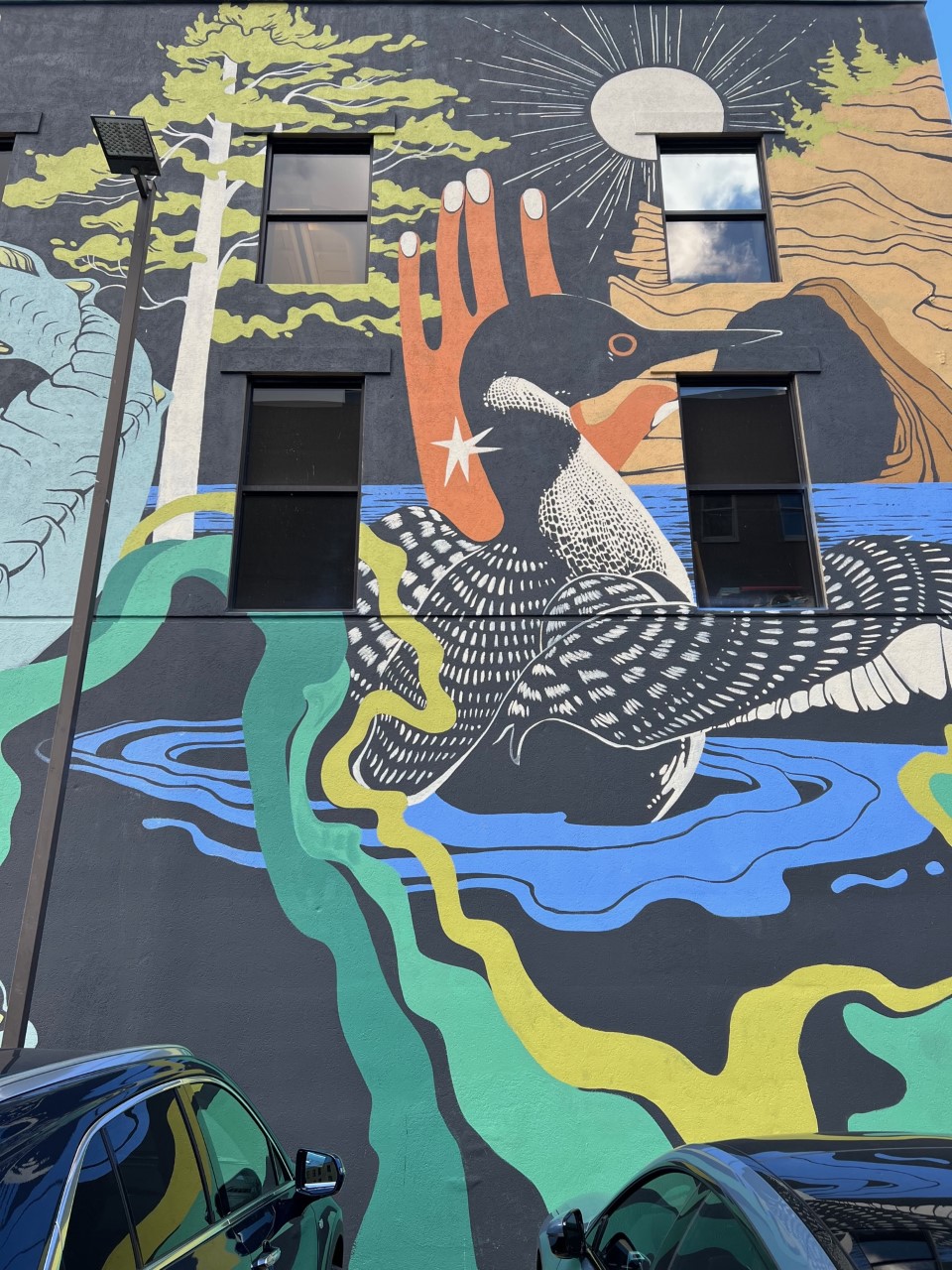 On a typical day during ArtPrize, you can see streets filled with families, locals, and tourists–all walking around admiring the installations that are scattered across a three-mile radius of Grand Rapids. You can find unique paintings, sculptures, and performance art anywhere from "bars, public parks, restaurants, theaters, hotels, bridges, laundromats, auto body shops, vacant storefronts, and office spaces," according to the ArtPrize website, in addition to traditional venues such as museums and galleries. 
For people new to Grand Rapids, this allows them to explore the downtown and surrounding areas while on the hunt for fantastic works of art–many of which are for sale. With the geographic spread, it's a great way to discover local businesses, and an even better way to support the community.
The Residential College in the Arts and Humanities (RCAH) is a beacon among Michigan State University's heralded learning communities, named best in the nation among public schools by U.S. News & World Report for four consecutive years. RCAH's unique "living-learning" community offers the advantages of a small-college, liberal arts education with all the opportunities of a major Big Ten university. RCAH students hone the key skills that are most in demand by employers today by examining critical issues through the lens of culture, visual and performing arts, literature, community engagement, social justice, history, writing, and philosophy. RCAH graduates' 99 percent placement rate into careers or graduate school is the best at MSU. Find out why: Visit rcah.msu.edu, email rcah@msu.edu, or call 517-355-0210. 
Facebook https://www.facebook.com/RCAHMSU/ 
Instagram https://www.instagram.com/rcahatmsu/ 
Twitter https://twitter.com/RCAH_MSU 
YouTube https://www.youtube.com/channel/UCpfDHNy0ws5nxgaL9v1xMGw