LookOut Gallery Exhibition by Detroit Artist Solomon Johnson Honors Family Stories and African Diaspora
February 9, 2023
Johnson's exhibition explores his children's book and video work, both of which are inspired by and collaboratively worked on with his family

Emerging Visions is a yearly residency for artists whose work reflects on Black, African-American, or African diasporic experiences.

There will be a closing reception with the artist on Thursday, February 23, 2023.
By Chrystel Lopez '23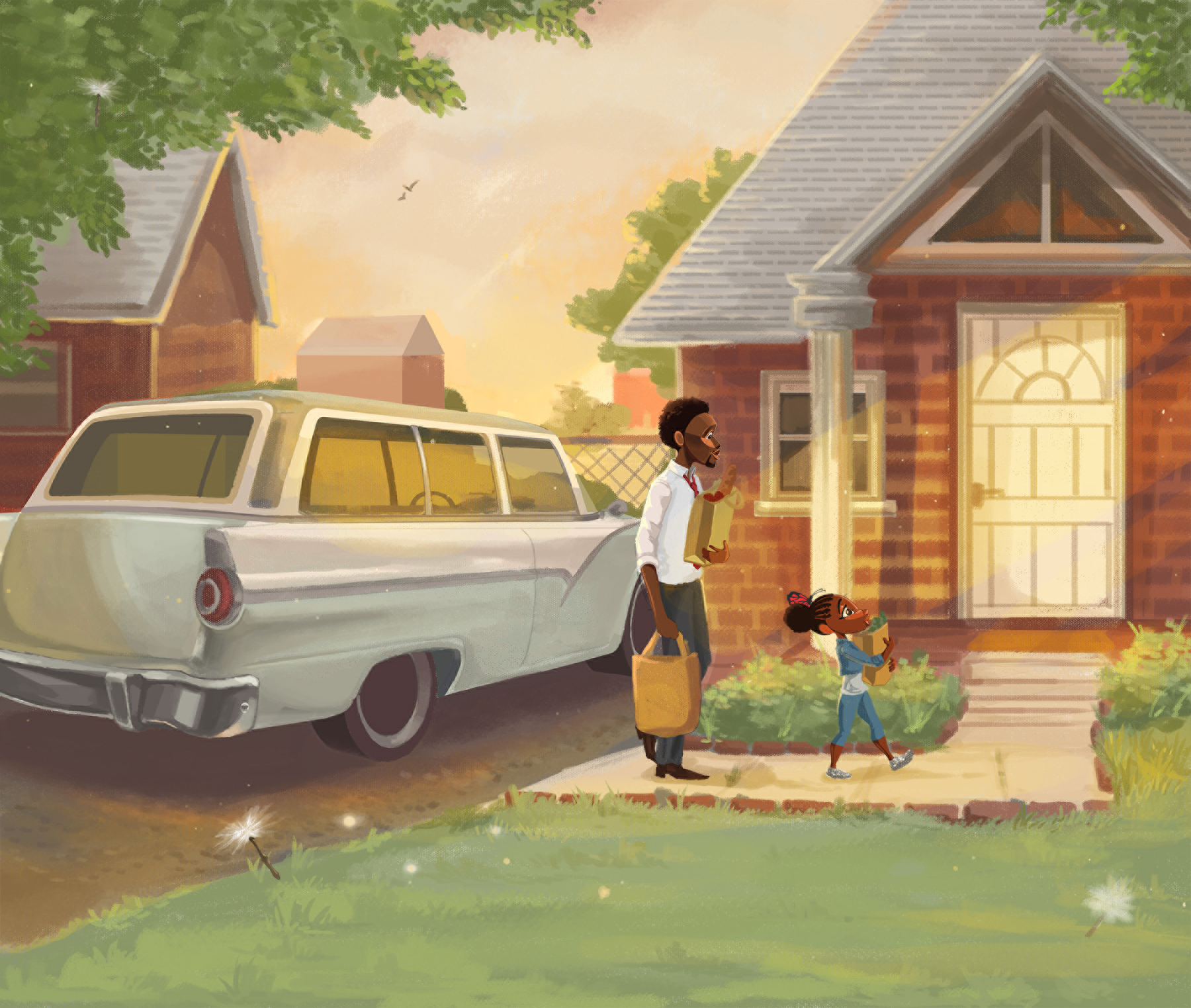 The 12th Annual Perspectives in African-American Experience: Emerging Visions exhibition has opened in the Lookout Gallery for the Residential College in the Arts and Humanities (RCAH) at Michigan State University. Solomon Johnson Stories: The Passing of Experiences and Values features the work of Detroit-area artist Johnson, an author and multimedia artist who will be in residency in RCAH February 20-24, 2023.
A reception with the artist on the final day of the exhibition will be held in the LookOut! at 6 p.m. on Thursday, February 23, 2023.
Emerging Visions is an annual paid residency in RCAH for artists whose work reflects on Black, African-American, or African diasporic experiences and explores art as social activism. 
This show is a first for both Johnson and RCAH. Not only is this Johnson's first solo exhibition, but it is RCAH's first Detroit Artists at MSU (DAAM) exhibition, co-sponsored with Kresge Arts in Detroit. As a Detroit-born and raised artist, Johnson and his work were a natural fit for Emerging Visions. 
In his exhibition, Johnson displays artwork from his children's book Daddy, Where Do the Animals on the Train Go? The first of an upcoming multiple-part series, Johnson's book was originally written for parents to enjoy with their children. The book was inspired by Johnson's daughter.
"In essence, it is a long-form and reimagined tale that focuses on the brilliance of children and a positive message for Africans and the Diaspora," Johnson said.
Johnson's family played an integral role in the exhibition themselves, as they not only inspired his work, but helped create it collaboratively. Johnson's eight-minute short film, In Search of MA'AT, features his wife and daughters as the actors, co-directors, and co-producers of the film. 
"Had I made a movie with my Mom and Dad, I would be moved," Lookout Preparator and Academic Specialist Steve Baibak said. "I would never forget it. It's an investment into family that's really powerful. His wife and daughters will have that as a family memory forever."
When Johnson was growing up, his mother was the one encouraging his artistic exploration, given that she wrote and illustrated several children's stories over the course of her creative career. Ultimately, he has been able to tell his family's story through his artistic endeavors.
"Stories offer golden nuggets that can help current and future generations understand themselves," Johnson said. "Stories can aid in establishing individual and collective goals."
In a lecture series next year with Kresge Arts in Detroit, RCAH will be highlighting the work of their past Fellows to accomplish a goal of better connecting the College and greater MSU community with Detroit's thriving arts scene.
The Emerging Visions show and residency was originally developed by the LookOut Gallery's founding director, RCAH Associate Professor Emerita Carolyn Loeb. This year's exhibition and residency is organized by RCAH Dean Dylan Miner and Lookout Preparator and RCAH faculty member Steve Baibak.
The Residential College in the Arts and Humanities (RCAH) is a beacon among Michigan State University's heralded learning communities, named best in the nation among public schools by U.S. News & World Report for four consecutive years. RCAH's unique "living-learning" community offers the advantages of a small-college, liberal arts education with all the opportunities of a major Big Ten university. RCAH students hone the key skills that are most in demand by employers today by examining critical issues through the lens of culture, visual and performing arts, literature, community engagement, social justice, history, writing, and philosophy. RCAH graduates' 99 percent placement rate into careers or graduate school is the best at MSU. Find out why: Visit rcah.msu.edu, email rcah@msu.edu, or call 517-355-0210. 
Facebook https://www.facebook.com/RCAHMSU/ 
Instagram https://www.instagram.com/rcahatmsu/ 
Twitter https://twitter.com/RCAH_MSU 
YouTube https://www.youtube.com/channel/UCpfDHNy0ws5nxgaL9v1xMGw