Coronavirus Video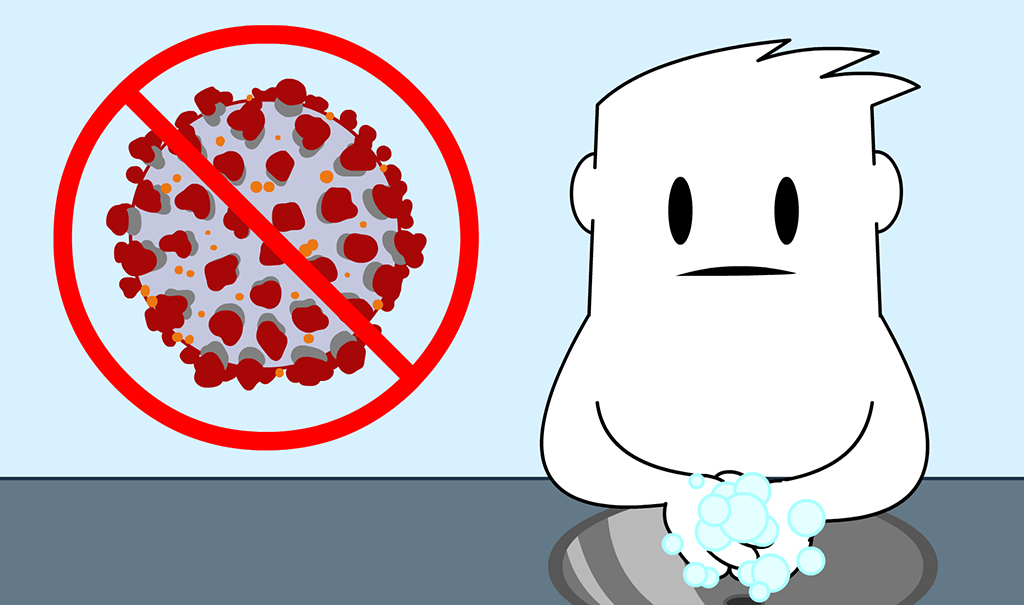 An animated video addresses best practices to protect against the coronavirus through recommended preventative measures. The video was created by Scientific Animations Without Borders (SAWBO) in partnership with the Residential College in the Arts and Humanities (RCAH) and the College of Agriculture and Natural Resources at Michigan State University.
Recently, the video was shared on the leading global Coronavirus Resource Center website, maintained by the Johns Hopkins Bloomberg School of Public Health.
Versions of the video have been translated into two dozen languages, links to which are below.
The developers encourage individuals and groups to share the video across platforms such as WhatsApp with people who do not have internet access. Unlike other SAWBO video animations, they ask that it not be shared via Bluetooth by people in close physical proximity to each other, which would defeat the purpose of the message, given the nature of the novel coronavirus.
Read more about the video collaboration in a story on MSU Today, "Sharing Knowledge Globally in a Time of Crisis."
Languages and Regions
Arabic (Egypt)
YouTube: https://www.youtube.com/watch?time_continue=212&v=4-ZFLUPvfIo&feature=emb_logo
Video Library:  https://sawbo-animations.org/880
Bamanankan (Mali)
Video Library: https://sawbo-animations.org/866
YouTube: https://youtu.be/lc9FRjufoLM
Bengali (Bangladesh)
Video Library: https://sawbo-animations.org/862
YouTube: https://youtu.be/5QlBTlFZglc
Catalan (Spain)
Video Library:  https://sawbo-animations.org/860
YouTube: https://youtu.be/T1TlyBHTfSI
Chichewa (Malawi) 
Video Library:  https://sawbo-animations.org/889
YouTube: https://www.youtube.com/watch?v=4w1TqjE_XzA&feature=emb_logo
Chinese (Taiwan)
Video Library: https://sawbo-animations.org/867
YouTube: https://youtu.be/KfLflZYLu-E
Creole (accent from Haiti)
Video Library: https://sawbo-animations.org/895
YouTube: https://www.youtube.com/watch?v=PihqjvOKA-E&feature=emb_logo
English (USA)
Video Library: https://sawbo-animations.org/859 
YouTube: https://youtu.be/s2fNyTbBH7I 
Fon (Benin)
YouTube: https://www.youtube.com/watch?v=gh25jRF1hBc&feature=emb_logo
Video Library:  https://sawbo-animations.org/876
French (Benin)
YouTube: https://www.youtube.com/watch?v=IAb2a7c6Uj0&feature=emb_logo
Video Library:  https://sawbo-animations.org/877
French (France)
Video Library: https://sawbo-animations.org/865
YouTube: https://youtu.be/bBxlMTj1SWo
Fulani (Mali)
Video Library:  https://sawbo-animations.org/888
YouTube: https://www.youtube.com/watch?v=7wno_epdEhU&feature=emb_logo
German (accent from Italy)
Video Library: https://sawbo-animations.org/896
YouTube: https://www.youtube.com/watch?v=GmP-Hjr-wuA&feature=emb_logo
German (USA)
Video Library: https://sawbo-animations.org/910
YouTube: https://www.youtube.com/watch?v=DoITap8wu-k&feature=emb_logo
Hindi (India)
YouTube: https://www.youtube.com/watch?v=KaDGt3uysKs&feature=emb_logo
Video Library:  https://sawbo-animations.org/885
Igbo (Nigeria)
Video Library: https://sawbo-animations.org/903
YouTube: https://www.youtube.com/watch?v=vbXAi9M1ah8&feature=emb_logo
Italian (Italy)
Video Library:  https://sawbo-animations.org/861
YouTube: https://youtu.be/VT0-zQDI5ow
Kannada (India)
Video Library: https://sawbo-animations.org/900
YouTube: https://www.youtube.com/watch?v=lQ9xapGLMjs&feature=emb_logo
Karimojong (Uganda)
YouTube: https://www.youtube.com/watch?v=alki99W_9Kw&feature=emb_logo
Video Library:  https://sawbo-animations.org/882
Khmer (Cambodia)
YouTube: https://www.youtube.com/watch?v=wCaUODpSSEY&feature=emb_logo
Video Library:  https://sawbo-animations.org/883
Krio (Sierra Leone)
Video Library: https://sawbo-animations.org/904
YouTube: https://www.youtube.com/watch?v=tdDBV_-VWA8&feature=emb_logo
Malagasy (Madagascar)
Video Library:  https://sawbo-animations.org/870 
YouTube: https://youtu.be/S1_T7sIvvY0 
Papia Portuges (Malaysia)
Video Library: https://sawbo-animations.org/906
YouTube: https://www.youtube.com/watch?v=JRSCh2b86uw&feature=emb_logo
Pidgin (Nigeria)
YouTube: https://www.youtube.com/watch?v=chypf8svR_k&feature=emb_logo
Video Library:  https://sawbo-animations.org/881
Portuguese (Mozambique)
Video Library:  https://sawbo-animations.org/869  
YouTube: https://youtu.be/-uXZqF8eIRc  
Russian (Russia)
Video Library:  https://sawbo-animations.org/887
YouTube: https://www.youtube.com/watch?v=ZfJvgszfqXo&feature=emb_logo
Russian2 (Russia)
Video Library: https://sawbo-animations.org/912
YouTube: https://www.youtube.com/watch?v=KtrjhH-Ndvg&feature=emb_logo
Spanish (Spain)
Video Library:  https://sawbo-animations.org/868 
YouTube: https://youtu.be/dHhU-Lgc-dg 
Spanish (Venezuela)
Video Library:  https://sawbo-animations.org/864
YouTube: https://youtu.be/DvTgU4zrRN4
Somali (Somalia)
YouTube: https://www.youtube.com/watch?v=cSTBEB53vIs&feature=emb_logo
Video Library:  https://sawbo-animations.org/884
Swahili (Kenya)
Video Library: https://sawbo-animations.org/897
YouTube: https://www.youtube.com/watch?v=equmFAkoqwI&feature=emb_logo
Swahili (Tanzania)
Video Library:  https://sawbo-animations.org/863
YouTube: https://youtu.be/CMWwdkNJ5ro
Themne (Sierra Leone)
Video Library: https://sawbo-animations.org/907
YouTube: https://www.youtube.com/watch?v=210iHxUQcoQ&feature=emb_logo
Turkish (Turkey) 
Video Library:  https://sawbo-animations.org/891
YouTube: https://www.youtube.com/watch?v=7ZhKk8WFlw4&feature=emb_logo
Ukrainian (Ukraine)
Video Library: https://sawbo-animations.org/859
YouTube: https://www.youtube.com/watch?v=1guie1Iz_YY&feature=emb_logo
Vietnamese (Vietnam)
YouTube: https://www.youtube.com/watch?v=FQTIZt3LMQ4&feature=emb_logo
Video Library:  https://sawbo-animations.org/878
Yoruba (Nigeria)
Video Library: https://sawbo-animations.org/902
YouTube: https://www.youtube.com/watch?v=Sab8mVIfnTo&feature=emb_logo