Two RCAH Alumni Receive Fulbright Awards
May 29, 2021
RCAH alumni Grace Koepele '20 and Emily Van Dyke-Mathews '20 received Fulbright English Teaching Assistantships (ETAs) for the 2021-22 school year

The award places young scholars in academic institutions around the world to teach students English

Other recent RCAH Fulbright recipients include professors John Aerni-Flessner and Sitara Thobani, as well as two additional alumni
By Chrystel Lopez '22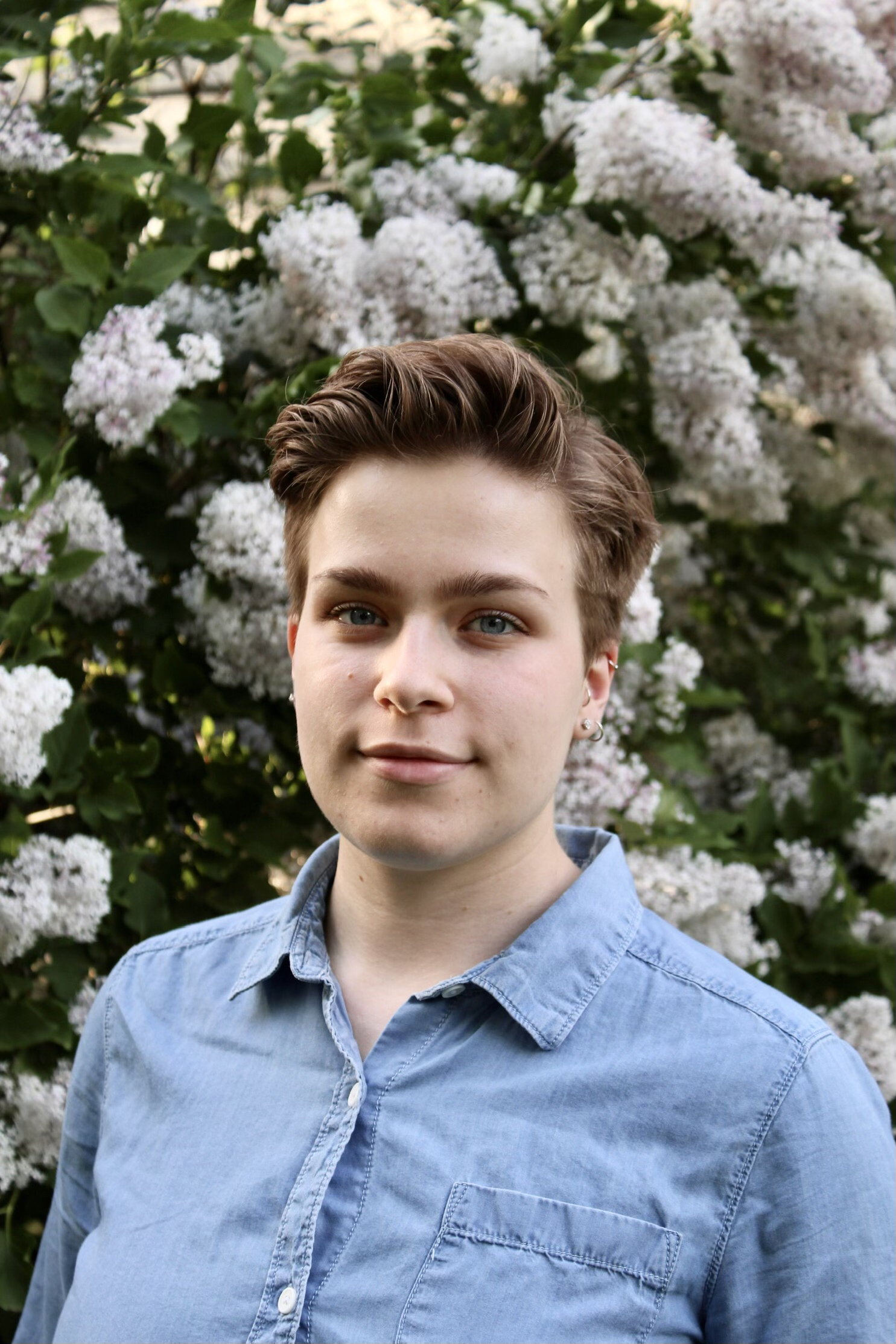 Two recent alumni from the Residential College in the Arts and Humanities (RCAH) at Michigan State University have been awarded Fulbright English Teaching Assistantships (ETAs) for the 2021-22 school year. 
Grace Koepele graduated in May 2020 with a degree in arts and humanities from RCAH as well as a minor in Italian. Emily Van Dyke-Mathews graduated with a dual-degree in arts and humanities from RCAH and Spanish in December 2020 and a minor in the Teaching English to Speakers of Other Languages (TESOL) program and Latin American and Caribbean Studies.  
"Both Emily and Grace exemplify the passion, creativity, and values that we have come to prize and respect in our students," said RCAH Associate Dean Scot Yoder. "When they started in RCAH, I doubt either one could have told you what they wanted to do, but they were very clear about where they wanted to do it—somewhere else. They had a passion for languages and cultures, and over the course of four years creatively augmented their RCAH major with language courses, Integrated Language Options, education abroad programs, and internships—anything that would allow them to spend as much time as possible immersed in other cultures. 
"Just as important, they traveled with respect and attention to values, not to consume the sights, sounds, and tastes of another culture, but to live and engage with other people out of a genuine desire to understand them on their terms."
Koepele's award entails teaching English to high school students in southern Italy, as well as being a cultural ambassador for mutual understanding between the U.S. and Italy.
"It felt surreal," Koepele (pictured in blue) said about receiving the Fulbright. "To be honest, I am still wrapping my head around it. I am incredibly humbled and excited to have this opportunity to continue my studies, empower youth through language, be a cultural ambassador, and experience more of Italy."
After discussing post-graduate options with MSU Italian professor Juliet Guzzetta, Koepele learned about the Fulbright ETA. 
"I thought it was the perfect culmination of my passion for languages and youth work," Koepele said. "The opportunity felt too great to pass by."
Koepele also had the help of RCAH Associate Dean Scot Yoder, explaining that both Guzzetta and Yoder played a large role in both their undergraduate education and the Fulbright application process.
The application itself was a year-long endeavor, Koepele said, and their professors' support made this experience even more valuable.
"I could not have pursued this incredible opportunity without them," Koepele said.
Koepele is currently working as an ESL tutor at SiWen Learning Center and as a youth camp counselor at the YMCA, in their hometown of Ann Arbor, Michigan.
"Regardless of what I do after my Fulbright," Koepele said. "I want to continue to work toward expanding my own linguistic abilities and to work with people from other languages, cultures, and places not only to create new connections but to help ignite the same curiosity and drive to learn in them that Latin and Italian helped bring to life in me."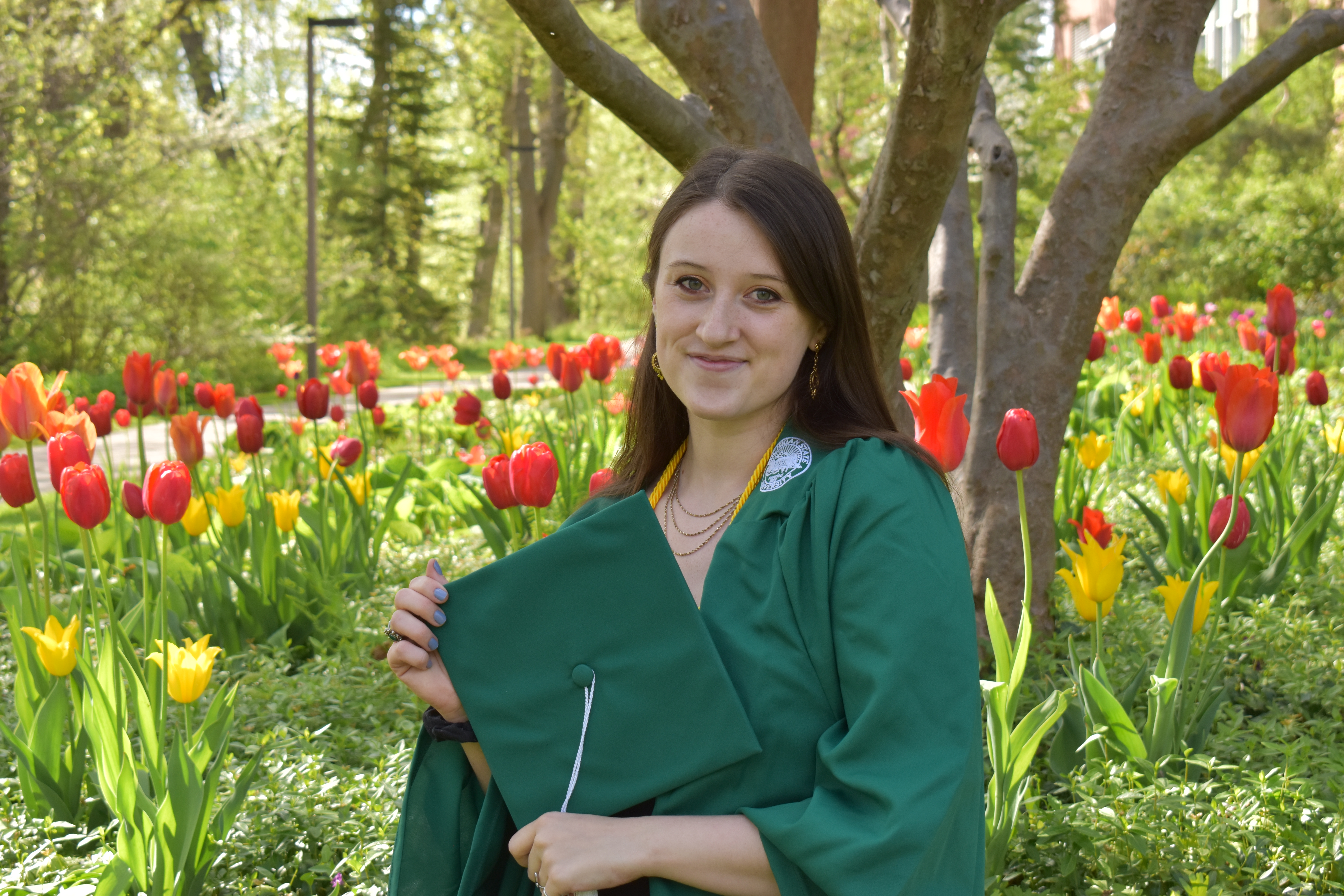 Van Dyke-Matthews (pictured in green), a Grand Rapids native, will be teaching English to primary and secondary students in Spain. She will also be a cultural ambassador.
"It felt amazing to receive the Fulbright," Van Dyke-Mathews said. "I'm so grateful that I received the award and I'm beyond excited for the opportunity to live and teach in Spain."
Outside of the classroom, Van Dyke-Mathews plans to create a community youth art project.
"The students and I will each create a personal art project, which will serve to tell a story about our own culture and personal lived experience," Van Dyke-Mathews said. 
After all of the projects are completed, she will host an art showcase for family and friends.
"My independent project is heavily inspired by my experience in RCAH," Van Dyke-Mathews said. "I've learned that storytelling through art has the extraordinary and unparalleled power to bridge gaps among people and promote better understanding of one another."
Van Dyke-Mathews currently lives in East Lansing and teaches English online to students in China. Outside of her future with Fulbright, she hopes to continue teaching ESL.
"I plan to either continue teaching English abroad or return to the U.S. and work with the immigrant or refugee population, equipping them with the linguistic tools and guidance needed to help them adapt to life in the United States and accomplish their goals," Van Dyke-Mathews said. 
"I would like to thank RCAH professor Estrella Torrez for her support with my application and as well as her invaluable guidance in youth mentorship and education during my undergraduate studies. I would also like to express my appreciation and gratitude to my TESOL professors Paula Winke and Dustin De Felice, my Spanish professor Maria Mudrovcic, and the MSU Fulbright committee for their continuous support throughout this process."
Yoder added, "By pursuing their passion with creativity and attention to values, they each designed unique programs of study that prepared them exceptionally well for the Fulbright program."
The Fulbright ETA program places its award winners in classrooms abroad to provide assistance to local English teachers. ETAs help teach the English language and work as American cultural ambassadors. Both the age and academic level of the students vary by country. Recent RCAH Fulbright recipients have included Associate Professor John Aerni-Flessner, Assistant Professor Sitara Thobani, and alumni Christopher Johnson and Carlee Forbes.
The Residential College in the Arts and Humanities at Michigan State University is a unique living-learning community offering the advantages of a small college liberal arts education and the opportunities of a major university. Students prepare for meaningful careers by examining critical issues through the lens of culture, the visual and performing arts, community engagement, literature, philosophy, history, writing, and social justice. RCAH's 99% placement rate for graduates over the past eight years is the best at MSU. Visit rcah.msu.edu, email rcah@msu.edu, or call 517-355-0210.
Facebook https://www.facebook.com/RCAHMSU/  
Instagram https://www.instagram.com/rcahatmsu/
Twitter https://twitter.com/RCAH_MSU
YouTube https://www.youtube.com/channel/UCpfDHNy0ws5nxgaL9v1xMGw