Digitizing Creativity: RCAH's Creative Spaces Thrive Online
September 25, 2020
The LMC and Art Studio are available online through MS Teams to help you with anything you may need.
The spaces are planning events to get students to exercise their creativity.
Students are encouraged to visit the spaces, ask questions, and just hang out with their RCAH peers.
By Chrystel Lopez '22
Artwork by Student Consultants Zaria Cannon and Mollie Ropp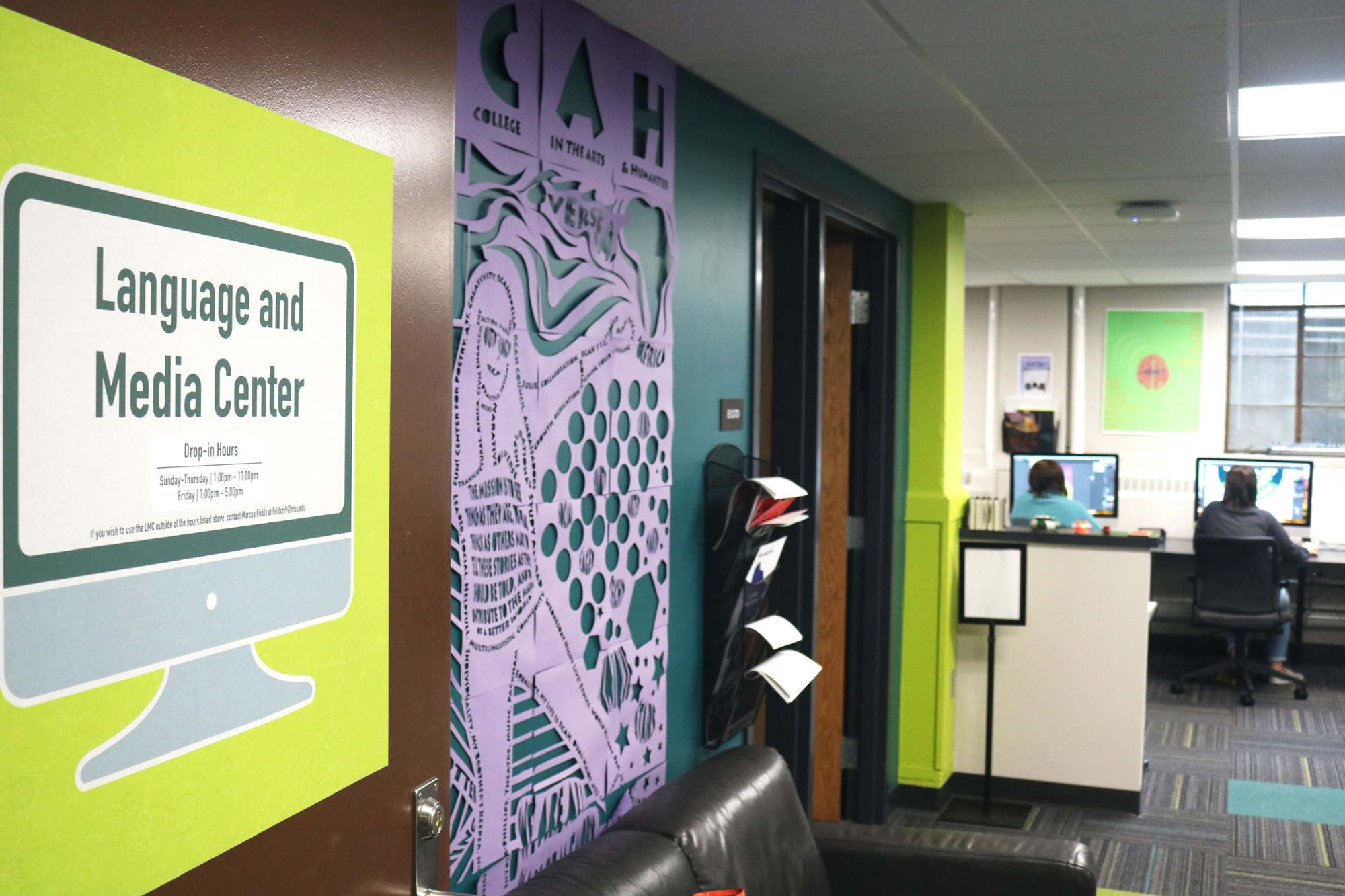 The RCAH Language and Media Center and Art Studio live in the basement of Snyder-Phillips Hall on MSU's campus. In these brick-and-mortar spaces, RCAH students can use or borrow all different types of materials, from digital to physical.

But when the COVID-19 pandemic forced MSU to make the switch to online instruction last spring, it became clear that the life force of these spaces are the student consultants who run them.

Professor and Language and Media Center/Art Studio director Dave Sheridan runs the spaces with Marcus Fields '17, an RCAH alumnus. They have worked together to create places where students can come together to design creative projects, seek help from student consultants, or just hang out with fellow RCAH-ers. But with the rapid rise of COVID-19 cases, things had to change.

"Marcus and I immediately knew we wanted to have a virtual space to continue our work," Sheridan said, "that we wouldn't just give up."

Shortly after campus closed in mid-March, the Art Studio and the "LMC"—as the Language and Media Center is affectionately known—opened online, complete with regular drop-in hours, project consultations, workshops, fun, and a simple space to hang out.

For some students, the draw of visiting the physical LMC or Art Studio is the materials that they can use. But students and staff agree that it's the people you can talk to and the things you can learn that make these spaces so uniquely creative and RCAH-focused.

"There's something about being in the space with someone else who's working on something," Fields said. "There's casual conversation that helps you to be creative. There's something supportive about that community."

Despite going entirely remote, Fields said that he believes they have found this supportive creativity online. For example, last spring when the spaces first made the switch to virtual consulting, they held Art Prompt nights where people could gather on a Zoom call, work on the same art prompt (like create your own robot), and discuss where their creativity led them.

This year, workshops are still going to be conducted online, like the Bullet Journal Workshop at 7 p.m. on October 7. Consultants are also learning how to use different free online programs, like Krita and InkScape, to teach students which tools are accessible to them.

Open hours are Sunday through Thursday 1 p.m. to 11 p.m. and Friday 1 p.m. to 5 p.m. Students can send messages through chat, join the LMC video call, or ask consultants for a one-on-one consultation regarding any projects, ideas, or questions they may have.

But Professor Sheridan explains that there doesn't have to be any special reason to stop by.

"Some students think that there's no reason to hang out there unless they have a specific project in mind," Sheridan said. "If you have a project in mind, that's great. But you don't need to wait for that excuse. You can come in, and just hang out."

RCAH senior Zaria Cannon began in her role as a remote LMC student consultant this fall after working there in person on various design and art projects. She began to learn the tools of the LMC starting her freshman year. Though the circumstances now are much different than previous semesters, Cannon said she believes that the goals of the space remain the same.

"It might be different from online then it was when you go in person, but we still want to help you and hang out with you," Cannon said. "You might make some new friends who are into the things that you are also into. It's always worth a shot to stop by."

Art Studio consultant and senior Mollie Ropp started consulting last year in-person. Ropp said she was compelled to apply after spending time in the space working on creative projects and even studying.

"I just feel really like it's such a safe space to be creative," Ropp said. "While we are online, I think all the consultants are trying to capture that same safe feeling and warm environment. I still have fun with my co-workers and we have the same energy as we had in the Studio.

"Even though we don't have the physical space, it's still the same LMC and Art Studio."

In the spring when MSU moved to remote operations, the LMC and Art Studio used the communication platform Slack and Zoom, with students logging in to get help from student consultants on a variety of projects.

Slack, Sheridan and Fields found, was not the ideal platform. It required students to register and create a Slack account, which might seem to be a low barrier to success, but they agreed they wanted as few barriers as possible. That is when Microsoft Teams emerged as a better alternative.

With Teams, students can use their MSU credentials to log in and over the summer, RCAH moved academic and student affairs to Teams, with channels for the Center for Poetry, LookOut Gallery, student advising, and more. It's like all of Snyder-Phillips on a portable, digital platform.

Fields, who has been a part of the LMC and Studio since he was a junior in RCAH, said he wishes he had discovered the spaces sooner.

"Dave hired me as a consultant out of his RCAH 315 class," Fields said. "That's how I started in the LMC and I love that work. It's part of the reason why I'm here now."

Even though these spaces are online, student consultants are still digitally clocking into their shifts waiting to help other students with anything they may need—whether it's a project or a friend.


| | |
| --- | --- |
| Image by Mollie Ropp | Image by Mollie Ropp |
| Image by Zaria Cannon | Image by Zaria Cannon |
The Residential College in the Arts and Humanities at Michigan State University is a unique living-learning community offering the advantages of a small college liberal arts education and the opportunities of a major university. Students prepare for meaningful careers by examining critical issues through the lens of culture, the visual and performing arts, community engagement, literature, philosophy, history, writing, and social justice. RCAH's 100% placement rate for graduates over the past seven years is the best at MSU. Visit rcah.msu.edu, email rcah@msu.edu, or call 517-355-0210.

Facebook https://www.facebook.com/RCAHMSU/
Instagram https://www.instagram.com/rcahatmsu/
Twitter https://twitter.com/RCAH_MSU
YouTube https://www.youtube.com/channel/UCpfDHNy0ws5nxgaL9v1xMGw