Homecoming Highlights 2019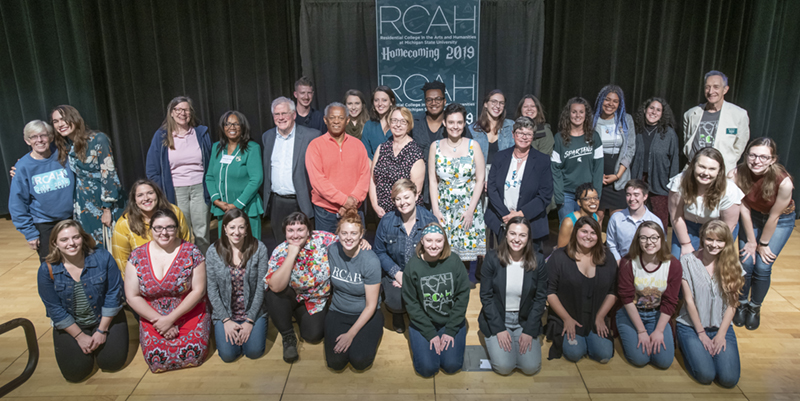 On a rainy Homecoming Friday, October 27, a large group of RCAH and Justin Morrill College alumni gathered in the RCAH Theater and the halls of Snyder-Phillips for delicious food and delightful company. Some highlights of Homecoming 2019:
Guests heard the inspirational story of Celeste M. Moy, a JMC graduate and pioneering African American MSU cheerleader, who received the 2019 Justin Morrill College Distinguished Alumni Award.
Professor Anita Skeen, retiring after teaching for more than 50 years, was celebrated for her years of service to RCAH and the RCAH Center for Poetry.
Hannah Avdoulos '17 was honored with the RCAH Young Alumni Award. 
The student recipients of the RCAH Alumni Honor Scholarship and the Justin Morrill College Legacy Scholarship were recognized at the evening celebration. 
Guests of all ages donned Harry Potter and MSU-themed props for fun photo-booth photos.
The LMC and art studio held open houses with a variety of creative activities.
Earlier in the day, donors and alumni gathered to hear from the recipients of RCAH student scholarships at a reception in the LookOut Gallery.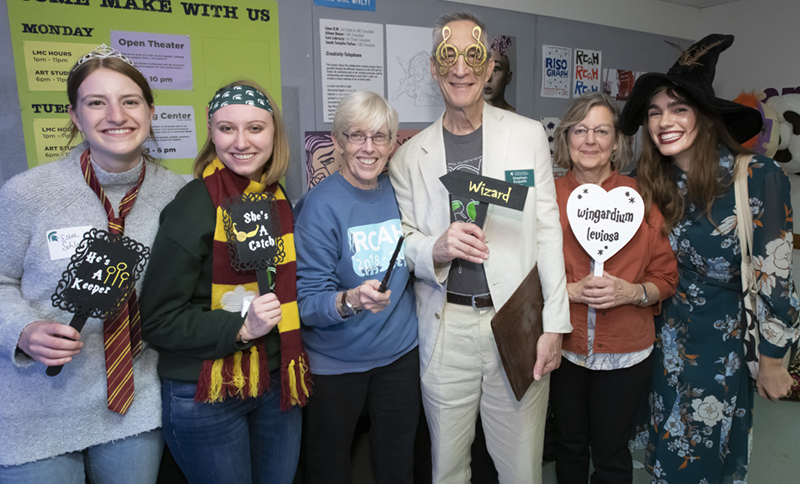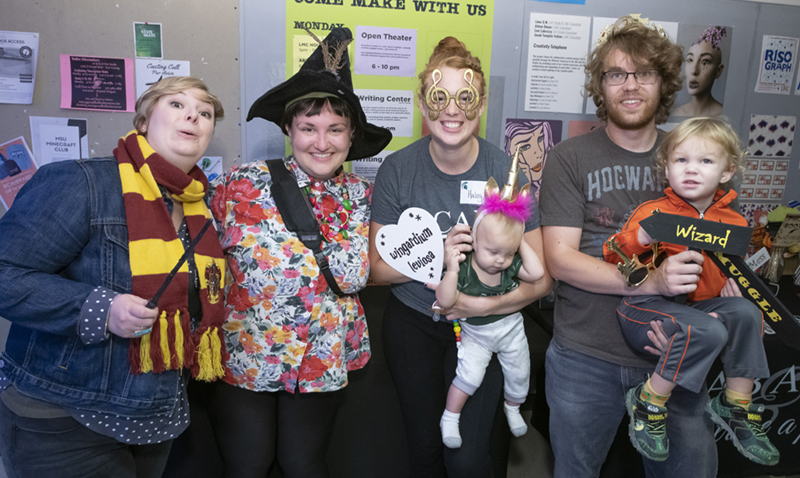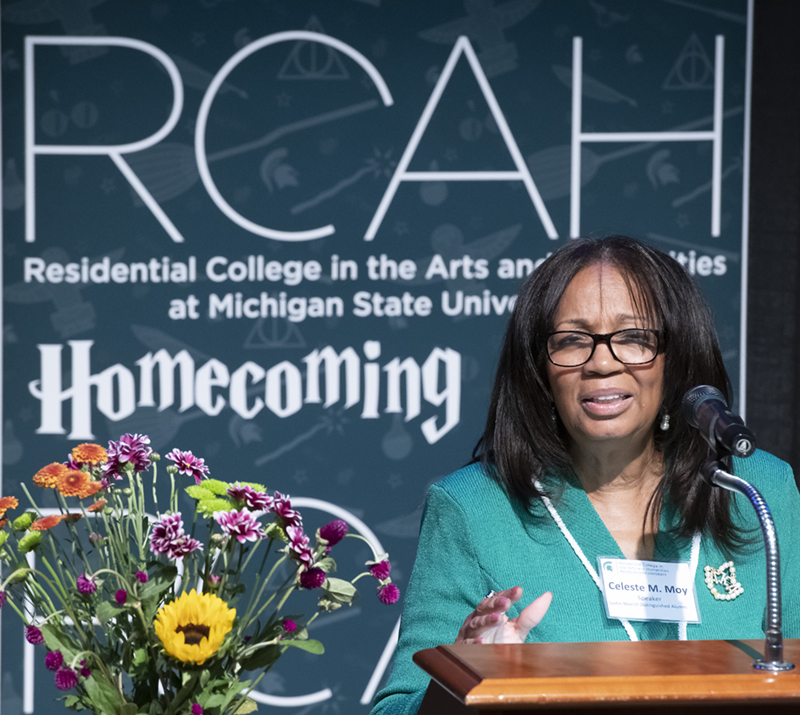 Cheers To Tears To Triumph
After the night began with treats and sweets, we headed into the Theater to be inspired by Celeste M. Moy. She shared her heartbreaking yet hopeful journey that ranged "from cheers to tears to triumph." It is the story of her years as one of the first African American cheerleaders at MSU, and the many challenges she faced, including overt racism from the head coach of the squad. But, as it seems to go in life, chance played a role in the triumph of her tale, as we learned that it was Ms. Moy's chance encounter with her attorney that gave her the idea to pursue her law degree and embark on a successful legal career. Her message inspired us all "to keep on climbing." At the conclusion of Ms. Moy's talk, we were thrilled to recognize her achievements as the first recipient of the Justin Morrill College Distinguished Alumni Award. 

"My return to Snyder-Phillips was both nostalgic and special due to the occasion and my tour of RCAH, which didn't exist when I was a student," Ms. Moy said afterwards. "I look forward to visiting again and more often. GO GREEN!"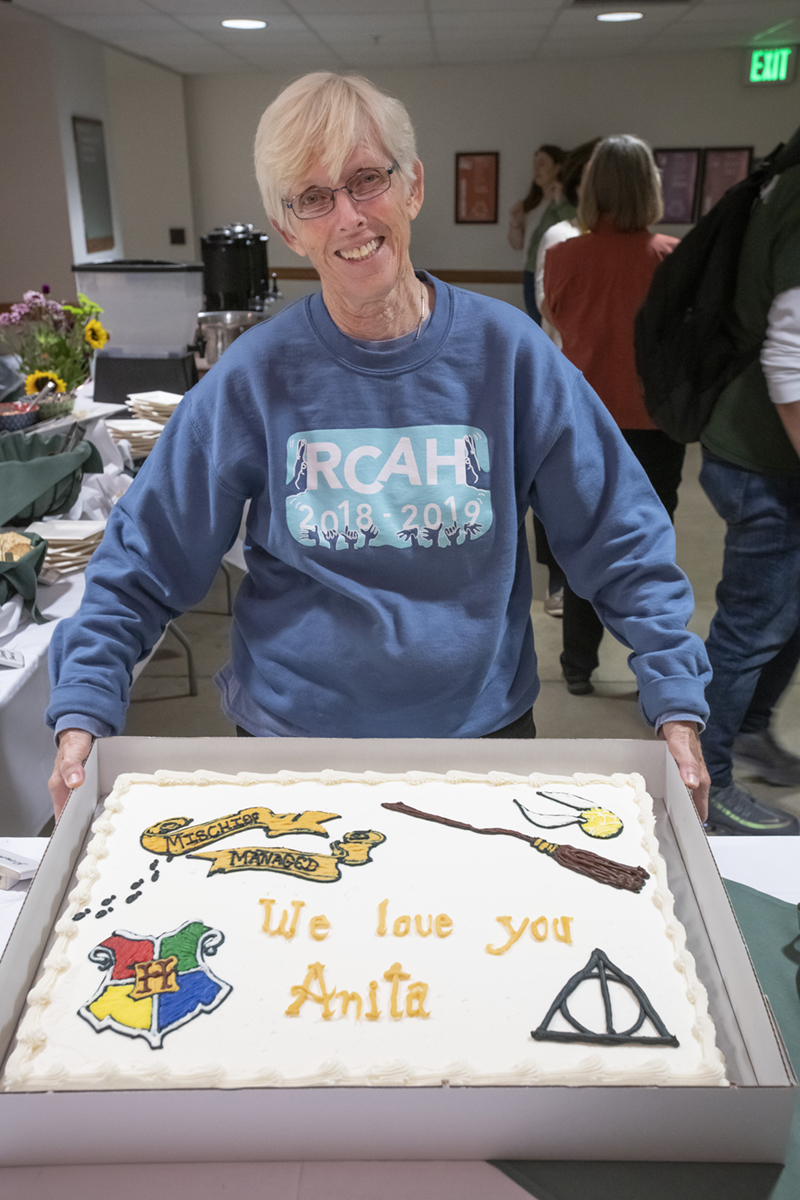 Honoring Anita
RCAH Professor Anita Skeen was surprised at Homecoming when a tribute video of pictures and testimonials started to play to the packed Theater. She had no idea she'd be honored during the evening as one way to celebrate her retirement from RCAH. Watch the video remembrances and appreciations from alumni, faculty, staff, and students, produced by Kirk Mason '14 with footage from Marcus Fields '17, here.

Prior to the event, RCAH alumna Audrey Matusz '18 helped celebrate Anita and her years of accomplishments with an article in City Pulse.
Young Alumni Award Winner
This year, Hannah Avdoulos '17 was recognized with the RCAH Young Alumni Award. Hannah said, "I felt extremely grateful and honored to be recognized alongside such incredible scholarship recipients, and at the same event as Anita and Celeste, no less! What was most meaningful to me, however, is that this recognition comes from my own RCAH community. It's incredibly encouraging and makes me want to keep learning, growing, and pushing my own boundaries and be the best version of myself I can be and uplift and support others along the way."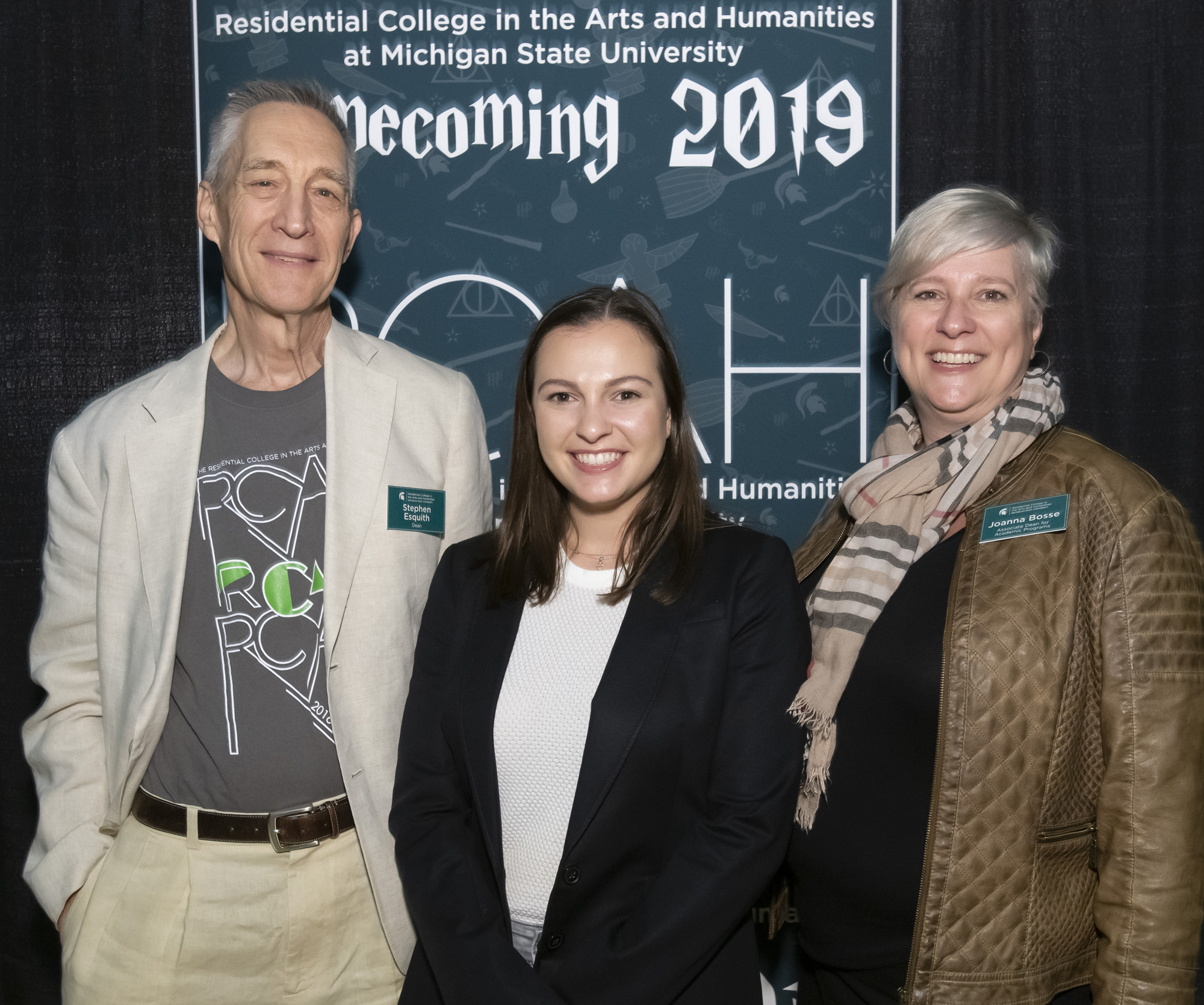 Hannah is currently working for Georgetown University in Washington, D.C. as aDevelopment Associate in the McDonough School of Business. Previously she worked in development at the John F. Kennedy Center for the Performing Arts.

Each year we take nominations from faculty, staff, and alumni for the RCAH Young Alumni Award. We hope you'll consider making a nomination next year.
Celeste M. Moy
Celeste M. Moy, Esq. is Of Counsel in the Intellectual Property Practice Group of Akerman LLP. Celeste primarily represents songwriters, recording artists, performers, music producers, and their successors-in-interest, in disputes over royalty payments and seeking royalty monetization transactions, copyright assignment terminations and recaptures, as well as negotiating and drafting various types of entertainment contracts. In addition, Moy represents her clients in connection with prosecutions of trademark applications, oppositions and cancellation proceedings.
Moy is recognized by her colleages and clients as a results-driven commercially focused attorney with more than 30 years of experience with major law firms and publicly traded companies. Moy is a Justin Morrill College alumna who received her B.A from Michigan State University in 1972. She received her Juris Doctorate from the University of Detroit-Mercy School of Law in 1976. She is an active member of the Virginia State Bar Association, and an inactive member of both the Michigan and Texas State Bar Associations.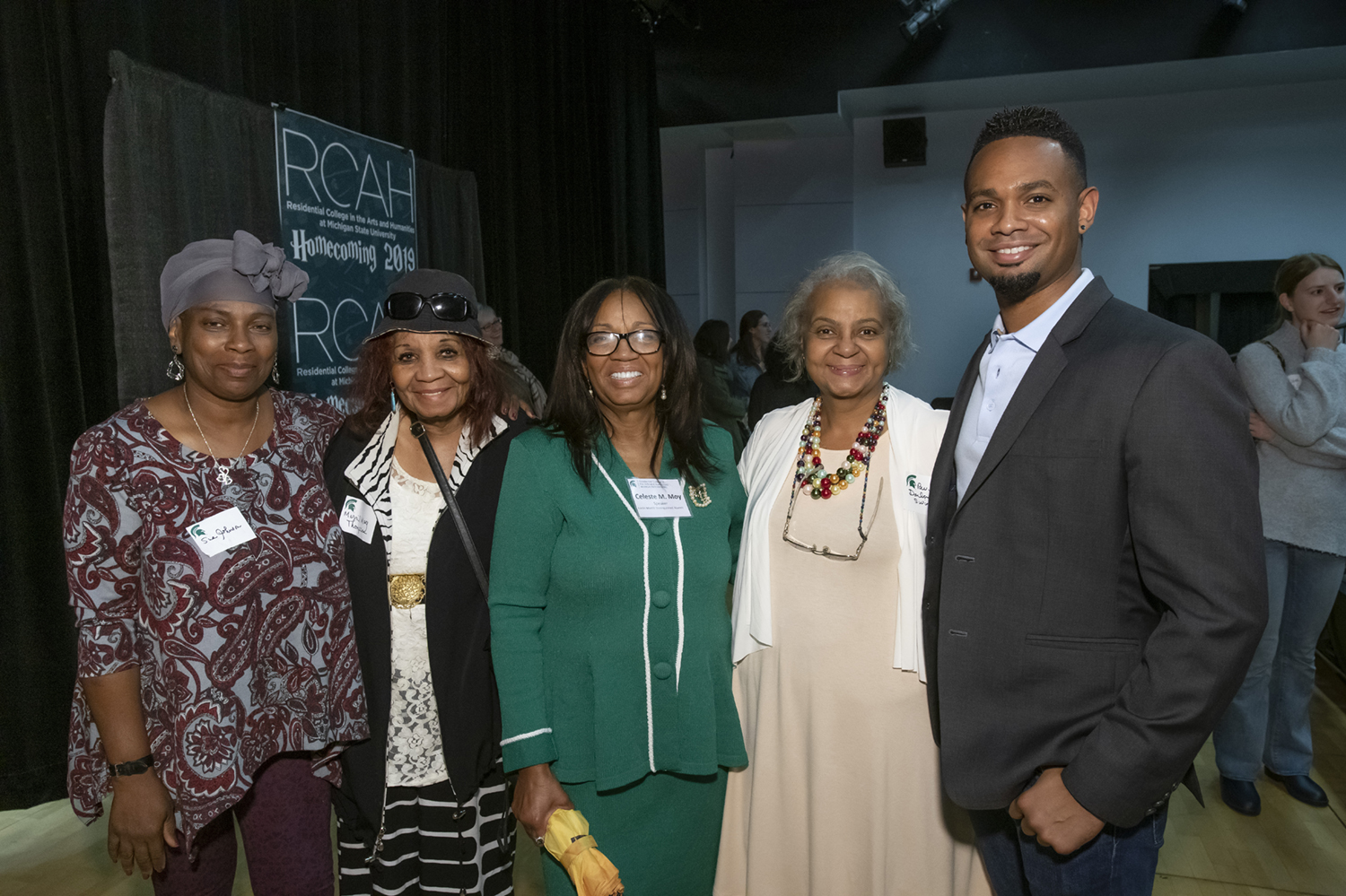 Left: Celeste M. Moy is pictured in green with friends and family, including her son, also an MSU graduate. Right: Celeste M. Moy with former MSU star quarterback Bill Triplett (left) and Dr. Maxie Jackson, former Assistant Dean and Associate Professor of the MSU Graduate School and Urban Affairs Programs.