Spring 2017 ILO
Integrated Language Options (ILOs) constitute the core elements of the RCAH CLAC Program. ILOs provide language immersion opportunities for students. In an ILO, students use the language to collaborate with each other and their language mentor on a semester-long project. Spring 2017 topics and projects are listed below.
Arabic: Embracing Shadowed Identities: How language connects people
Description: For families and cultures who lived social/political/historical divides leading to geographical separation, how can language be used to connect these families together? In the course of this ILO, we addressed several issues related to the political histories of why people immigrated to Latin America from the Middle East. Using a case from the family experiences of a student who participated in the program, we mapped why, how and in what ways her grandfather, who was escaping political persecution in Palestine in the 1930's came to develop a new identity in Colombia, South America and how he used artifacts and language to connect with his family in Palestine--ultimately affecting his children and grandchildren's multiple cultural identities. These shadowed identities--which we believe are often not socially recognized by dominant cultures--can be purposefully connected through the use of language and become important sources for historical knowledge of families and cultures.
Participants: Christina Restrepo Nazar with fellow Azad Hassan
ASL
Title: Media Accessibility for the Deaf and Hard-of-Hearing
Description: Media and entertainment are integral parts of our lives. Accessibility to this media is different for individuals that are deaf or hard-of-hearing. Throughout this ILO, we explored different ways common media is made accessible to this population. We started with closed captioning that provides written English for those watching the video. Although this seems adequate, for many deaf and hard-of-hearing it is not. For some English is not their native language and often closed captioning has errors. The project focuses on several ways American Sign Language (ASL) is used to provide media and entertainment to the deaf and hard-of-hearing in their native language.
Participants: Maggie Bice with fellow Mark Berardi
Chinese Title: Chinese Animals and Where to Find Them
Click photos below to embiggen.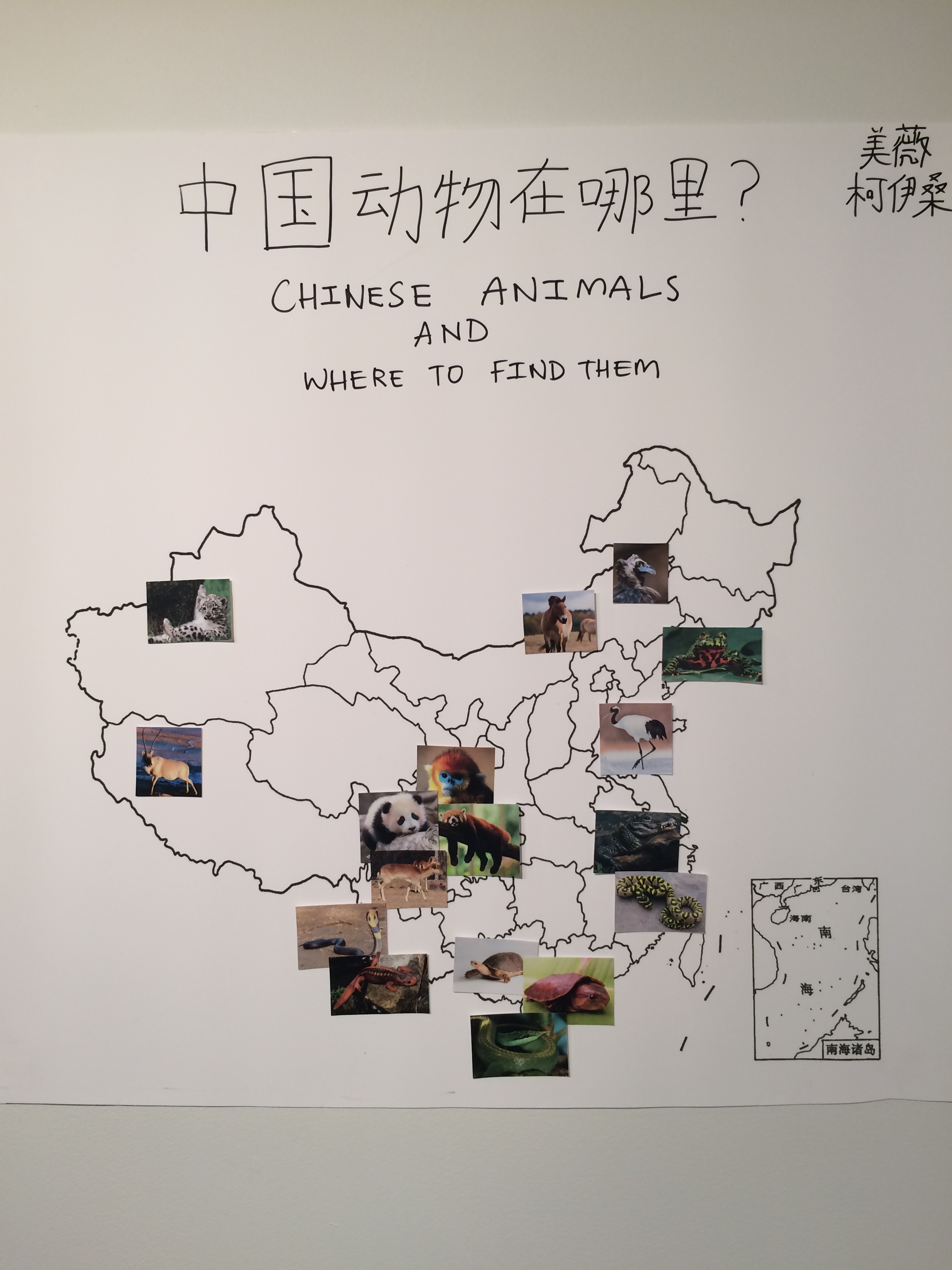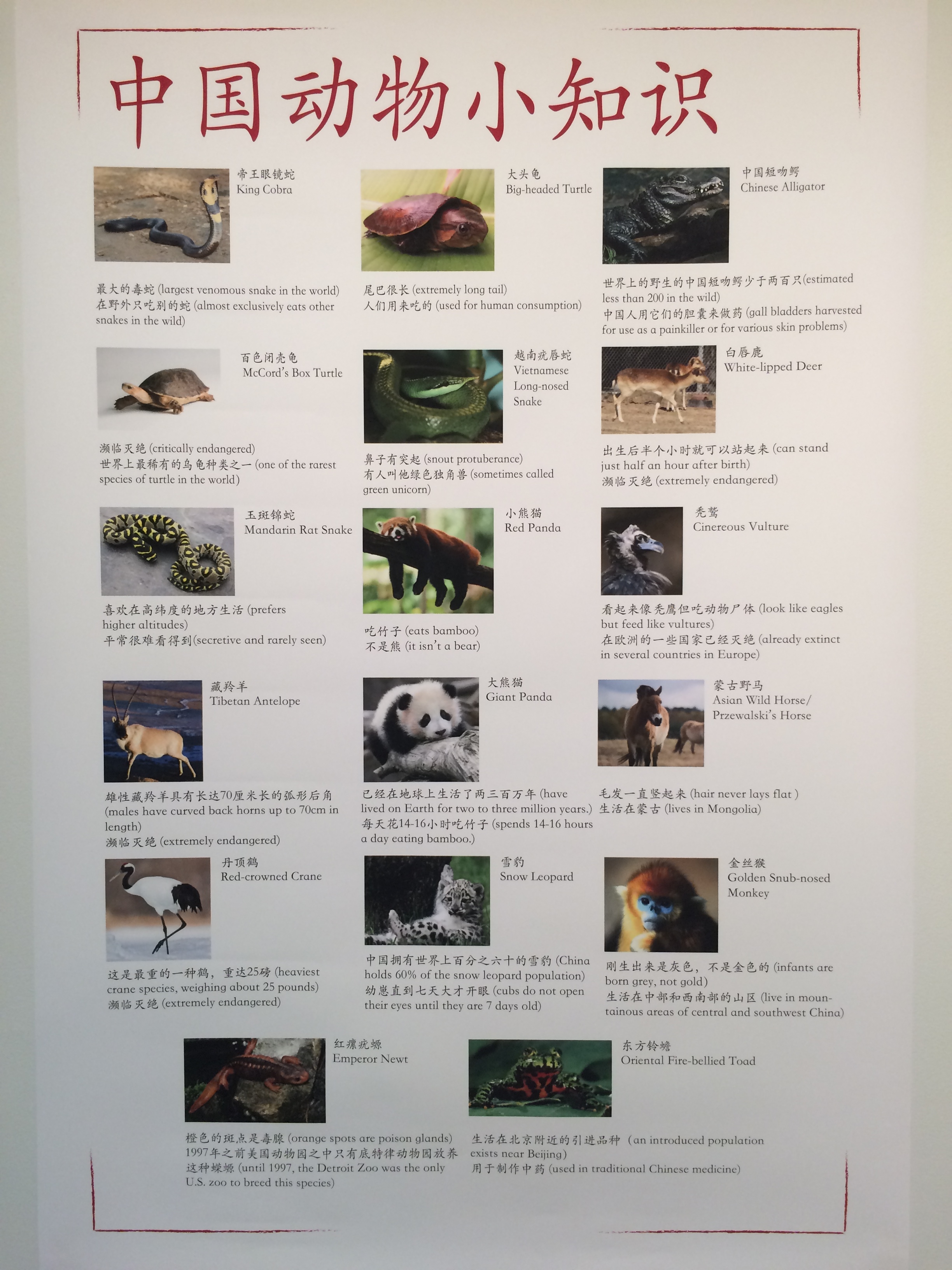 Description: This project explores the native animals of China in different contexts. The animals are ones found in the documentary "Born in China", the Detroit Zoo, and the pandas that can be found in America. Our display introduces people to fun facts about these animals and lets them play a game where they can guess which part of China these animals are from. The other game has participants guess which U.S. zoos have pandas.
Participants: Ethan Clarkson and Natasha Blakely with fellow Xuehong (Stella) He
French Title: Des murs qui parlent: le graffiti a Dakar (Walls that Speak: Graffiti in Dakar)
Click photos below to embiggen: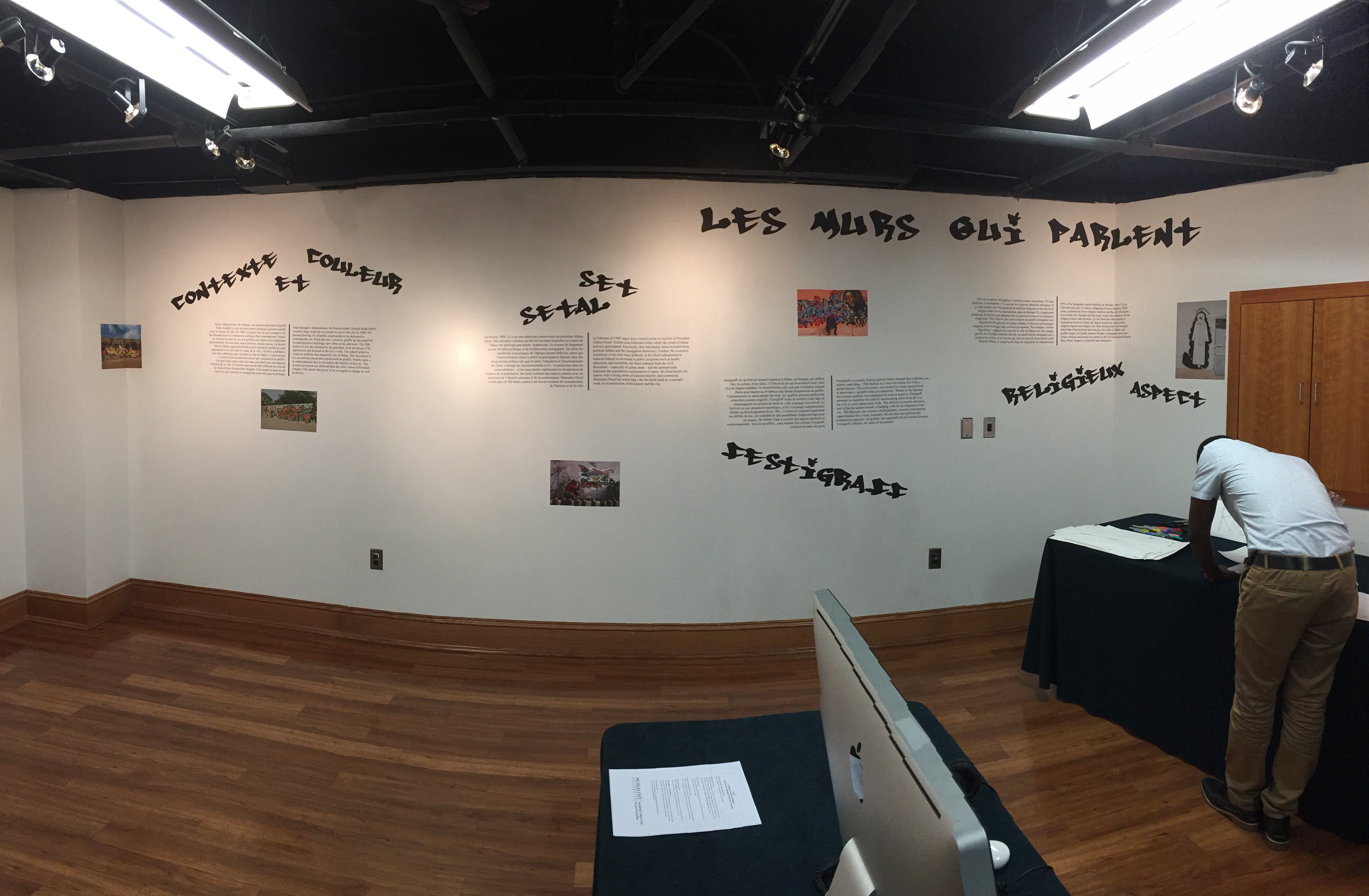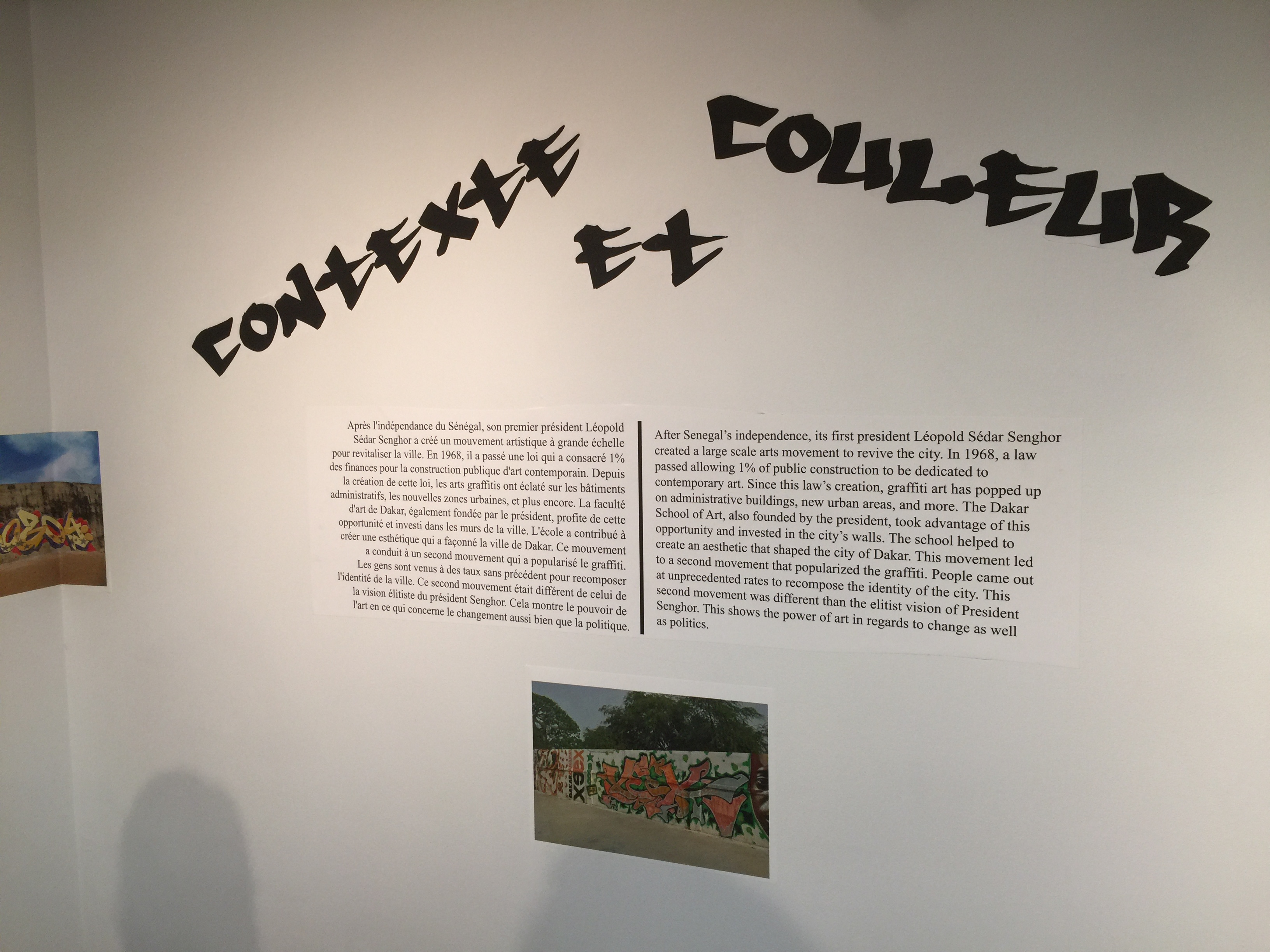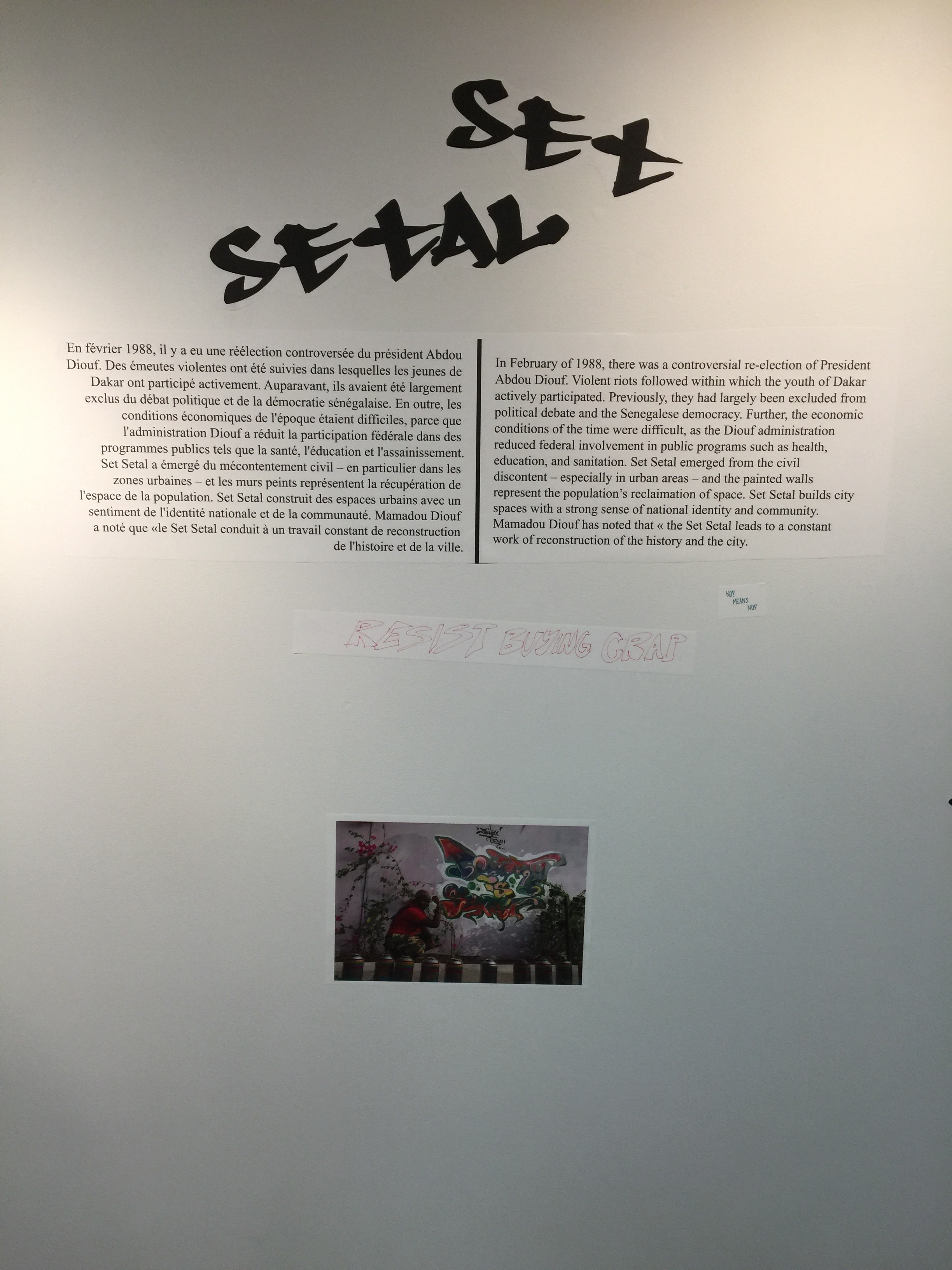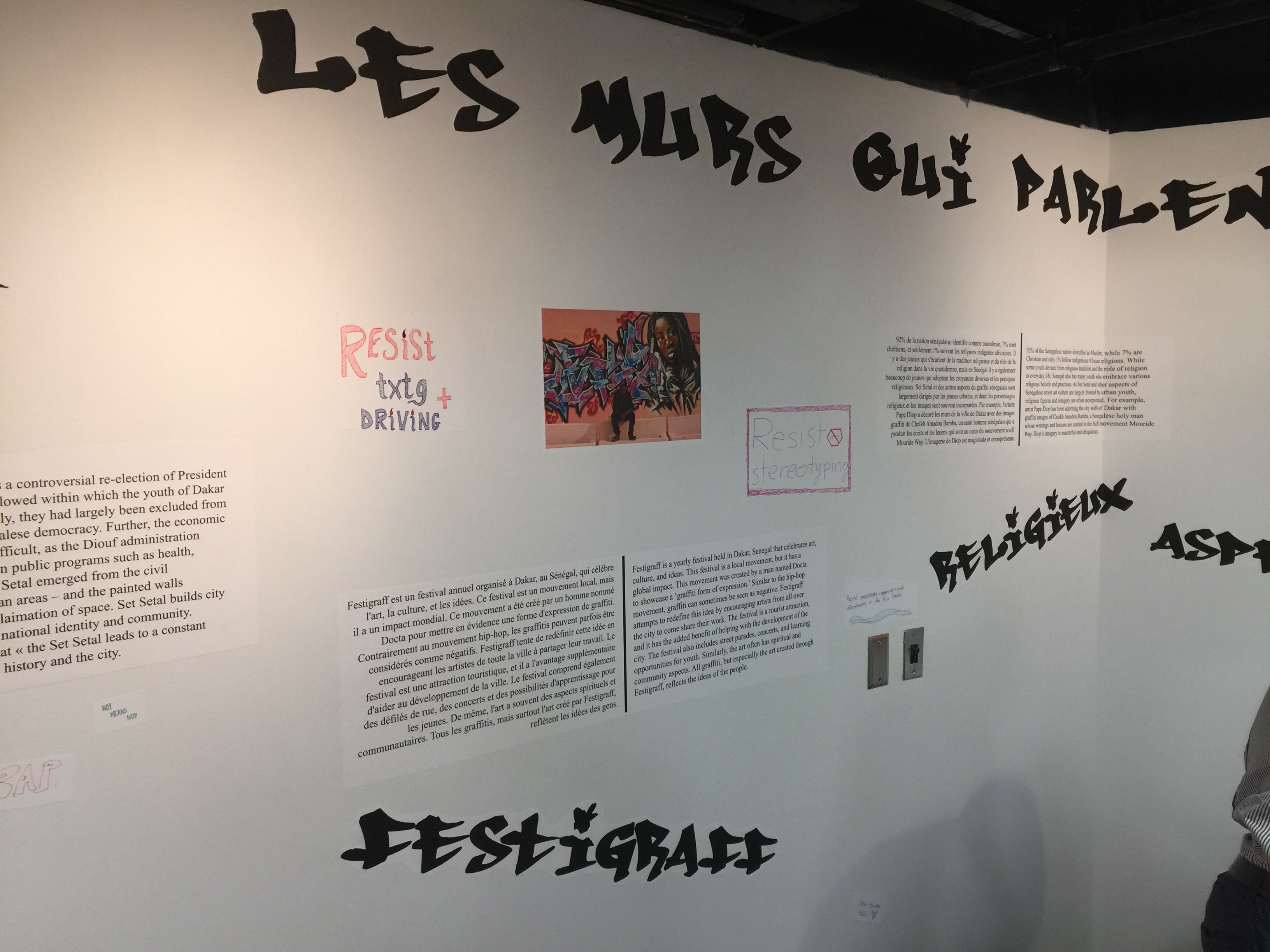 Description: This project focuses on street art in Dakar, Senegal, especially graffiti. It explores the aesthetic context of graffiti in Dakar, including its social, political, and religious aspects. We chose to reproduce a mural inspired by the works of Senegalese artist Docta who founded festigraff, an annual graffiti festival that brings together local and international artists. Our goal is to recreate Festigraff's communal art making which translates the Senegalese spirit of Teranga (hospitality).
Participants: Sarah Sujkowski and Sarah Teppen with fellow Emilie Diouf
Italian Title: ecosostenibilità: informiamoci. (Eco-sustainability: let's get informed)
Description: What are the small daily actions we can do to combat waste and make progress towards a more sustainable society? In the course of the ILO we addressed several issues including recycling and the environmental impact of various food products. Then we related these issues to the microeconomics of small Italian towns. We have created a facebook page where the students posted articles, polls and other material related to the topics covered during the semester.
Participants: Kristi Pollum, Leslie Welsh and Shabnam Rajaei with fellow Danilo Balzarini
Japanese Title: Hanafuda ("Flower cards")
Click photos to embiggen: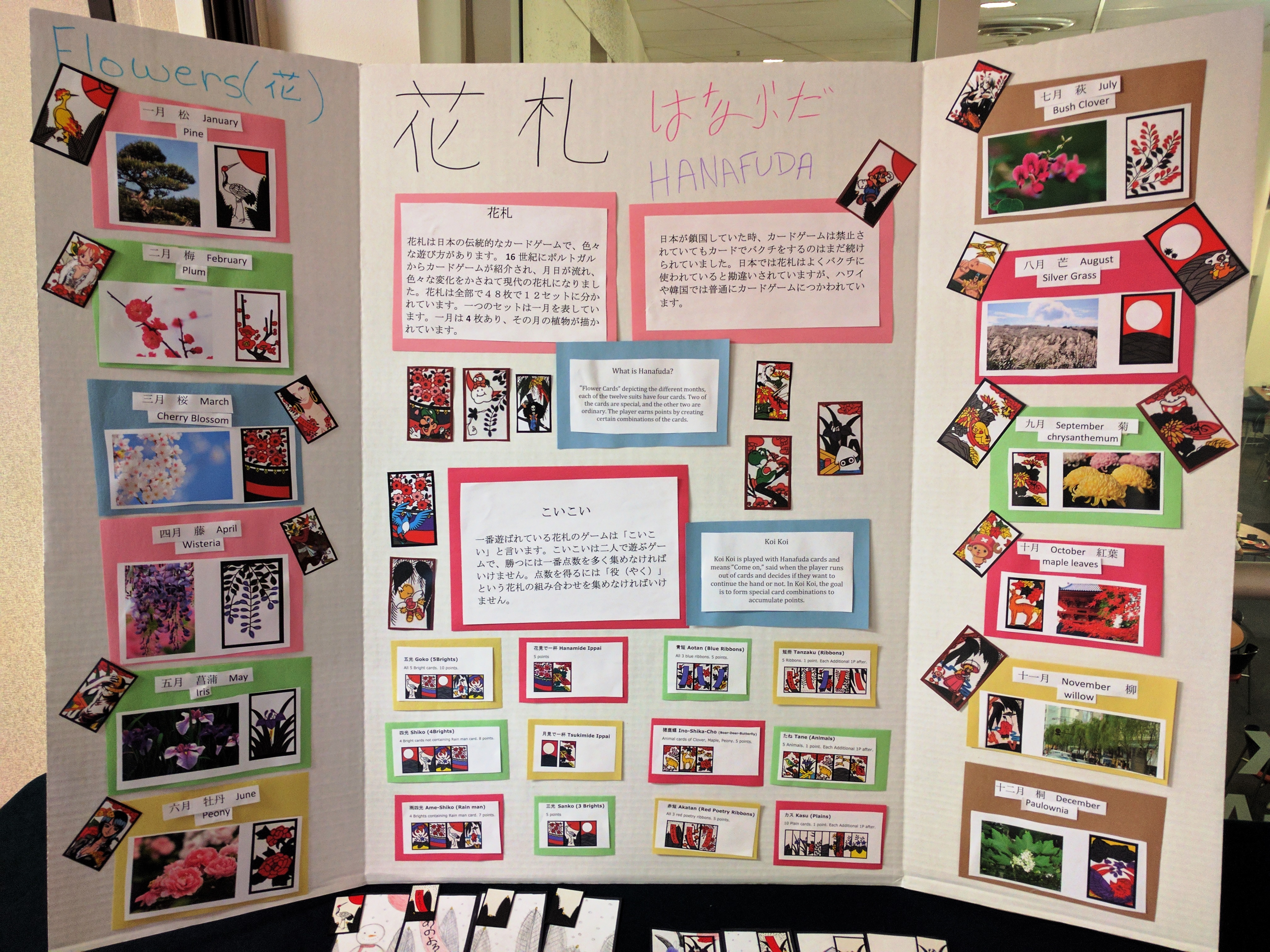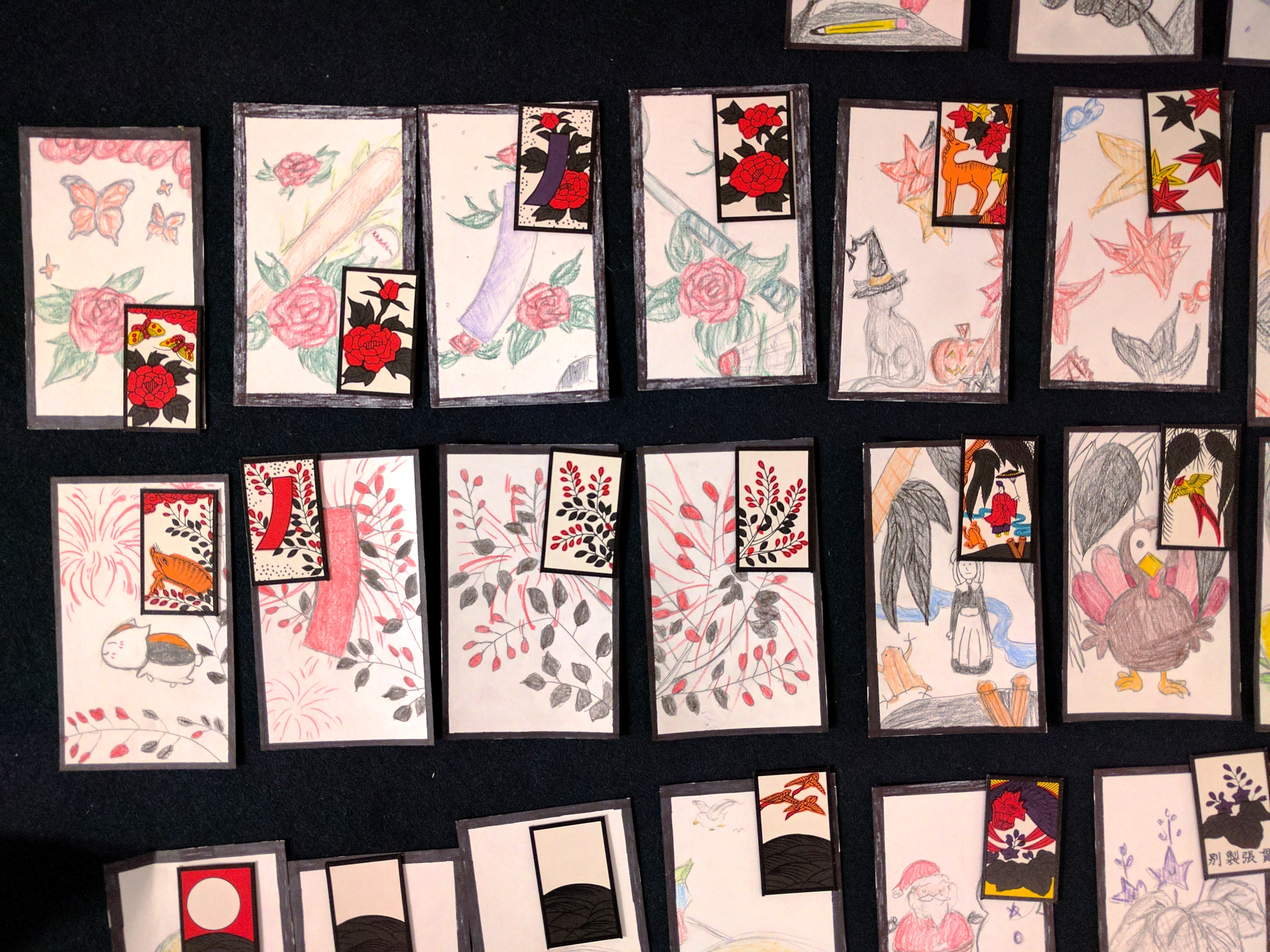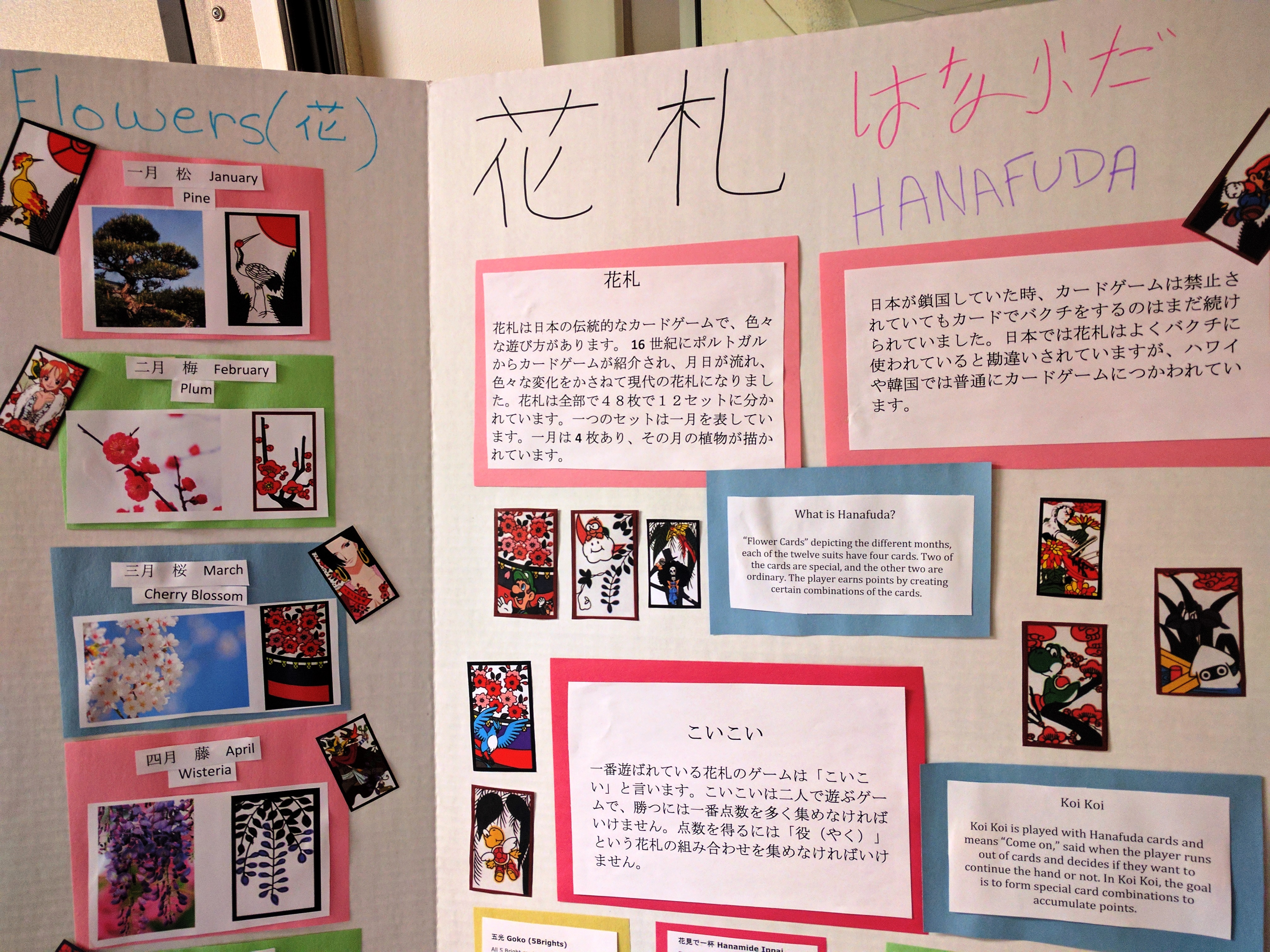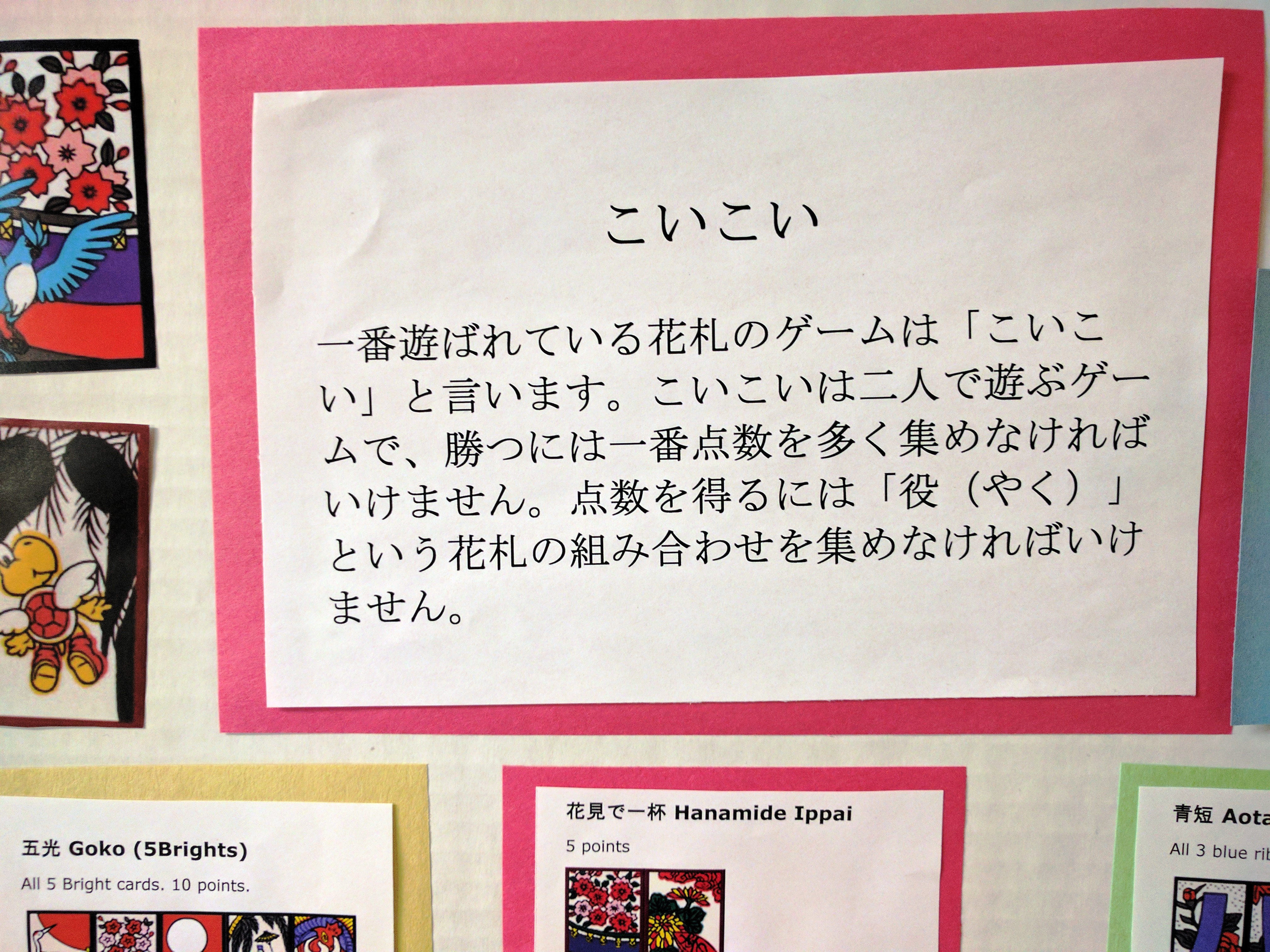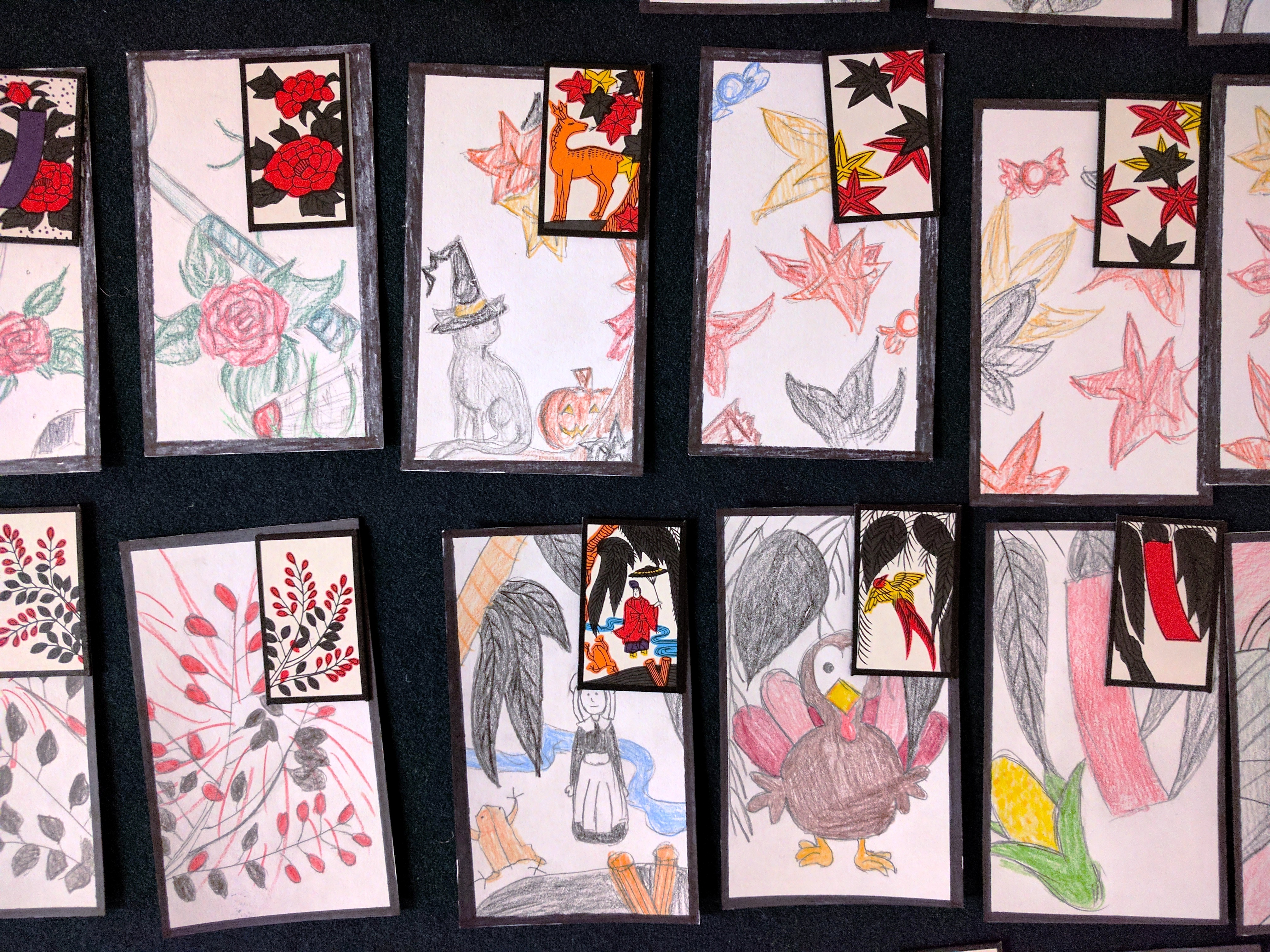 Description: Hanafuda are traditional playing cards originated from Japan. They consist of twelve suits and each suit represents a month portrayed by a specific flower that is connected to the month. Throughout the semester, students learned the history and cultural contexts of Hanafuda. For the final project, they created their own set of cards.
Participants: Leea Fellow, Huiyi Liu, with fellow Tsuyoshi (Yoshi) Oshita
Spanish Title: Speaking of Poemas
Click photo to embiggen: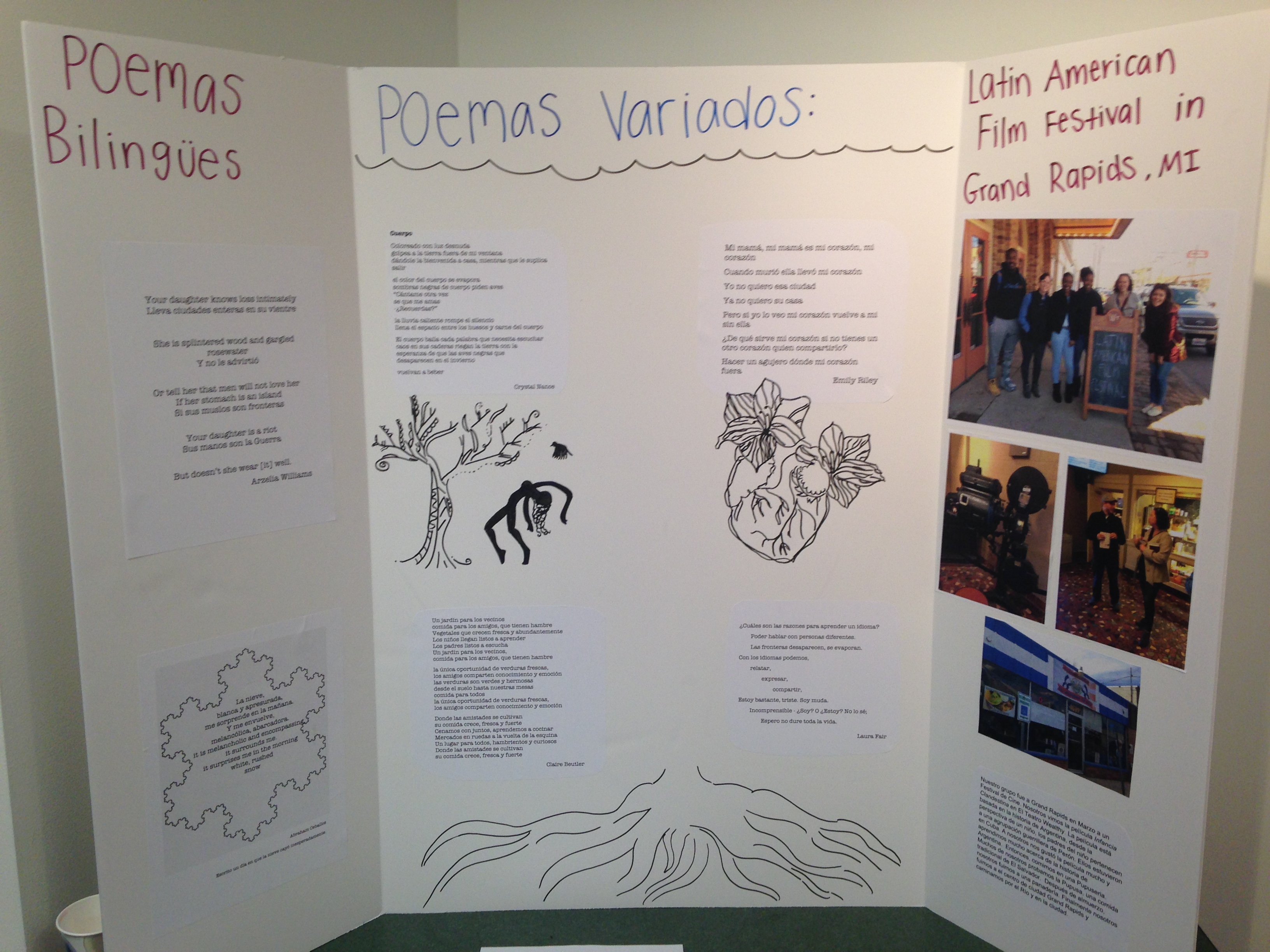 Description: Can we express ourselves in a foreign language through poems? During our ILO meetings, students explored how communicative devices in poems helped them achieve their own communicative purposes, share ideas with their peers, discover the experience of Spanishspeakers, and appreciate the beauty of everyday talk. Students took on the challenge of expressing complex ideas no matter their level of proficiency. We hope you enjoy the poems students wrote and the stories behind them.
Participants: Claire Beutler, Crystal Nance-Panek, Monet Wright, Arzelia Williams, Laura Fair Emily Riley with fellow Abraham Ceballos
Spanish Title: An Exploration of Racism and Colorism in Latin America
Description: Our project is about how the lingering effects of colonization in Latin America as revealed in current beauty standards. Unrealistic beauty standards in Latin America contribute to negative and damaging views of people of color, which is a similar phenomena to what is happening here in the United States. With our project, we show the stories of Latinas and Latinos to draw on similarities and differences of experiences of colorism.
Participants: Madison Campbell and Norrlyn Allen with fellow Gerardo Aponte-Martinez