RCAH Commencement 2020
RCAH Class of 2020 Senior Celebration Video
While MSU's in-person commencement ceremonies were postponed, on May 2 at 7 p.m. on RCAH's YouTube channel, we premiered a video that celebrated our seniors in a uniquely RCAH way. Featuring Dean Stephen Esquith, Professor Anita Skeen, student speakers Alé Alvarez-Paines '20 and Michaela Valo '20, the music of Professor Chris Scales, and a video scrapbook of our graduates. Thanks to filmmaker and RCAH alumnus Kirk Mason '14 for producing this video celebration.
MSU will hold a University-wide virtual commencement ceremony at 10 a.m. EDT on May 16, 2020. For more information, visit commencement.msu.edu.
2020 RCAH GRADUATION CELEBRATION!
RCAH graduates, families, and friends, please join us for a 2020 RCAH Graduation Celebration on Saturday, May 2, 2020 at 7 p.m. on RCAH's YouTube page RCAHatMSU. Because commencement has been postponed, we are hosting a YouTube Premiere watch party to celebrate our graduating seniors. With special guests, senior speakers, entertainment, and more.All are welcome to attend!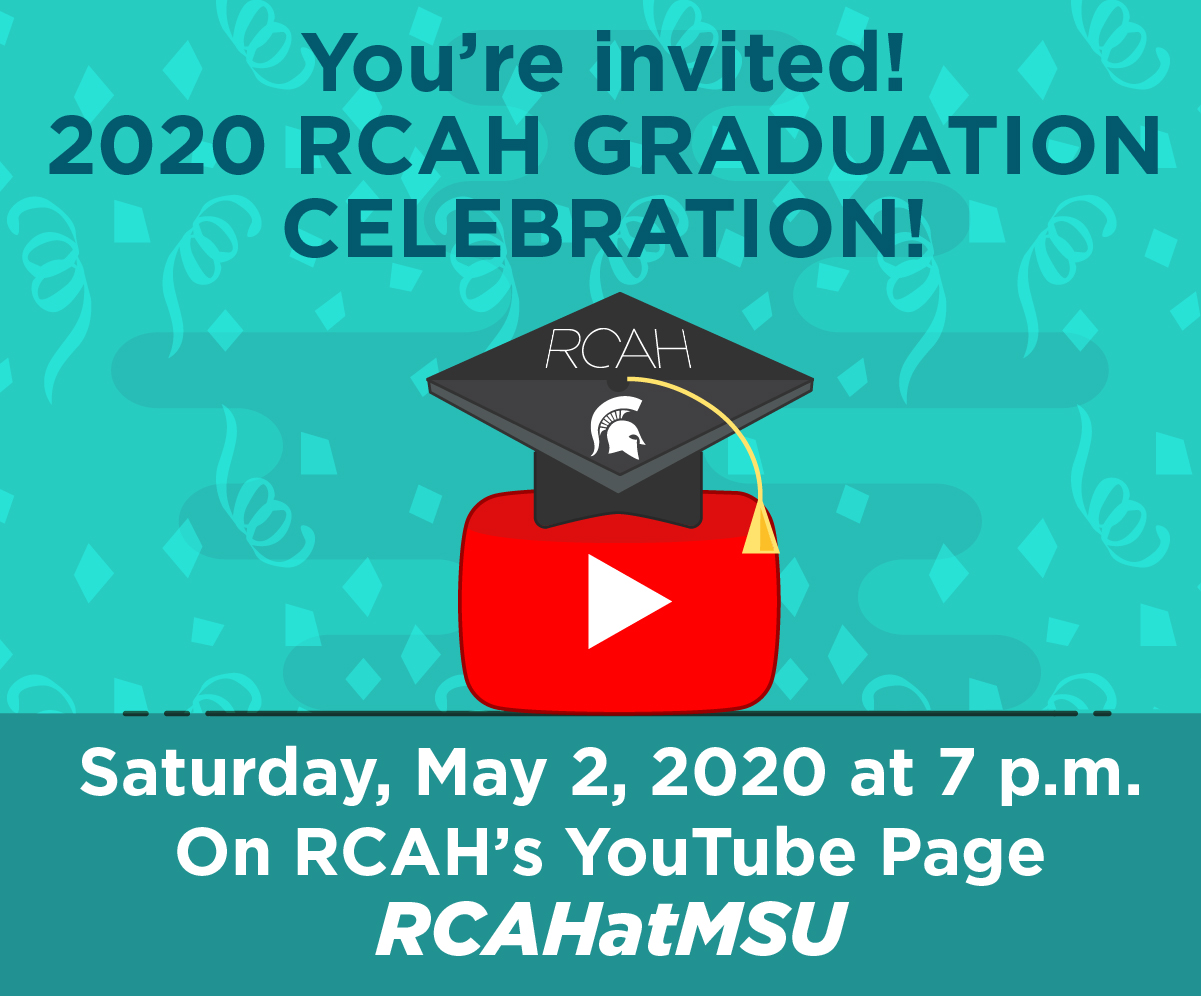 For updates on MSU's response to the novel coronavirus, visit https://msu.edu/coronavirus/.
These are RCAH's traditional commencement activities:
Graduate Dessert Reception from 2-3 p.m. in The Gallery dining hall, Snyder-Phillips Hall
Open to RCAH graduates and their families.
No RSVP needed.
Ceremony at 7 p.m. in the Wharton Center 
No tickets required. Family and friends are welcome!
No bags are allowed in the Wharton Center.
Graduates need to report to the Grand Tier Lounge by 6:15 p.m. in their caps and gowns.
Group picture of the graduates at 6:30 p.m.
Regalia
Information about cap and gown attire can be found at commencement.msu.edu and at the Spartan Spirit Shop in the Union. RCAH uses the white tassel.
If you are eligible to graduate with honors or high honors, Pam Newsted will be reaching out to you in early April to pick up your honors cords.
For more information about MSU commencement activities, visit https://commencement.msu.edu.