RCAH and MSU Named Top Producers of Fulbright Scholars
March 24, 2022
RCAH is one of only six MSU colleges in which faculty received Fulbrights during 2021-2022

MSU is the only research institution in the U.S. to achieve this status for the last eight years

Over the past three years alone, two RCAH alumni and two RCAH professors have earned Fulbright awards
By RCAH Communications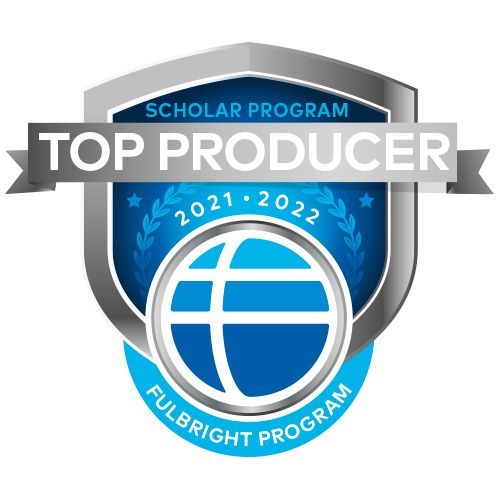 Michigan State University has again been named a top producer of Fulbright Scholars from the United States—establishing MSU as the only research institution in the U.S. to achieve this status for the last eight years. With 11 Scholars, MSU is also notably the second-highest-producing institution this year. 
As part of this unprecedented success, MSU's Residential College in the Arts and Humanities (RCAH) is one of only six MSU colleges in which faculty received Fulbrights during 2021-2022. Over the past three years alone, two RCAH alumni and two RCAH professors have earned Fulbright awards. 
RCAH alumni Grace Koepele '20 and Emily Van Dyke-Mathews '20 received Fulbright English Teaching Assistantships (ETAs) for the 2021-22 school year. 
RCAH Associate Professor John Aerni-Flessner received the Fulbright U.S. Scholar Program award in 2021 and is currently using his grant to conduct research and oral histories with residents of the Borderlands area between Lesotho and South Africa. 
RCAH Assistant Professor Sitara Thobani received the Fulbright-Nehru Academic and Professional Excellence Award in 2019. She used the grant to fund further research on representations of the Indian dancer in Dehli, Pune, Benares, and Lucknow, India. This research will lead to the publication of her second book.
Read more MSU's Fulbright Scholars from MSU Today.
The Residential College in the Arts and Humanities at Michigan State University is a unique living-learning community offering the advantages of a small college liberal arts education and the opportunities of a Big Ten research university. Students prepare for meaningful careers by examining critical issues through the lens of culture, the visual and performing arts, community engagement, literature, philosophy, history, writing, and social justice. RCAH's 99 percent placement rate for graduates over the past eight years is the best at MSU. Visit rcah.msu.edu, email rcah@msu.edu, or call 517-355-0210.

Facebook https://www.facebook.com/RCAHMSU/ 

Instagram https://www.instagram.com/rcahatmsu/ 

Twitter https://twitter.com/RCAH_MSU 

YouTube https://www.youtube.com/channel/UCpfDHNy0ws5nxgaL9v1xMGw